Skin cancer: Breakthrough drug combination approved
Immunotherapy treatment for melanomas given the green light for use in the NHS in record time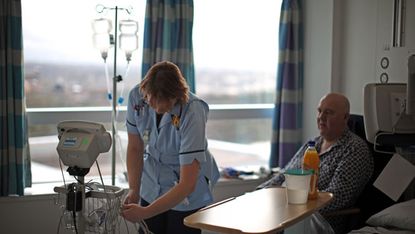 (Image credit: Christopher Furlong/Getty Images)
NHS patients in England and Wales suffering from advanced skin cancer will be the first in Europe to receive a pioneering combination of drugs that could significantly extend their lives.
The National Institute for Health and Care Excellence (Nice), which is in charge of approving drugs for the health service, have given the use of nivolumab and ipilimumab the green light.
"Often criticised for being slow to approve drugs for the NHS, [it] has moved at record speed," says The Guardian.
Subscribe to The Week
Escape your echo chamber. Get the facts behind the news, plus analysis from multiple perspectives.
SUBSCRIBE & SAVE
Sign up for The Week's Free Newsletters
From our morning news briefing to a weekly Good News Newsletter, get the best of The Week delivered directly to your inbox.
From our morning news briefing to a weekly Good News Newsletter, get the best of The Week delivered directly to your inbox.
The drugs fall under the field of immunotherapy, described as the most exciting and promising area of cancer medicine, and work by teaching the body to recognise and fight cancer cells.
"These promising new immunotherapy treatments for advanced melanoma look set to significantly extend the life of people with the condition," said Professor Carole Longson from Nice.
More than 2,000 people a year die from malignant melanoma in Britain, with life expectancy typically less than two years.
However, with the new drugs, some patients have survived for as a long as a decade. A study published earlier this year showed that a fifth of patients had no detectable sign of cancer.
"Immunotherapy is genuinely exciting, it is starting to have a profound effect on many cancers and I'm in no doubt there will be patients that have long-term durable control of their disease," Dr Paul Nathan, from the Mount Vernon Cancer Centre in Middlesex, told the BBC. "It really is a game-changer."
Nice said around 1,300 people could be eligible to receive the treatment, although some will be unable to take the drugs due to their side-effects, which include inflammation of the bowels and liver.
"These results give new hope to melanoma patients," said "Professor Peter Johnson from Cancer Research UK. "But, it's important to remember that more powerful treatment comes with an increased chance of severe side effects."
He added: "Our research now needs to identify which patients are most likely to benefit from this combination and who is most likely to experience the side effects, so doctors can make sure we get the balance right."
Drugs combination 'wipes out skin cancer'
19 April
A combination of two immunotherapy drugs can wipe out the most dangerous form of skin cancer, a new study has shown.
The first data on using ipilimumab and nivolumab together to treat advanced melanoma, where sufferers have a life expectancy of less than nine months, revealed that more than 60 per cent of the 95 patients given the treatment were still alive after two years. Of these, one-fifth had no detectable tumours remaining.
"It is very encouraging to see that survival rate. It will be important in terms of working out the benefit of these treatments in the longer term, but nevertheless it's a relatively small study still," Dr James Larking, who ran part of the trial at the Royal Marsden Hospital in London, told the BBC.
"A much larger trial involving nearly 1,000 patients has already started releasing data, but has not run for long enough to produce survival figures," adds the broadcaster.
Dr Aine McCarthy, from Cancer Research UK, said: "We know both of these drugs are already available individually on the NHS so the next stage is to see whether the combination will be approved."
One patient who had received the combination of drugs said the treatment had been "extraordinarily successful".
"At my previous hospital, I was told I had months not years to live. It's two and a half years later and I'm still very much here and feeling really quite well at the moment," she told Sky News.
In 2013, around 14,500 people in the UK were diagnosed with melanoma and 2,100 died from the disease.
Immunotherapy is believed to be at the forefront of new techniques in battling the illness. It works by using lab-made antibodies to harness the body's immune system in order to fight the cancer.
Trials have suggested the treatment holds promise for terminally ill patients with a range of common cancers, including lung, bowel, ovarian and womb, reports the Daily Telegraph. Experts have described it as one of the biggest medical breakthroughs in recent years.
Scientists hail 'unprecedented results' in cancer breakthrough
16 February
Doctors trialling a new form of immunotherapy have hailed extraordinary results from a treatment that teaches the body to eliminate cancer itself.
Immunotherapy is seen as "one of the greatest advances in cancer treatment in decades", says The Independent. The essential aim is to stimulate the body's own immune defences, its T-cells, to correctly identify and destroy cancerous cells while leaving healthy ones untouched.
Now two breakthrough studies have been unveiled at the annual meeting for the American Association for the Advancement for Science.
In one trial, 94 per cent of participants with acute lymphoblastic leukaemia saw symptoms vanish completely, reports The Guardian. Patients with other blood cancers had response rates greater than 80 per cent and more than half experienced complete remission.
"This is extraordinary. It is unprecedented in medicine, to be honest, to get response rates in this range in these very advanced patients," said trial chief Professor Stanley Riddell, of the Fred Hutchinson Cancer Research Centre in Seattle, Washington
"These are in patients that have failed everything. Most would be projected to have two to five months to live. This is potentially paradigm-shifting in terms of how we treat them.
"I think immunotherapy has finally made it to a pillar of cancer therapy."
Experts say the treatment could reduce the reliance on chemotherapy and its debilitating side-effects. But T-cell therapy is often considered an option of last resort because reprogramming the immune system can come with dangerous side-effects, says the Guardian.
In the other study, researchers from Italy said T-cells could effectively act as a vaccine against cancer provided they were genetically engineered before entering the body.
Haematologist Chiara Bonini, who led the work at Vita-Salute San Raffaele University, in Milan, said the breakthrough could lead to cancer patients having lifelong immunity against a relapse.
"T-cells are a living drug and in particular, they have the potential to persist in our body for our whole lives," she said. "Imagine when you are given a vaccine as a kid and you are protected against flu or whatever for all of your life. Imagine translating this to cancer immunotherapy to have memory T-cells that remember the cancer and are ready for it when it comes back."
This breakthrough is immensely important, says The Times. More than two million people living in Britain have survived cancer but almost a quarter of breast cancers are thought to come back within ten years, while an estimated 20-40 per cent of men treated for prostate cancer will experience a relapse.

Continue reading for free
We hope you're enjoying The Week's refreshingly open-minded journalism.
Subscribed to The Week? Register your account with the same email as your subscription.