Israel announces plans to close Al Jazeera offices
Communications minister accuses network of supporting terrorism and says 'democracy has limits'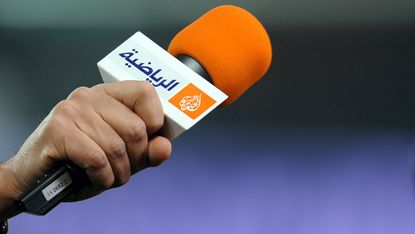 (Image credit: Franck Fife/Getty Images)
Israel has announced plans to revoke media credentials from Al Jazeera journalists working within its borders and shut down the network's offices in Jerusalem.
Announcing the move, communications minister Ayoub Kara accused the Doha-based network of supporting terrorism and inciting violence, saying "freedom of expression is not freedom to incite" and that "democracy has limits".
Al Jazeera denies the allegations and says no evidence has been presented to support them.
Subscribe to The Week
Escape your echo chamber. Get the facts behind the news, plus analysis from multiple perspectives.
SUBSCRIBE & SAVE
Sign up for The Week's Free Newsletters
From our morning news briefing to a weekly Good News Newsletter, get the best of The Week delivered directly to your inbox.
From our morning news briefing to a weekly Good News Newsletter, get the best of The Week delivered directly to your inbox.
The move targets the network's Arabic and English channels in Israel but will not affect its offices in the Palestinian territories of Gaza and the occupied West Bank city of Ramallah.
No timetable has been given for the measures. Reuters reports that legislation will need to be passed to enact most of the proposals.
In June, a group of Gulf states severed diplomatic and transport ties with the Qatari government, which funds Al Jazeera, and demanded it shut down the broadcaster.
It has already been blocked in the United Arab Emirates, Egypt, Bahrain and Saudi Arabia, which, along with Jordan, has also closed the network's local offices.
Israel has long accused Al Jazeera of bias in its reporting of the Israel-Palestinian conflict.
According to the Financial Times, the broadcaster is the main foreign donor for economic and humanitarian projects in the Gaza Strip, which is ruled by the Palestinian militant group Hamas.
"The network's critics say its Arabic language channel is a propaganda tool used to air the views of Islamists groups, like Hamas," the FT reports, "but Al Jazeera insists it has editorial independence."
Israeli President Benjamin Netanyahu last month threatened to expel the network for its coverage of violence at the Al-Aqsa Mosque site in Jerusalem's Old City. Al Jazeera said it would take "all necessary legal measures [if Israel] acts on its threat", the Jerusalem Post reports.
Writing in Haaretz, Al Jazeera's Jerusalem bureau chief Walid Omary said the "collusion by Netanyahu with his Arab autocratic neighbours leaves little doubt that free independent media and truth are ready to be sacrificed as collateral damage in the power politics of the region".
Human rights groups and media organisations have also condemned the planned closure.
"Changing the law in order to shut down a media organisation for political reasons is a slippery slope," said the Foreign Press Association.
Aidan White, director of the London-based Ethical Journalism Network, called the move "a full frontal attack" on press freedom.
"It is a shocking statement and it completely undermines Israel's claims to be the only democracy in the region," he said.
Saudi Arabia releases Qatar 'terrorist' blacklist
26 July
Saudi Arabia has released the names of 18 companies and individuals it alleges are linked to Qatar and terrorism.
The move comes amid a six-week economic blockade on the kingdom, adding to the diplomatic crisis in the region.
Sheikh Saif bin Ahmed Al Thani, Qatar's communications director, said the blacklist had no basis in fact.
He added: "It comes as a disappointing surprise that the blockading countries are still pursuing this story as part of their smear campaign against Qatar."
In June, Saudi Arabia, the United Arab Emirates, Bahrain and Egypt served Qatar with a 13-point list of demands included cutting ties with Iran and shutting down its Al Jazeera television station.
Doha rejected the 13-point ultimatum as an affront to its sovereignty.
A documentary on Sky News Arabia tonight also links Qatar with terrorism. Qatar...The Road to Manhattan examines the relationship between the country and Khalid Sheikh Mohammad, named as one of the key figures in the World Trade Center attacks in 2001, reports Dubai-based Gulf News.
Although few details about the documentary have been released, reports of it in have prompted accusations of hypocrisy, says the Washington Post.
Many "pointed out that Saudi Arabia and the UAE have been accused of their own links to the 9/11 attacks", says the paper. "Notably, of the 19 hijackers who took part in the terrorist attacks, two were from the UAE and 15 were from Saudi Arabia. None were Qatari."
Why Gulf states have turned on Qatar
6 June
Saudi Arabia, Egypt, Bahrain, the United Arab Emirates, Libya and Yemen have severed diplomatic ties with their neighbour Qatar.
All six nations have banned Qatar Airways aeroplanes from entering their airspace and Gulf-based airlines including Emirates and Etihad have suspended flights in and out of Qatar.
An official statement from Saudi Arabia on Monday began the action, with the kingdom giving a laundry list of grievances against the peninsular and claiming that Qatar funds terrorism in the Gulf region and fuels unrest.
Qataris were ordered to leave Saudi Arabia and land and sea routes between the two countries were sealed off.
Bahrain and the United Arab Emirates followed suit, leaving Qatar cut off on all sides - a perilous position for a tiny but gas-rich nation dependent on imported food.
Flights between unaffected countries that have a layover in Doha, a major hub for international flight connections, will go ahead, although passengers face longer journey times as routes are modified to avoid the banned airspace.
People inside Qatar, which is hosting football's 2022 World Cup, have flocked to supermarkets to stockpile food.
For its part, Qatar says the accusations that it supports terrorism are "unfounded" and the response from its neighbours is "unjustified". It has also applauded Kuwait's offer to mediate talks.
Why is this happening now?
Tensions have been building for years, particularly over Qatar's ties to Islamist groups and to Iran, which is Saudi Arabia's regional rival, says the BBC.
Several analysts have speculated that US President Donald Trump's speech in Riyadh last month, in which he condemned Iran's "reckless pursuit of conflict and terror", may have emboldened Saudi Arabia and its allies to take Qatar to task over its alleged links with Iran.
In the same week as Trump's speech, Qatar News Agency website published inflammatory remarks purportedly by Qatari ruler Sheikh Tamim bin Hamad al-Thani criticising Saudi Arabia and supporting Iran.
Within minutes, regional news channels had seized on the remarks, generating outrage throughout the Gulf states.
The quotes were fake and were posted to the news site by hackers - although that was strangely irrelevant, Dr David Roberts writes for the BBC.
Real or fake, "these comments simply voiced out loud what many have long understood as Qatar's true policy positions," he says.
What's the political background?
With its vast reserves of natural gas as leverage, Qatar is keen to become a major player in the region and isn't too fussy about who it courts to further those ambitions, reaching out to everyone from Tokyo to the Taliban.
Neighbouring Gulf states have long considered the country "an irritating regional maverick", perceived to be playing both sides in its attempt to carve out a niche as a mediator between the Shia and Sunni branches of Islam, says the Financial Times. Saudi Arabia is ruled by a Sunni monarchy while Iran is overwhelmingly Shia.
Despite the presence of 1,000 troops Qatari troops in the Saudi-led coalition to drive the Shia Houthi rebels out of Yemen, Saudi Arabia accuses Doha of also lending covert support to the militia fighters, who are backed by Iran.
It is this connection with Iran which particularly aggravates the Sunni Gulf states. In April, the Financial Times reported that Doha had infuriated its neighbours by paying a huge ransom to Iranian security officials to secure the release of 26 Qatari royals kidnapped by a Tehran-backed militia in Iraq in 2015.
Officials involved in the deal said Qatar agreed to pay Iran and its affiliated militias $700m (£543m). A further $200m (£155m) was used to secure the release of around 50 Shia hostages held by the radical Sunni group Tahrir al-Sham, al-Qaeda's Syrian offshoot.
All in all, Qatar is thought to have handed over $1bn (780m) to "two of the most frequently blacklisted forces of the Middle East," says the FT, "an al-Qaeda affiliate fighting in Syria and Iranian security officials".
What will happen next?
The mounting hostility could have "far-reaching consequences" for US foreign policy, says The Atlantic.
In the same speech in which he condemned Iran, Trump referred to Qatar - home to a US military base used to launch airstrikes against Islamic State - as a "crucial strategic partner" in the fight against terrorism.
Washington will be monitoring the situation closely. For now, Secretary of State Rex Tillerson, currently visiting Australia, limited himself to urging the parties involved to "sit down together and address these differences".
However, a swift resolution and return to the status quo is not what the Gulf states have in mind, says Middle East Eye's David Hearst.
Such a smoothly coordinated response by the Gulf allies leaves little doubt this was a "premeditated assault" designed to rein in its most troublesome neighbour, he adds: "It is looking as if the object of this pre-planned campaign is regime change in Qatar."
Whether or not the ruling elite can cling on to power, Doha has few options but compliance with its neighbours' demands, Roberts writes on the BBC. "It seems that the time of Qatar's individualistic foreign policy may be up."

Continue reading for free
We hope you're enjoying The Week's refreshingly open-minded journalism.
Subscribed to The Week? Register your account with the same email as your subscription.