UK's social care crisis: What we can learn from Japan and Germany
Politicians in Europe and Asia have tackled similar problems with little controversy. What's their secret?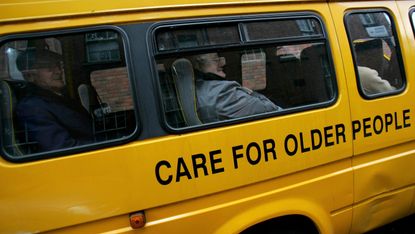 (Image credit: Daniel Berehulak/Getty Images)
Theresa May's "dementia tax" was a lesson about the consequences of tampering with social care.
Since the Tories pitched the disastrous proposal, social care policy has been in disarray and by the time the Queen's Speech was read on 29 June, the plan had turned into a weak promise to "work to improve social care".
But can Britain afford to be complacent? Public Finance says adult social care "is in crisis", beset by a funding gap of billions, growing numbers of patients and a workforce struggling to cope.
Subscribe to The Week
Escape your echo chamber. Get the facts behind the news, plus analysis from multiple perspectives.
SUBSCRIBE & SAVE
Sign up for The Week's Free Newsletters
From our morning news briefing to a weekly Good News Newsletter, get the best of The Week delivered directly to your inbox.
From our morning news briefing to a weekly Good News Newsletter, get the best of The Week delivered directly to your inbox.
A damning report by the Care Quality Commission (CQC) this month found a quarter of services were failing the people they are supposed to help, with a third of nursing homes found to be failing.
However, other countries seemed to have solved these problems, so what lessons can the UK learn by looking overseas?
Funding gap
Part of the problem, of course, is money. Since 2010, social care funding has been cut by £6bn and estimates of the funding gap range from £1.4bn to £5.75bn.
Philip Hammond's Budget in March added £2bn to the system over the next three years, but falls far short of solving the problem.
Added to that, and beyond the government's control, is the ageing population. The Guardian reports the number of over-85s is expected to double in the next 20 years,
To cope, the system will need 275,000 additional jobs by 2025 - an 18 per cent rise, the King's Fund think-tank says. However, more than 900 social care workers leave every day and one in every 20 positions is vacant.
Lessons from Japan and Germany
The UK is not the only country to face the challenges of an aging population, but, as the King's Fund says, England is "one of the few major advanced countries that has not reformed the way it funds long-term care in response to the needs of an ageing population".
Japan, for example, has the world's highest proportion of over-65s - 27 per cent of the total, according to the World Bank.
At the turn of the millennium, Tokyo introduced radical policies to tackle the problem, with long-term care insurance funded by national taxation and compulsory premiums for people over 40. Users also pay in a ten per cent co-payment.
In Germany, the government created a national care insurance fund in 1995 , with money deducted from an individual's pay and then matched by employers. By 2015, the system had €8.3bn in reserves, the Financial Times says.
A UK government inquiry has been looking at these countries and others, but so far has not found a solution, in part because the schemes are unpopular among older people, who make up a disproportionate number of voters and do not want money taken from them.
And politicians know it. Earlier this year, the Tories ruled out Labour's 2010 manifesto suggestion - branded a "death tax" - proposing that on retirement, people with property paid in a lump sum (perhaps via a lien, paid with interest after death), while those without assets were funded by the state.
A green paper will published in the autumn to study funding options, but they "do not include, and never have included, a death tax", said Hammond.
Paul Johnson, head of the Institute for Fiscal Studies, declared it was "unfortunate that you rule out what might be a plausible policy before you do the review", reports PoliticsHome.
Dementia tax hysteria
Similarly, says Polly Toynbee in The Guardian, the hysteria over the dementia tax ruled out that solution, despite it "honestly [showing] where the money is hiding, and where it should be harvested – from the old themselves."
The journalist adds: "Tell [older people] the fairest way is a property levy, hypothecated for social care and housing for the young, and you're lucky to avoid being attacked."
So what is palatable to the electorate? Last year, Sajid Javid, then local government secretary, said local authorities would be able to raise council tax to allocate to social care. But, the King's Fund says, this bases funding on the level of local property wealth and economic activity - essentially a postcode lottery, since poorer boroughs will struggle to raise cash.
The think-tank suggests reducing complexity and funding fragmentation by moving towards a single, pooled local budget to make the system easier to use and spending more targeted.
But above all, it says, people need to recognise that the burden of financing care will rest with them unless they are exceptionally poor or vulnerable. Social care is means-tested - only those with up to £23,250 qualify - so raising awareness of this could include setting up financial products such as "care ISAs", or introducing tax relief for care costs spending. Some have even suggested crowdfunding.
However outlandish the suggestions may be, clearly something radical is required. As the Spectator says: "The real crisis for social care is a crisis of confidence from politicians: they know something big needs to be done, but are just hoping that the inconvenience of doing it will fall on someone else."

Continue reading for free
We hope you're enjoying The Week's refreshingly open-minded journalism.
Subscribed to The Week? Register your account with the same email as your subscription.