The best cookbooks of 2019
For everything from quick, easy recipes to festive spreads, here are the best cookbooks published in the past year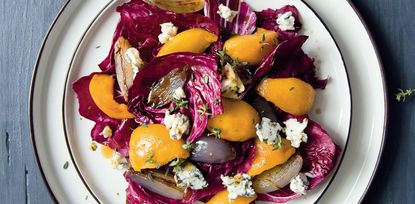 Sign up to our 10 Things You Need to Know Today newsletter
A free daily digest of the biggest news stories of the day - and the best features from our website
Thank you for signing up to TheWeek. You will receive a verification email shortly.
There was a problem. Please refresh the page and try again.
Our annual list of the best recipe books contains a tantalising blend of the familiar and the exotic, the speedy and the defiantly slow.
Baan, by Kay Plunkett-Hodge
Thai food can be intimidating, with its long lists of unfamiliar and occasionally off-putting ingredients. Fermented shrimp paste isn't top of many British shopping lists. But Kay Plunkett-Hodge, who grew up in Bangkok ("when she dreams, she does so in Thai," says National Geographic, "when she cooks, she thinks in Thai") has demystified it in the most delightful way. Packed with recipes and stories of the childhood memories they evoke, Baan leads its readers step-by-step through cooking a range of Thai dishes, from the classic green curry to far more adventurous fare. Many recipes include tips on what to do if you can't find a particular herb or seasoning - although most are now readily available, if not in the supermarket then from Asian grocers on online stockists. And the results are tongue-tantalisingly good: grill some cod on a barbecue and slather it in chillis, galangal and coriander - and then you'll want to try everything else in the book too.
Subscribe to The Week
Escape your echo chamber. Get the facts behind the news, plus analysis from multiple perspectives.
SUBSCRIBE & SAVE
Sign up for The Week's Free Newsletters
From our morning news briefing to a weekly Good News Newsletter, get the best of The Week delivered directly to your inbox.
From our morning news briefing to a weekly Good News Newsletter, get the best of The Week delivered directly to your inbox.
Buy Baan from The Week Bookshop for £20
From the Oven to the Table, by Diana Henry
Diana Henry, a stalwart of past lists (see below), is back with a collection of recipes that invite you to gather your ingredients in a baking tray or casserole and chuck it in the oven. The joy of the book comes from the unusual combinations, which bring store-cupboard staples to life with the addition of something unexpected. This is the classic Henry approach: simple yet creative, quick yet more delicious than they have any right to be. As well as speedy weekday dinners (roast salmon and green beans, for example, or chicken with plums, honey and pomegranates) is more ambitious one-pot cooking, fit for special occasions when you want to focus in the dining room rather than the kitchen. Baked sea bass with raisins, preserved lemons and ginger is a case in point. This is one of those cookbooks that will end up dog-eared, stained - and recommended to every dinner guest.
Buy From the Oven to the Table from The Week Bookshop for £20.99
Dishoom: From Bombay with Love
Unlike the kind of restaurant cookbooks that feels like an unseemly attempt to cash in on a brand, Dishoom's is a true labour of love. Read it from cover to cover for its evocative descriptions and photographs of Mumbai, the city's cafes and restaurants and the dishes they have inspired. Then, if you're not already on your way to the airport, reach for your chopping board and get started on some butter garlic crab, prawn moilee - a warming south Indian curry, flavoured with mustard seeds, turmeric and coconut milk - and gunpowder potatoes. Arranged by time of day, from breakfast to cocktails and dinner, From Bombay with Love is a journey through the streets of a city that glories in food, from parsi omelettes at the Kyani breakfast cafe (established 1904) to a late-night kulfi from an open-air stand on Marine Drive.
Buy Dishoom: From Bombay with Love from The Week Bookshop for £21.99
The Quality Chop House
This is another honourable exception to the warning against restaurant recipes, but a very different beast. Where Dishoom evokes a journey, the Quality Chop House cookbook conjures feelings of warm domesticity. Cullen skink, roast Yorkshire grouse and treacle tart - try picturing them without also summoning thoughts of cosy armchairs and a crackling fire. Some of the recipes require dedication (several feature the phrase "the next day…"), but there are a few quick hits here too. Seared onglet with baby gem lettuce could be whipped up in 20 minutes, and mince on dripping toast needn't take much longer. For the most part, however, this is a paean to the joys of taking your time. Confit potatoes, a stalwart of the London Bridge restaurant, may demand an hour or more of slicing and layering, three hours in an oven, an overnight chill and then a final dip in the deep fat fryer - but rest assured that they'll reward your investment.
Buy The Quality Chop House from Amazon for £21
The Whole Fish Cookbook, by Josh Niland
Nose-to-tail eating is familiar to butchers and carnivores, but even as we eat more fish we tend to gravitate to the same cod fillets and tuna steaks. The Australian chef Josh Niland wants to change that, and so has written The Whole Fish Cookbook, "an important, potentially revolutionary, look at the way we cook and treat fish", says The Caterer. This is not a book for the total novice - the recipes assume a certain amount of knowledge, and access to a good supplier of fish - but ideal for those looking to step up from baking and pan-frying. And even the most experienced pescophile will find repertoire-expanding ideas: fish black pudding, for example, or whiting Kiev (stuffed with garlic butter, breaded and deep fried).
Buy The Whole Fish Cookbook from Amazon for £25
The best recipe books from previous years
Venice: Four Seasons of Home Cooking, by Russell Norman
"A love letter to Venice, pure and simple," says The Independent, this book sprang from a 14-month stay in the floating city. Its recipes, divided by season, alternate between the simple (crab linguine is on the table in 15 minutes) and the long, loving and languorous (baby artichoke risotto is one for the weekend). All of them, says The Daily Telegraph, "are as easy to prepare with UK supermarket ingredients as they are with the romantic luxury of Italian regional markets".
Buy Venice from Amazon for £9.99
Ottolenghi SIMPLE, by Yotam Ottolenghi
No, says the Daily Mail, the title is "not a contradiction in terms", despite the author's reputation for cupboard-stripping lists of ingredients. His new book is pared back to weeknight proportions, without sacrificing richness: coconut-crusted fish fingers and oven chips fortified with oregano and feta are among the highlights. This is "comforting and compelling" food, says the Los Angeles Times, "loaded with flavour, heavy on vegetables and herbs… and reliant on texture, colour and juxtaposition".
Buy Ottolenghi SIMPLE from Amazon for £9.99
A Long and Messy Business, by Rowley Leigh
Simplicity is not among Rowley Leigh's ambitions. "I get fed up with the number of cookbooks that promise quick and easy meals," he says. "I still prefer to take my time." At 416 pages, his collection of recipes and essays is not a speedy read - but it contains lessons learnt over four decades in professional kitchens. Ham hock with lentils, soaked overnight and simmered for hours, are among the rewards, as are beetroots and turnips with beluga lentils, pickled garlic and lemon. Along the way are "many pleasing diversions", says Jonathan Meades in the London Evening Standard: Leigh is "one of the rare food writers who doesn't dishonour the traditions of Elizabeth David and Jane Grigson".
Buy A Long and Messy Business from Amazon for £15.80
Simple, by Diana Henry
The Daily Telegraph's cookery writer, Diana Henry, is a master of the quick-but-serious recipe, as demonstrated in her 2005 book, Cook Simple. Her latest work is essentially a follow-up to that collection of recipes, "calibrated for the wider array of ingredients now available online and with a shift toward cooking that's more grain- and vegetable-focused," says the Los Angeles Times. The result is a book with a Mediterranean sensibility - simple ingredients allowed to shine - despite the global flavours Henry draws on. It is also a beautifully illustrated book, even if Laura Edwards' photographs are likely to end up spattered with chicken stock and pomegranate molasses after a few tours of duty.
Buy Simple from Amazon for £9.99
Vietnamese Cuisine from Elizabeth Street Cafe
Based on the menu at a celebrated restaurant in Austin, Texas, Vietnamese Cuisine from Elizabeth Street Cafe is a collection of French-tinged recipes covering everything from patisserie to pho. While the fresh and fiery taste of Vietnam is increasingly easy to find on British high streets, it's not yet in the repertoire of many home cooks (although Diana Henry's books include a smattering). That's a pity: many of the recipes in this book are healthy, quick to prepare and intensely flavoured - for example Manila clam and ginger fried rice, or green jungle curry noodles. The French colonial influence is most evident in the sweets and pastries, which include Nutella eclairs and profiteroles with strawberry-yuzu sauce.
Buy Vietnamese Cuisine from Elizabeth Street Cafe from Amazon for £9.99
Two Kitchens, by Rachel Roddy
Rachel Roddy's 2015 debut, Five Quarters, remains a delightful read, quite apart from the recipes. It tells the story of the author's move from London to Rome, and the resultant change in her relationship with food. In Two Kitchens, she relates the next stage of her Italian education: an exploration of the culinary culture of Sicily, where her partner was born. The flavours are fresh and summery - chicken balls with lemon and ricotta, for example - and much time is devoted to vegetables and other side-dishes. As in Five Quarters, Roddy's warmth, humour and love of Italian ingredients shines through the prose.
Buy Two Kitchens from Amazon for £17
The Wine Dictionary, by Victoria Moore
The perfect gift for anyone who spends too long scouring wine labels for hints about food matches, Victoria Moore's Wine Dictionary lets you look up your meal or its constituent parts to find a selection of suitable accompaniments. For fondue, for example, it suggests Marcillac, a "light, racy red" with a "bloody tingle of iron", or "an acerbic white wine from the Alps". Moore offers various recommendations for each dish, depending on how it is cooked. Sea bass, if simply grilled, is paired with a Rhone white or pinot bianco from north-east Italy, but if cooked with lemongrass, ginger and chilli, it gets a "young, limey riesling from Clare of Eden Valley in Australia". The book also lets you start at the other end of the equation, looking up a particular grape variety or wine region and finding the foods it will complement.
Buy The Wine Dictionary from Amazon for £15
Eat in My Kitchen by Meike Peters
The winner of the 2017 James Beard Award for food writing, Eat in My Kitchen grew out of Meike Peters' recipe blog of the same name. Peters, who is German, has a Maltese boyfriend, which helps to explain the strong pan-European flavour present in both the blog and the book. Sauteed Belgian endive wrapped in prosciutto di Parma is one such recipe; fennel and tomato lasagna with crunchy bacon another. The New York Times recommends the "delicious" cod in parchment with wild leeks and red onions.
Buy Eat in My Kitchen from Amazon for £21.69
Continue reading for free
We hope you're enjoying The Week's refreshingly open-minded journalism.
Subscribed to The Week? Register your account with the same email as your subscription.
Sign up to our 10 Things You Need to Know Today newsletter
A free daily digest of the biggest news stories of the day - and the best features from our website