Opera in Oman: singing in the changes
Royal Opera House Muscat is putting the small Gulf state on the world's cultural map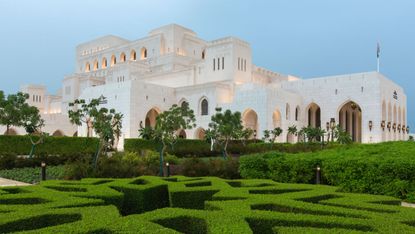 (Image credit: Khalid AlBusaidi/ROHM)
Sign up to our 10 Things You Need to Know Today newsletter
A free daily digest of the biggest news stories of the day - and the best features from our website
Thank you for signing up to TheWeek. You will receive a verification email shortly.
There was a problem. Please refresh the page and try again.
The sunlit sands of Oman may seem a strange place to find one of the world's most prestigious opera venues, but here in the south-eastern Gulf, Royal Opera House Muscat is putting this little-known state on the cultural map.
Since opening in 2011, Royal Opera House Muscat (ROHM) has hosted some of the world opera's most renowned signers, conductors and directors: from Plácido Domingo to Franco Zafferelli and Andrea Bocelli.
It is a long way for a country that until 1970 had only a handful of tarmac roads. Known as "The Renaissance", four decades of rapid modernisation and infrastructure investment under its ruler, Sultan Qaboos bin Said al Said, has transformed Oman from a provincial backwater into an island of relative tolerance and stability in an otherwise chaotic region.
Subscribe to The Week
Escape your echo chamber. Get the facts behind the news, plus analysis from multiple perspectives.
SUBSCRIBE & SAVE
Sign up for The Week's Free Newsletters
From our morning news briefing to a weekly Good News Newsletter, get the best of The Week delivered directly to your inbox.
From our morning news briefing to a weekly Good News Newsletter, get the best of The Week delivered directly to your inbox.
But Oman's crown jewel remains its opera house, which was the first in the Gulf region and has since been joined by one in Dubai.
Royal Opera House Muscat, photo by Khalid AlBusaidi/ROHM
ROHM's Director General, Umberto Fanni, says its importance to Oman's image abroad cannot be overstated.
Only the Grand Mosque, until recently the largest in the world, receives more visitors a year. But more than just a tourist pull, Fanni says ROHM aims to acts as much as window onto the world as a reflection of it.
"The main priority [of ROHM] is to make a bridge between different cultures and to show what is happening culturally in other parts of the world. There is an importing of different nationalities and way of thinking".
Over the past seven seasons, on top of 42 different opera titles, a diverse programme of symphonic concerts, classical recitals, world music, musicals, and ballet has seen everyone from world-renowned cellist Yo Yo Ma to the London Philharmonic Orchestra and legendary trumpeter Wynton Marsalis perform.
The building itself is a mix of eastern and western styles and traditions. Italian marble props up Malaysian wood, while Mongolian designs adorn Islamic architecture – befitting a city that sat along the ancient Silk Road from China to Europe.
The 1,100 seat theatre would not look out of place in Rome or Milan and follows a wider architectural trend in Muscat. No building in the capital can be over eight stories high unless granted special dispensation, giving the city a human scale that provides a stark contrast with the immensity and tacky glitz of Doha or Dubai.
Fanni also points out that ROHM leads the way in technological innovation, being the first opera house in the world to install Radio Marconi's multimedia interactive display seatback system.
The ultimate goal, he says, is to find the right balance between "innovation and tradition".
February's performance of Opéra de Rouen's Norma provides a perfect example of the ethos Fanni has tried to instil at ROHM.
Norma, photo by Khalid AlBusaidi/ROHM
Vincezo Bellini's tale of a Gallic priestess, who exacts revenge on her unfaithful Roman lover with devastating consequences, is at once relevant and relatable to contemporary audiences while sitting deep within the historic operatic canon.
"It is a very interesting interpretation but without losing the tradition," Fanni says. "It is looking ahead but staying carefully in the tradition, because I think you cannot look into the future unless you look where you have come from".
This symbiosis of cultures and traditions finds a natural home in Oman due to the country's relatively unique place on the world stage. It is "a Gulf state that maintains its independent status from most of the affairs in the Gulf; a country that actively hosted and encouraged secret meetings between the US and Iran when neither would talk to the other; a state bordered by Yemen and Saudi Arabia, with a short sea-crossing to Iran, remaining calm while others lose their heads", says the International Business Times.
Oman's cultural awakening has been driven by its music-loving British-educated ruler, who while one of the world's last remaining absolute monarchs and the region's longest serving head-of-state, remains popular.
Unlike most of the Arab world, the country remained relatively unaffected by the Arab spring protests which broke out across the region in 2011.
But with an exceptionally young population – 43% are under the age of 15 – there is an acknowledgment that more needs to be done to win over younger Omanis who may have taken the country's modernisation for granted.
To this end, the opera house has embarked on a significant outreach programme aimed at engaging locals, and especially children and young adults.
Currently, of ROHM's 237 employees 73% of them are Omani and each performance tries to involve a number of local children as extras, with Norma being no exception.
A programme of short operas based on well-known classics such as Mozart's The Magic Flute or Puccini's Turandot are adapted for young children, while students from all of Oman's public and private schools are invited to participate in interactive performances that allows them to sing and act with professionals on stage.
Last year, ROHM co-produced a new musical using the traditional language of the opera but oriented to new and younger audiences.
David Livermore, regarded as one of the best stage directors in the world, linked 24 different arias from the opera repertoire using singers from the studio of Plácido Domingo, dancers from Cirque du Soleil and internationally renowned actors.
"In general the concept of an opera house should be to be open to the city or country where it is based and my thinking about this is that it must always open its doors," says Fanni. "That means involving a major part of the community. We have to take care of the Omani's but also the expats living here – giving them opportunities to feel this opera house is there home".
Grand staircase of Royal Opera House Muscat, photo by Khalid AlBusaidi/ROHM
The desire to appeal to locals and international visitors alike has led to a policy of cheap tickets which range from €10, (£9) up to €150 (£134), "allowing all social categories to enter and to participate" says Fanni.
He is also hugely proud that, in a country that had until 2011 virtually no history of classical music, almost all performances are sold out.
"We are proud to have reached 21% Arab attendance [doubled in four years]. This is not just from Oman but from Bahrain, Kuwait, Saudi Arabia, with many just coming here for a weekend to see the opera and have a relaxing stay".
Around three million tourists visit Oman each year – in a country of four-and-a-half million – drawn by its 1,200 km of coastline, countless beaches, ancient forts, numerous dive sites and excellent weather over the winter season.
The country boasts some spectacular scenery, not to mention the world's second largest canyon range (after the US). One, five and seven-day desert treks are also available and, unlike many other countries in the region, women often travel alone.
There are some that fear incoming changes to visa rules will hit tour operators who rely on visitors coming on short trips across the border from the UAE. In 2016, some 859,000 people came and went on the same day, 27% of all visitors to the country that year.
Norma, photo by Khalid AlBusaidi/ROHM
But for now, the 40% year-on-year growth in tourist numbers shows no signs of slowing. There are plans to decommission the ancient port of Mutrah and turn it into a tourist hub while a long-delayed but a much-needed new airport terminal is due to open at the end of March, along with a host of new routes on Oman Air.
ROHM itself is also looking to build on its success. At present it has no permanent company, but with a new extension nearing completion, there are plans to begin in-house productions next year.
2017 saw ROHM's first co-production, based on Omani history. Told using the language of the opera and traditions of French and Spanish theatre, Celebrating Oman involved over 600 different local interpreters as well as Omani talent, and was attended by more 10,000 people over the course of three days.
Translating one cultural context to another can often prove difficult. Coming back to Norma, Fanni concludes: "It is important to evolve, but making sure you don't lose the meaning of the tradition".
It seems the Royal Opera House Muscat has struck the balance perfectly.
Travel for the Arts offers all-inclusive tours of Oman that include: a performance at the opera, a tour of Muscat and a night at a desert camp. Five nights' full board cost from £2,560pp B&B, including flights and transfers (travelforthearts.com).
From 21 March all applications for tourist visas will have to be made in advance through an online application process. The current system, whereby nationals of some 68 countries can quickly get a visa on arrival is to be scrapped.
Peak tourist times: October – April
Continue reading for free
We hope you're enjoying The Week's refreshingly open-minded journalism.
Subscribed to The Week? Register your account with the same email as your subscription.
Sign up to our 10 Things You Need to Know Today newsletter
A free daily digest of the biggest news stories of the day - and the best features from our website