Return to the wild: a week at Zapata Ranch in Colorado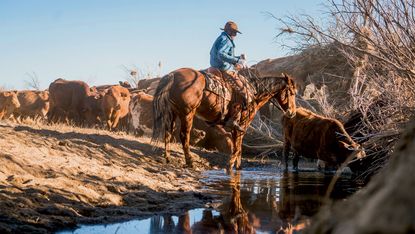 Vast desolate landscapes, epic cattle stampedes, notorious gunslingers and lone heroes such as Gary Cooper, John Wayne, William S Hart and Clint Eastwood. The myth of the cowboy is indelibly linked to the celluloid tropes and characters of the great American Western. Then came the denim-clad, Stetson-wearing Marlboro man of the '70s – an enduring, if clichéd, archetype of cowboy culture that is etched into our collective memory: brooding, enigmatic and tough as nails.
The word 'cowboy' sounds like an anachronism today, especially given the wider use of terms such as 'rancher' and 'wrangler' to describe men and women who live the ranching lifestyle. But at Zapata Ranch in Southern Colorado, cowboys have proudly reinvented themselves as agricultural conservationists or 'land stewards' who use traditional and sustainable methods to wrangle livestock and run the ranch as their ancestors did, while supporting a landscape of stunning biodiversity, replete with high desert grasslands, alpine forests, wetlands, sand dunes and lush meadows.
Zapata Ranch isn't easy to get to: almost four hours south of Denver and 30min from the nearest (tiny) town
 – Blanca, which has just one convenience store, stocking the obligatory Stetsons and cowboy boots – it's isolated from civilisation. It's late when I arrive with my 11-year-old daughter, and the surrounding San Luis Valley has a bleak, windswept feel reminiscent of the snowy mountain town of Lahood in Clint Eastwood's 1985 movie Pale Rider. It's only in the morning that the drama of the landscape reveals itself; a visual layer cake of colour, it begins with acres of dusty terrain and extends into a blanket of ochre pastures and alpine forests. Beyond this, the giant mounds of the Great Sand Dunes National Park and Preserve flank the base of the snow-capped mountains of the Sangre de Cristo Range, among which are eight of Colorado's famous 'Fourteeners' – peaks with a summit exceeding 14,000 feet in height – which dominate the state's skyline. The earthy, stratified nature of the panorama lends this wild 100,000-acre expanse an air of otherworldliness, as if you are gazing at a giant cinema screen, with a colour palette to rival that of a Wes Anderson film.
Subscribe to The Week
Escape your echo chamber. Get the facts behind the news, plus analysis from multiple perspectives.
SUBSCRIBE & SAVE
Sign up for The Week's Free Newsletters
From our morning news briefing to a weekly Good News Newsletter, get the best of The Week delivered directly to your inbox.
From our morning news briefing to a weekly Good News Newsletter, get the best of The Week delivered directly to your inbox.
Zapata Ranch is owned by the Nature Conservancy – the world's largest non-profit nature organisation – and managed by Ranchlands, which operates several ranches in the American Southwest. The latter company was founded by Duke Phillips, a third-generation cattle rancher with a heavy chevron moustache – think Sam Elliott in The Big Lebowski – who believes that ranching should be preserved as a one of America's great traditions. This new 'cowboy- conservationist' sees education as vital to sustainability and longevity – as such, he has diversified Ranchlands' business to appeal to a wide range of visitors, from the uninitiated to the experienced rider and adventurer. There are photography and art workshops with massage and yoga sessions, as well as 'on-the-ground' activities including nature hikes, fly-fishing and wildlife watching.
For those want to get stuck in, there are many adrenalin-fuelled activities to test your mettle. My daughter and I have signed up for the horseback experience, riding with cowboys and rounding up the ranch's herd of horses. City Slickers this is not: you have to be both confident and competent in the saddle. The riding and ranching experiences here are immersive and hands-on – you've come to contribute as well as to enjoy yourself. Home for our four-night stay is a cosy log cabin, part of the original ranch homestead built in the 1800s, surrounded by cottonwood trees, with sweeping views of the sand dunes and mountain range beyond.
Homemade and hearty Western cuisine is served to set you up for a day's riding. Our first dinner is corn cakes and a tasty cottage pie made from ranch-raised bison. Claire, a Maryland native, details the next day's programme. "Don't worry, this isn't real cowboy college," she says. "Breakfast is at 7am, and we don't leave until 8.30am."
The horses here – a mix of American Quarter Horses, mustangs, and American Paint Horses with their mottled coat patterns – are smaller and stockier than European breeds. All are good for covering long distances, sometimes up to 50 miles a day. My daughter Lily immediately falls in love with hers, a chestnut-and-white Paint Horse named Riba, while I'm to ride Marianne, a speedy Quarter Horse. Claire checks our riding skills, then we load the horses onto a trailer and head for greener pastures.
Many of the animals of the San Luis Valley are unique to this part of the world, including the Great Sand Dunes tiger beetle with its distinctive violin-shaped marking. You might also see birds of prey, black bears, jackrabbits, mountain lions, great-horned sheep, porcupines, coyotes and the indigenous mule deer, so-named because of their endearing oversized ears. King of this Colorado ranch, however, is the mighty bison. Two thousand of these endangered beasts – one of the largest herds in the USA – roam freely over 50,000 acres of land and are gathered just once a year in November to prevent overgrazing.
This high-risk corralling lasts around six days, during which a handful of skilled ranchers on horseback guide them across miles of terrain, sometimes crossing dangerous ravines, risking their lives alongside these noble but often unpredictable creatures; capable of reaching 40mph when it charges, a bison can easily outrun a horse. What's more, a fully grown bull can weigh as much as 2,000lb and stand over 6ft tall. Some are sold to other ranchers to ensure their numbers are kept to a sustainable level in relation to the land; the profits then go towards maintaining the business. The ranch also use a small number of bison for gourmet meat.
Tens of millions of the animals once roamed freely across America's Great Plains, along a range stretching from New Mexico in the south to Dakota in the north. Because of aggressive hunting, the Indian Wars and the expansion of the Transcontinental Railroad during the mid-to-late 19th century, the bison were threatened with extinction, and by the turn of the century there were just 300 left in the wild. Today, their numbers have significantly recovered to around 500,000 worldwide, thanks to conservation efforts and cross-breeding with domestic cattle. At Ranchlands, they've been successfully breeding the cattle gene out of the herd. Their DNA is now 99.97% bison, almost genetically pure; so pure, in fact, that any excess livestock is sold to other breeders.
Part of our horseback adventure is designed to admire these magnificent creatures at close range. For this, we drive to an abandoned homestead out in the desert. It's late April, but the mountains are still covered in snow. The sky has turned grey and foreboding, and the wind has picked up, making the house's old wooden clapboards creak. It's a desolate environment fit for a celluloid showdown à la Tarantino's 2015 Western The Hateful Eight, which was shot about 300 miles from here, near the ski haven of Telluride. But there are no gunslinging bounty hunters hiding behind old saloon doors, just 50 bison grazing peacefully in the distance. We get within 150ft of the animals, which look every bit as impressive as they do in the movies.
Next, we spot a congregation of 100 or more elk further in the distance, which Claire describes as the biggest herd she's ever seen. And a lone coyote patrols his territory some way away, prudently keeping well clear of our horses, as a more insouciant turkey buzzard swoops overhead. Claire then points out the markings of a bobcat trail in the snow, but she saves the best to last: back at the deserted homestead, she lifts a wooden plank to reveal hundreds of garter snakes coiled up in a seething mass on the ground.
The northern side of the ranch is known as the 'American Serengeti' because of the sheer diversity of wildlife; April is an ideal time to spot antelope, elk, deer and sandhill cranes drinking from Sand Creek, a free-flowing stream fed from the melting snow of the Sangre de Cristo Mountains in spring. We gallop along the creek and the newly snow-covered sand, then take our horses onto the 750ft sand dunes to slow them down.
It's a quick transition from frosty tundra to a Sahara-like setting. But this element of surprise and unpredictability is what Zapata Ranch is all about: a place where nature is to be respected and understood in order to be enjoyed. On the drive back to Denver, my daughter, who has been encouraged by the wranglers to take every challenge in her stride, tells me, "Daddy, that was one of the best experiences of my life." I've already put down our names for Zapata Ranch's cattle-branding camp next May.
For information see ranchlands.com; Instagram: @ranchlands

Continue reading for free
We hope you're enjoying The Week's refreshingly open-minded journalism.
Subscribed to The Week? Register your account with the same email as your subscription.