Will Iran and the US go to war?
Secretary of State Mike Pompeo claims US is to build a 'coalition' to deter Iran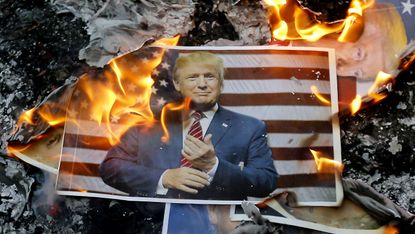 (Image credit: Atta Kenare/Getty Images)
Sign up to our 10 Things You Need to Know Today newsletter
A free daily digest of the biggest news stories of the day - and the best features from our website
Thank you for signing up to TheWeek. You will receive a verification email shortly.
There was a problem. Please refresh the page and try again.
Officials from the Trump administration announced on Thursday that the US in seeking to form a coalition of nations to deter Iran from military aggression, after Washington blamed Tehran for last weekend's attack on Saudi Arabian oil facilities.
After the destruction of the Abqaiq oil fields, which caused a dramatic spike in oil prices and put the Middle East on the brink of war, US Secretary of State Mike Pompeo has now claimed that Trump has requested the formation of a "coalition aimed at achieving peace and a peaceful resolution", along with placing further sanctions on Tehran over the bombing.
"That's my mission here, is to work with our partners in the region," Pompeo said shortly after talks with Abu Dhabi's crown prince Mohammed bin Zayed Al Nahyan on Thursday. "That's what President Trump certainly wants me to work to achieve and I hope that the Islamic Republic of Iran sees it that way."
Subscribe to The Week
Escape your echo chamber. Get the facts behind the news, plus analysis from multiple perspectives.
SUBSCRIBE & SAVE
Sign up for The Week's Free Newsletters
From our morning news briefing to a weekly Good News Newsletter, get the best of The Week delivered directly to your inbox.
From our morning news briefing to a weekly Good News Newsletter, get the best of The Week delivered directly to your inbox.
France 24 reports that Pompeo did not provide further details about the coalition, but notes that the move would demonstrate a further push by the US to "create a global maritime security alliance since attacks on oil tankers in Gulf waters, which Washington also blamed on Iran".
"UAE, Saudi Arabia, Britain and Bahrain have said they will participate," the news agency adds. "Iraq said it would not join, and most European countries have been reluctant to sign up for fear of stoking regional tensions."
–––––––––––––––––––––––––––––––For a round-up of the most important stories from around the world - and a concise, refreshing and balanced take on the week's news agenda - try The Week magazine. Get your first six issues for £6–––––––––––––––––––––––––––––––
Iran has not taken kindly to the announcement, and have ridiculed Pompeo's description of the formation of a coalition as "an act of diplomacy" to "achieve peace".
Iran's foreign minister, Mohammed Javad Zarif, tweeted on Thursday that "remnants of [the] B-team" are trying to "deceive [Donald Trump] into war", asking facetiously: "Coalition for Peaceful Resolution?"
But shortly after, Zarif gave CNN a starker rebuttal to the president, claiming Iran "won't blink" if it has to defend itself against the US, and when asked what the consequence of a US or Saudi military strike on Iran would be, Zarif said: "All-out war."
Despite Donald Trump's 2016 election campaign pledge to end all foreign wars, developments this week have put the militaries of Washington and Tehran on the type of collision course not seen since the 1970s.
As Business Insider notes, a war with Iran would "potentially be more calamitous than the US invasion of Iraq in 2003", which "led to hundreds of thousands of deaths, bogged the US down in a costly and lengthy war, and helped catalyse the rise of the Islamic State group".
So how realistic is the prospect of a US-Iran war?
Background
Although US-Iran relations have never been at ease following the overthrow of the Washington-backed Shah in 1979, a historic nuclear deal signed by Iran, the US, the EU and the other remaining members of the United Nations Security Council in 2015 paved the way for sanctions on Tehran to be lifted and tensions to thaw.
However, Trump's controversial 2017 decision to withdraw from the agreement angered much of the international community and none more so than Iran, who have responded by becoming a belligerent force in the Middle East diplomacy.
Recent months have seen a steady build-up of US coalition troops, aircraft and naval vessels in the Persian Gulf, with Washington accusing Iran of carrying out a series of attacks on oil tankers, which Tehran says is a retaliation to the seizure of Iranian tankers by British Royal Marines near Gibraltar earlier in 2019.
This began a furious war of words between the US and Iranian administrations, which in August ratcheted up a notch, after Iranian Foreign Minister Mohammad Javad Zarif was hit directly with US sanctions after refusing an invitation to meet Donald Trump at the White House, The New Yorker reports.
The Trump administration has also reimposed crippling sanctions on Iran and is spearheading a campaign to isolate the Middle East nation from the international community.
The moves have triggered the collapse of Iran's economy, "plunging the country into a deeper and deeper recession, impacting millions of Iranians who were already struggling under the regime's brutal rule", says Vox.
Uranium
Yet if Trump's withdrawal from the nuclear deal and implementation of heavy sanctions against Tehran was supposed to silence the ancient power, he has failed miserably.
"Rather than bringing Iran's leaders to their knees, America's belligerence has caused them to stiffen their spines", says The Economist. Even President Hassan Rouhani, who "championed the nuclear deal, has begun to sound like a hawk", the magazine adds.
A watchdog confirmed in July that Iran had breached the limit on its levels of enriched uranium set out in the nuclear deal. The International Atomic Energy Agency said its inspectors had verified that the 300kg (660lb) cap had been exceeded, says the BBC.
Iran's increased production of enriched uranium "suggests that Iran will start moving closer to being able to build a nuclear bomb", says The Economist.
Iranian Foreign Minister Zarif announced last week that Iran would further reduce its commitment to the agreement. "The third step in reducing commitments to [the nuclear accord] will be implemented in the current situation," he said.
"We have said that if [the deal] is not completely implemented by others, then we will also implement it in the same incomplete manner."
Meanwhile, President Donald Trump has warned that Iran is "playing with fire" by exceeding the limit.
The Bolton Factor
Although tensions were already running high, most experts point the finger of blame for the dramatic spike in hostilities at John Bolton, Trump's former national security adviser.
Bolton was handed the role in early 2018 and subsequently dismissed in September this year, but critics, who claim he "has had it in for Iran for decades" such The Spectator's Jacob Heilbrunn, suggest the damage has already been done.
The Guardian notes that within two months of Trump hiring Bolton, the US was out of the Iran nuclear deal and on the way to "maximum pressure" on Tehran.
Bolton has never been shy about his feelings in regards to Iran. In 2015, he wrote an article in The New York Times demanding that America bomb the country.
"The inescapable conclusion is that Iran will not negotiate away its nuclear programme. The inconvenient truth is that only military action like Israel's 1981 attack on Saddam Hussein's Osirak reactor in Iraq or its 2007 destruction of a Syrian reactor, designed and built by North Korea, can accomplish what is required. Time is terribly short, but a strike can still succeed," he wrote.
The Saudi attack
Before the dust had settled following the devastating attack on a series of oil facilities at Abqaiq in Saudi Arabia on 14 September, Washington was already pointing the finger at Iran and claiming it had evidence that Tehran was behind the bombing.
Iran denies all involvement attack that initially halved Saudi oil output and which Pompeo earlier called an "act of war" against the Saudis.
The episode has reignited bitter hostilities between the US and Iran, prompting Pompeo's announcement that the US would form "a coalition aimed at achieving peace and a peaceful resolution".
The BBC suggests that Iran denying all responsibility "is not going to help" matters, as Washington and Riyadh "believe the country has raised the stakes in order to convince [Trump] to ease the crippling economic sanctions he reinstated when he abandoned a nuclear deal with Iran last year and demanded a new one be negotiated".
However, Trump on Wednesday struck a "cautious note", Al Jazeera reports, saying there were many options short of war with Iran, before announcing more sanctions on Tehran, which Iran has called "economic terrorism".
What might such a war look like?
Business Insider reports that a war between Iran and the US would "likely be geopolitically and economically disastrous while further destabilising a region that has been consumed by conflict for years".
For a start, Iran has a population of about 82 million people and its military is ranked as the 14th most powerful with around 523,000 active military personnel in addition to 250,000 reserve personnel.
"Comparatively, Iraq had a population of about 25 million people, and the Iraqi military had fewer than 450,000 personnel when the US invaded over a decade ago," BI adds.
It is also far larger than Iraq, and Tehran has a significant support network throughout the Middle East and is allied with militant groups, such as Hezbollah in Lebanon, which would likely create proxy conflicts across the region.
Furthermore, The Economist notes that "bombing would not destroy Iranian nuclear know-how, [rather] it would drive the programme underground, making it impossible to monitor and thus all the more dangerous".
"The only permanent solution is renewed negotiation," the magazine argues.
Continue reading for free
We hope you're enjoying The Week's refreshingly open-minded journalism.
Subscribed to The Week? Register your account with the same email as your subscription.
Sign up to our 10 Things You Need to Know Today newsletter
A free daily digest of the biggest news stories of the day - and the best features from our website