Skiing among the sakura: Inside Japan with Hoshino Resorts
The Week joins a life-affirming nine-day tour of Hokkaido and Tokyo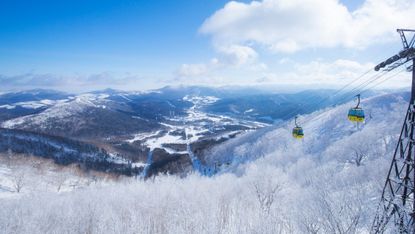 (Image credit: Hoshino Resorts)
Sign up to our 10 Things You Need to Know Today newsletter
A free daily digest of the biggest news stories of the day - and the best features from our website
Thank you for signing up to TheWeek. You will receive a verification email shortly.
There was a problem. Please refresh the page and try again.
Good morning Japan. It's 6am as we dip below the clouds on approach to Tokyo Haneda airport, my travel-writing cogs jamming as I catch my first glimpse of the world's largest city. On the one hand, I know before we even touch tarmac that a flowery journalistic summation of a nine-day tour of Japan will practically write itself; the superlatives will flow like a vexing haiku, falling like sakura cherry blossom petals into the steamy onsen that is the Google Doc page in front of me. On the other hand, I must be sure to avoid overwrought Japanese cliches.
But this is already proving difficult - from my seat, Tokyo, touched by pink dawn light, honestly looks like a modern ukiyo-e piece. The urban sprawl explodes out from below us all the way to the horizon, stopping only upon meeting the base of the chilly silhouette of Mount Fuji. It is perhaps the most spectacular airport approach on the planet, and one that takes a significant amount of edge off the patience-testing - if rather comfortable - 13-hour overnight flight from Heathrow on British Airways.
But where to even start with a trip to Japan? Had I been left to my own devices, I would no doubt have panicked myself into a metaphorical corner of planning, paralysed by the sheer choice afforded to western tourists visiting the country. "Should I spend time on a gastronomic tour of Tokyo? Or would heading west to explore the temples of Kyoto be a better use of my time?" Luckily, we have Inside Japan Tours to take the wheel and, with senior tour leader Tyler at the helm, no sooner have we touched tarmac at Haneda than we are whisked back into the skies headed north. Far north.
Subscribe to The Week
Escape your echo chamber. Get the facts behind the news, plus analysis from multiple perspectives.
SUBSCRIBE & SAVE
Sign up for The Week's Free Newsletters
From our morning news briefing to a weekly Good News Newsletter, get the best of The Week delivered directly to your inbox.
From our morning news briefing to a weekly Good News Newsletter, get the best of The Week delivered directly to your inbox.
Miles of pristine white wilderness
Hokkaido, Japan's second-largest and northernmost island, rarely attracts visitors from abroad in the same manner as the larger "mainland" of Honshu. Almost all I had known and seen of Japan before this trip was informed by Honshu; bullet trains thundering through the countryside, Shinto shrines rising from the ocean and Edo-period temples crammed neatly into angular cityscapes from the future.
To say Hokkaido is a world away from this would be an understatement. For a start, it's currently February and Hokkaido is making no secret of that as we gaze from the condensation-riddled windows of Chitose Airport. After just two hours of flying north, the temperate if somewhat damp climes of the capital have given way to something more akin to Siberia, defined by deep snowdrifts and driving winds, with temperatures routinely plummeting below -15 degrees celsius. The island also only has one major city of note - the snowy, hipsterful Sapporo - and greatly reduced infrastructure, consisting of a skeletal network of minor roads that carve through hundreds of miles of pristine white wilderness. And it is on one such road that we are making our way to Tomamu, one of Japan's best-known ski resorts, to sample the finest powder the country has to offer.
To answer a question that I had before arriving here: yes, if you're an avid European skier, Japan's resorts will come as a shock. Rather than intimidating landscapes of jagged mountains, the majesty of Hokkaido's ski region is less in-your-face, with peaks so rounded and of such low elevation as to almost resemble the rolling hills of the South Downs. Those of us who tire of the Alps' relentless openness - most resorts are situated at altitudes at which tree growth simply gives up and much of your time is spent skiing in an exposed wasteland of snow - will feel invigorated by the respective Japanese experience, where plentiful oxygen sees the pistes wind in and out of forests of skinny birch trees.
Perhaps more problematically for some - but certainly not me - is the absence of a Euro-style aprés ski scene. Here in Japan, the end of a punishing day on the slopes will be capped not with a beer-soaked singalong to Livin' on a Prayer, but with a plate of wagyu beef nigiri, a toast of local sake and a dip in a near-boiling onsen. For me, there's no contest.
But the most unusual facet of Japanese resorts is a byproduct of their relatively recent construction. Rather than quaint wood-framed chalets, your digs are more likely to come in the form of a skyscraper hotel much like the Hoshino Resorts Risonare Tomamu, our gargantuan 37-floor, 200-room home for the next few days. Cresting the hill leading into the resort, it is the kind of surreal sight one becomes accustomed to after any time spent in Japan; a modern, urban-style high-rise rocketing skyward from the centre of Tomamu's comparatively miniscule skyline, towering over the main junction of ski lifts directly in its shadow.
All roads lead downhill
Hoshino Resorts is a fascinating brand that is more au fait with stratifying its products than any hotel chain I have come across. It has meticulously curated accommodation dotted across the country for seemingly every budget, every occasion and every guest, ranging from low-cost hiding holes buried in central business districts to the most extravagant ryokan inns money can buy out in the wildest corners of Japan. Here in Tomamu we're checking in to the brand's mid-range Risonare offering, a three-star hotel straddling the line between homely comfort and the cutting edge luxury - a hotel where I can enjoy a glass of Nikka Taketsuru whisky by the log fire in the lobby before heading up to the private sauna/jacuzzi complex in my 15th-floor room for a session of alternating sweating and soaking. And as the sun sets on our first day in Japan, the view over the pistes from the floor-to-ceiling bay windows adjacent to my hot tub is looking pretty good.
And so, after a five-hour wait for the sun to rise following jetlag's decision to wake me up at 2am, we're heading up to the pistes. Contrary to the image you might have in your mind, the apparatus at Japanese resorts is far from high-tech and in some places is actually rather old-fashioned, such as the dinky Unkai Gondola which is slowly dragging us on an early morning trip up Mount Tomamu. Tomamu resort is essentially split into two halves connected at the base, the larger of the two being the Mount Tomamu half and the other half situated on the slopes of the neighbouring Tower Mountain. At the top of the Tomamu side, we find ourselves standing on the poetically named Terrace of Frost Trees, a man-made balcony with views for what seems like hundreds of miles stretching to the plains beyond the Hidaka Mountains and almost to the ocean.
Although forecasts cited exceptionally cold temperatures and blistering blizzards all week, the conditions up here are surprisingly mild. The peak is still comfortably below zero - far colder than many European resorts average in February - but the skies are clear and the air is still, allowing a strange, fine mist to rise from the forests far below us. From here all roads lead downhill, and so our adventure on Tomamu's 22km of piste begins, starting with the fantastic blue run Panorama Ridge which offers spectacular views as it winds its way along the outer reaches of the resort (note: the European ranking of piste difficulty - blue being for beginners, red for intermediate and black for expert - is replaced in Japan by green, blue and black respectively). As the piste levels out after a fairly steep start, it's options galore; skiers can choose to switch to the wonderfully smooth Silver Bell green run for a calm route to the bottom, stay on blue with the pleasant Silky Way, or dive headfirst into the madness of Japanese black slopes on North Star.
There's something that feels almost sadistic about black pistes in Japan compared to their European counterparts. They are ungroomed, hair-raisingly steep, exhaustingly long and awash with rock solid ice moguls and exposed trees. By 10am, after a brief morning session on these monstrous runs, I can already sense a drastic urge building from within for a stiff drink. But instead we scuttle down to the bottom of the mountain on the gently undulating Beginners Choice run, stopping off for a Hokkaido Beef Stew at the charming Mount Cafe SOL before taking the peculiarly named Romance Chair over to Tower Mountain to sample the opposite side of the resort.
Over on the Tower side, the pistes are considerably less demanding - with the exception of the thoroughly brutal Grand Prix Z black run - and it's here we found most of the resort's beginners and ski schools. More experienced skiers will find Tower Mountain's runs a comparative breeze after the challenging offerings of Tomamu, although there are still a handful of cut-throughs and shortcuts through wooded areas that will test the resolve of even the most agile. It should be noted that those looking for off-piste action at Tomamu may be left disappointed; due to the low altitude of ski resorts in the country, all of the pistes here are effectively thin strips of cleared land carving through dense forest, and thus wide open, untouched powder is not really part of the Japanese skiing experience.
One of the final strongholds of the Ainu
Four days we have now spent gliding through this wondrous and slightly alien landscape, punctuated by nights spent chowing down on a hearty shabu-shabu and exploring a local ice village so ornate and intricate as to have its own "ice library", "ice bakery" and "ice church".
But we now must say a solemn goodbye to our skis because, via a chaotic and exhilarating afternoon of snowmobiling through the beautiful, desolate wilderness of Kitaochiai District just north of Tomamu, Tyler has brought us to the bustling metropolis of Asahikawa for the first stop on the second half of our journey across Japan.
Without meaning to put too fine a point on it, Asahikawa, Hokkaido's second city, is just wonderful. After dropping our bags off at Hoshino's budget-friendly OMO7 hotel in the centre of town, we are wandering through the downtown district shortly after sunset, darting across its absurdly wide boulevards and crawling through snaking alleyways of ramen shops and sake bars. Braving the city's ruthless temperatures is no mean feat - I'm currently wearing four shirts and two jumpers, and have retained the services of my rather cumbersome ski jacket. But without this cold, its copious neon would have no ethereal steam to refract it across the streets; the roofs of its traditional buildings would be left without tasteful linings of snow; its charming sliding-door izakayas would feel distinctly less cosy.
From what I can see, Asahikawa is a melding of ultra-modern, chic Japan, and not so much an antiquated side of the nation's cultural heritage as one that is, sadly, all too often forgotten entirely. Currently, Asahikawa is one of the final strongholds of the Ainu, an vanishingly rare example of Japan's indigenous people, and their influence on the city is palpable. On our first day here, we found ourselves at the Kawamura Kaneto Ainu Memorial Museum, containing an astonishing array of tools and artefacts from the Ainu peoples' history. We are regaled with folk tales and even a song or two by the museum's owner, an Ainu lady who offers a detailed recollection - translated through Tyler - of how Ainu cultural norms were crushed by the oppressive Meiji government during the 19th century, with its people forced to assimilate into Japanese society through the outlawing of practices such as tattooing, an art form that had been a cornerstone of Ainu culture for thousands of years.
On the way back to OMO7, we stop off at the Otokoyama Sake Brewery which, aside from sending my jaw crashing to the floor by housing a genuine original Hokusai print, is the scene of perhaps one too many exquisite sakes - they are remarkably drinkable when they're this good - and a whale of a time on an outdoor tyre slide constructed from snow. After a drive back into the city and a session of boozy fancy dress karaoke, I, along with a few of the more foolhardy journalists in our group, find myself sitting cross-legged on the floor of an izakaya at 1am with yet another beer in one hand and a bizarre curved knife in the other, which I am told in broken English I must use to pry open the gigantic clams currently sizzling on the portable stove on the table in front of me and which, I am about to learn to my horror, are still alive.
You don't visit Tokyo - Tokyo happens to you...
It's morning. Dramatic mountains in the far distance and a gentle coral sunrise over the city are certainly taking the edge off my hangover, as is the indulgent breakfast served in the hotel lobby which I'm attempting to use as ballast to prepare myself for a deep sleep on our imminent flight back down to Tokyo, where we will be staying for our final three days in Japan. As most who have set foot in the Japanese capital will tell you, you don't visit Tokyo; Tokyo happens to you, and it's in this city that my attempt to avoid cliche has gone out the nearest shōji sliding paper window.
Tokyo is the apex of pandemonium on the curve of human history - it is less a tourist destination than a swirling pulsar around which tourists desperately attempt to keep a steady orbit, and its mind-boggling population density and retina-searing LED landscape aside, I believe this partly stems from its layout. Where one might expect, as elsewhere on Earth, a city with a concrete centre and rings of decreasingly interesting districts surrounding it as you move away from downtown, Tokyo is a sort of cubist deconstruction of a classic conurbation with no distinct epicentre. It is essentially a vast city of cities, each with its own centre, atmosphere and culture.
As dictated by our hotel, our hub of the 14 main Tokyo wards is Otemachi. Having never visited on previous trips to Japan, this is a district that almost all guides will leave off an itinerary. It is seen by those in-the-know as effectively the Canary Wharf of the city, dominated by business and finance in the form of daunting high-rise office blocks which soar into the low-hanging cloud layer. After dark, the salarymen still toiling away at 10pm can be seen from our hotel, the strip lighting from their offices illuminating the dense blanket of fog from within with what looks like permanent lightning.
Ultimate in comfort - and in hotel design
But if you ask me, I'd rather perform a 180 and have another look at the frankly outrageous hotel that Hoshino and Inside Japan have put us up in. This is the Hoshinoya Tokyo, one of Hoshino's eight ultra-luxury Hoshinoya hotels, and it is perhaps the ultimate in not just comfort but in hotel design. I'm currently perched on the edge of my bed, ignoring the reflection of myself in a full yukata and zōri sandals in the mirror off to my right, taking in the breathtaking, almost revolutionary decor of my yuri (deluxe double) room which, as is the case with the rest of this 18-storey hotel, is essentially a contemporary take on the iconic Japanese ryokan. What's a ryokan? You know your idea of a stereotypical Japanese inn? Sliding paper walls, straw tatami mats for floors and everyone wearing a kimono and sitting cross-legged on the floor? That's a ryokan, the ultra-traditional Japanese guest house which in effect defined the very creation of the concept of rented accommodation; the two oldest hotels still in existence are both ryokan dating from the 8th century.
And Hoshinoya is rather faithful to the original concept, with coarse but flexible tatami mats under my feet and a stunning floor-to-ceiling translucent shoji window taking up an entire wall. If opened, the glass behind it reveals a 13th floor view over Otemachi, where I can stand, sipping on a late afternoon oolong tea, and watch the endless scramble of commuters dart across the plaza below after a day's work. I clip-clop my way downstairs in a second set of noticeably heavier sandals (outside shoes are to be left in a staffed locker room in the hotel's grand entrance) to join my colleagues for a traditional tea ceremony in the lobby. Here, we not only get the chance to witness the predictably intricate method behind the creation of Japanese tea, but also a lesson in formal etiquette courtesy of the nation that has made a name for itself partially through its exhaustive politeness. We kneel, we bow, we sip, we compliment the teamaker before saying our goodbyes and shifting 20ft across the room to a sake kiosk for a tasting session. As I dizzily make my way to the lift to soak up the evening sun from my bedroom, I am halted in the hallway by a receptionist who, with almost agonising, giggly grace, points out that the heftier sandals I had graced the lobby with are actually a set of typical Japanese "toilet slippers" designed to never leave my bathroom. Oops.
Saving the best until last...
The next few days are a blur punctuated by selfies at the Shibuya scramble, rain-soaked beer crawls through Akihabara, deep-fried fugu in Shinjuku and cocktails in Ginza. And every outing into the wild chaos of Toyko is underscored by an element of relief - a reassurance that no matter what the city throws at us, one of a multitude of world-beating amenities at Hoshinoya will always take the edge off. It could be my gigantic double bed, my sleek black-tiled bathroom or a yukata so comfortable that I Googled if it was acceptable etiquette to wear it outdoors, and the answer to this query can be intuited from the fact that I'm now sashaying through the aisles of a local 7-Eleven dressed as a decadent and highly relaxed samurai. Go figure.
But the Hoshinoya has saved the best until last. With my flight back home just ten hours away at 8am, I'm heading up to the roof of this formidable black monolith of a hotel where the ryokan experience is truly capped off by an on-site onsen, or hot spring, with natural, geothermally heated water pumped in from 150m below ground and up the full height of the building to a magnificent bathhouse.
Japan insists on full nudity in onsen, so after an awkward few moments of adjustment - and a mandatory shower - I dip into the water in the exceptionally dimly lit bath room which I have entirely to myself. The heat is staggering. The room is filled with steam, the obsidian walls and floor soaked with condensation, and it is after I settle into my seat that I notice a small door in the water not dissimilar to a cat-flap, to which I wade over and peer out of to an astonishing sight. The indoor bath flows out into what is essentially an outdoor courtyard of water, complete with glowing orange mood lighting, submerged seating and flanked by gorgeous birch branches and cherry blossoms.
It was the cliche I had tried so hard to avoid made flesh. The walls are smooth, black and windowless, and lying face up in the water is dazzling. The sides of the onsen soar multiple storeys further into the sky. I lie here, face up and in total silence, and stare at the cloud layer forming a lid over the top of the funnel of walls above me. It is a surreal and beautiful scene.
No goodbye is ever enough for Japan, but our flashy and surprisingly fished-based 6am breakfast, served to our rooms, is not a bad start. After washing it down with a morning oolong, I mournfully remove my yukata one last time, gaze at the sunrise for a brief moment and, in my mind, bid farewell as best I can.
Haneda Airport beckons. We skip through it and catch one last glimpse of Mount Fuji towering over the city from our gate, and before we know it we're taking to the skies again as the sun-dappled city disappears through the cloud layer below.
Good morning Japan.
Continue reading for free
We hope you're enjoying The Week's refreshingly open-minded journalism.
Subscribed to The Week? Register your account with the same email as your subscription.
Sign up to our 10 Things You Need to Know Today newsletter
A free daily digest of the biggest news stories of the day - and the best features from our website