Fact Check: the truth about land reform in South Africa
The Week examines the ANC's plans to allow the appropriation of white-owned land without compensation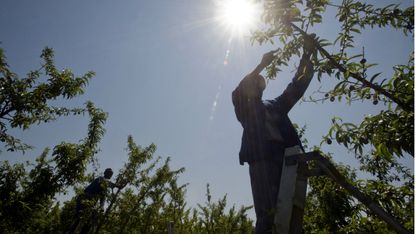 (Image credit: Rodger Bosch/AFP/Getty Images)
South Africa is moving ahead with its proposals to give the state the right to seize private land in a move designed to redress deep racial imbalances in property ownership.
Legislation proposed by the ruling African National Congress (ANC) would clarify constitutional provisions that grant the government power to expropriate land without compensation.
The redistribution of white-owned land to the country's impoverished black majority has been a priority for the ANC since apartheid ended in 1994, but there has been little progress so far.
Subscribe to The Week
Escape your echo chamber. Get the facts behind the news, plus analysis from multiple perspectives.
SUBSCRIBE & SAVE
Sign up for The Week's Free Newsletters
From our morning news briefing to a weekly Good News Newsletter, get the best of The Week delivered directly to your inbox.
From our morning news briefing to a weekly Good News Newsletter, get the best of The Week delivered directly to your inbox.
Supporters of the new legislation say it will help make amends for colonial and apartheid-era land dispossession, but critics warn it could lead to violent land grabs as seen in neighbouring Zimbabwe.
With crucial elections looming in South Africa, The Week looks at the facts behind the claims.
What does the government say?
The proposed constitutional amendment was agreed, in principle, at a party conference in December and is due to come before parliament later within the year. It will outline more clearly the conditions under which land expropriation without compensation could take place in the future.
The planned reform will "unlock economic growth by bringing more land in South Africa to full use and enable the productive participation of millions more South Africans in the economy," President Cyril Ramaphosa said in a televised address to the nation last month.
The president has previously said that his party was "determined to correct the original sin of the violent dispossession of our people's land and its wealth" that he says occurred before 1994.
But he insists there will be "no smash and grab" land seizures. Redistribution will follow the rule of law and be carried out in a way that ensures the country's economy and food security are not threatened, the government maintains.
Last week, ANC Chairman Gwede Mantashe called for the state to forcibly take over land from those who own more than 12,000 hectares, spooking investors and sending the rand tumbling. But this is not believed to be official party policy.
What do critics say?
The Democratic Alliance (DA), the country's main opposition, supports land restitution and redistribution, but is strongly opposed to expropriation without compensation.
The government's approach "seeks to stoke racial tension" and amounts to "state sanctioned theft," according to DA leader Mmusi Maimane.
"There are some […] who believe that land expropriation will be orderly and benign," he said. "We do not share this view. We do not believe there is any 'nice' way to seize property."
AfriForum, a controversial South African lobby group that promotes the rights of the Afrikaner population, argues that land expropriation would have "catastrophic results," similar to those seen in Zimbabwe.
"History teaches us that international investors, regardless of what AfriForum or anyone else says, are unwilling to invest in a country where property rights are not protected," AfriForum's chief executive Kallie Kriel said.
Why is land ownership an issue?
South Africa has a long, dark history of forced land dispossession. Under colonial rule and apartheid, millions of indigenous black Africans were stripped of their property rights and violently removed from their homes and farms.
Nearly a quarter of a century since the end of white minority rule, land ownership remains deeply skewed along racial lines, despite repeated promises from the ANC to address the imbalance.
The party initially vowed to transfer 30% of white-owned agricultural land to black farmers by 1999, but has so far only achieved roughly a third of its target.
"There are still no clear records of who owns land," says the Financial Times. But even Agri SA, an industry lobby group "more optimistic than most" about the progress made since apartheid, estimates that 73.3 % of land is owned by whites, who make up just 8.4 % of the population, the newspaper reports.
Agri SA's figures tally with a government land audit released earlier in the year, which showed that white individuals still own 72% of farms and agricultural holdings in the country.
Why is the government doing this now?
The ANC previously supported a land redistribution programme that was based on a willing-seller, willing-buyer policy. Under this model, the government bought white-owned farms for redistribution to the black population at a price determined by the landowner.
But this policy has allowed property owners to block redistribution efforts as they have the option of refusing to have their property expropriated, constitutional expert Pierre de Vos told the BBC. It also means they can "hold the government to ransom" by demanding that the state pay exorbitant prices,
The ANC is responding to growing public anger about the slow pace of land reform ahead of next year's election, which is expected to be the toughest electoral test for the party since it came to power.
The Economic Freedom Fighters (EFF), a far-left splinter party that has put land expropriation without compensation at the top of its manifesto, is putting the ruling party under intense pressure to speed up the process.
What does land expropriation mean in practice?
Currently, the constitution allows the state to expropriate land with just and equitable compensation, and also to expropriate without compensation if it's thought to be in the public interest.
The ANC says it want to amend the constitution in order to clarify the conditions under which land expropriation without compensation can take place.
But eight months after it first adopted the policy, the government has provided few specifics about how this might work in practice.
It has, however, said that it will first target vacant, unused and underused state land, as well as land held for speculation and "hopelessly indebted" property. The government has also promised to give more training and support to those who receive land.
Steven Friedman, professor of political studies at the University of Johannesburg, says the planned constitutional amendment will specify "very clearly" that expropriation without compensation "can only happen in very particular circumstances, which it will carefully define."
If it does this, "property rights will be protected because owners will know that they are entitled to compensation unless they act in a way which forfeits their right," Professor Friedman writes in The Conversation.
The department of rural development and land reform has already identified 139 farms across the country that would serve as test cases for expropriation without compensation.
Details about these farms, including whether they are currently occupied or productive, could not be established, according to the South African Sunday Times.
Will it be like Zimbabwe?
Most analysts agree that South Africa isn't headed for the violent land grabs, food shortages and economic collapse that occurred under President Robert Mugabe.
"Those fears are overdone," says David Pilling, Africa editor of the Financial Times. "Sensibly handled, land reform need look nothing like Zimbabwe."
The Council on Foreign Relations, an American think-tank specialising in US foreign policy and international affairs, has come to a similar conclusion.
"Unlike Venezuela or Zimbabwe, South Africa is a constitutional democracy conducted according to the rule of law with a strong judiciary, civil society, and free press," the council says.
Who is right?
Land expropriation without compensation remains hugely controversial, but few disagree that something must be done to reverse the vast inequalities in land ownership in South Africa.
Experts agree that comparisons to Zimbabwe are unfair as the ANC is committed to ensuring that redistribution follows the rule of law and does not threaten the economy or food supplies.

Continue reading for free
We hope you're enjoying The Week's refreshingly open-minded journalism.
Subscribed to The Week? Register your account with the same email as your subscription.