Fact check: is flying safe?
The Week looks at the statistics on modern air travel safety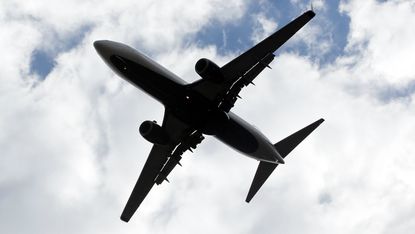 (Image credit: Bruce Bennett/Getty Images)
Experts say we have little reason to fear taking to the skies at heights of 35,000ft, but is air travel really a safe option?
Aviation has hit the headlines for all the wrong reasons again this week, after a pilot was killed in a mid-air collision of two planes rehearsing for an aerobatic show in India.
Two others were also injured in the crash between the Indian Air Force aircraft in the southern state of Karnataka on Tuesday, police confirmed.
Subscribe to The Week
Escape your echo chamber. Get the facts behind the news, plus analysis from multiple perspectives.
SUBSCRIBE & SAVE
Sign up for The Week's Free Newsletters
From our morning news briefing to a weekly Good News Newsletter, get the best of The Week delivered directly to your inbox.
From our morning news briefing to a weekly Good News Newsletter, get the best of The Week delivered directly to your inbox.
The pilots had been due to perform at Aero India 2019, a five-day air show expected to draw around 500 aviation firms and defence contractors, Sky News reports.
A police spokesman: "One Indian Air Force pilot has unfortunately lost his life.
"Two others were injured and shifted to hospital, but are said to be out of danger."
The surviving pilots managed to eject from their aircraft, according to local media.
The news comes just weeks after the crash of the Piper Malibu N264DB carrying Argentine footballer Emiliano Sala and pilot David Ibbotson in the English Channel on 21 January.
The body of the striker was only recovered after a large-scale salvage operation funded partly by public donations. Deep sea divers will begin looking for the body of Ibbotson next week.
With air accidents frequently in the news, The Week examines the statistics on just how much risk plane passengers are taking.
What do experts say?
More than four billion people travel by plane each year yet the number of fatalities from crashes "is minimal, tiny", says Australian aviation journalist Geoffrey Thomas.
If you're flying in the US, Europe or Australia, "the chances of being involved in an accident on a commercial jet airliner are virtually zero", he told SBS News.
All the same, a survey carried out by National Geographic last year revealed that a third of people in Britain are more scared of flying now than they were ten years ago.
Respondents pointed to a spate of disasters in recent years, including the disappearance of Malaysia Airlines flight MH370 in 2014.
But Professor Robert Bor, a British clinical psychologist and qualified pilot, says this fear of flying is illogical.
In the 1920s, "it was a rational fear, because air accident rates were high, mortality rates were high, even the chances of witnessing an air crash were high", Bor told The Independent.
He added: "In life, there's always some kind of risk, but nowadays you have a greater chance of being kicked to death by a donkey than anything happening to you in an air crash."
What do the numbers say?
2017 was the safest year on record for commercial air travel, both by the number of fatal accidents and in terms of fatalities, despite more flights than ever before.
According to the Aviation Safety Network (ASN), which records all air crashes and incidents reported around the world, there were no fatal accidents involving commercial passenger jets in 2017.
However, there were ten fatal airliner accidents involving cargo planes and other civil aircraft, which resulted in 79 deaths. This compares with 16 accidents and 303 lives lost in 2016.
More than 1,000 deaths per calendar year "was commonplace" until just over a decade ago, according to The Daily Telegraph. In 2005 there were 1,056. The figure for 1996 was 1,924.
The ASN says that the average yearly number of aviation deaths have been falling steadily since 1997, largely thanks to the continuing safety-driven efforts by international aviation organisations.
What are your chances of dying in a plane crash?
You are far more likely to die driving to the airport than you are to be involved in a deadly plane accident, the evidence suggests.
A Harvard University study found that the odds that your airplane will crash are one in 1.2 million, and the odds of dying from a crash are one in 11 million. Your chances of dying in a car accident, meanwhile, are one in 5,000.
A person could, on average, fly once a day for four million years before succumbing to a fatal crash, according to Arnold Barnett, a professor of statistics at the Massachusetts Institute of Technology (MIT).
"US flying has become so safe that fear of an air journey is almost as far-fetched as fear of a ceiling collapse at the grocery store," he wrote in an article for CNN.
And even if you are unlucky enough to be involved in an air accident, you are likely to survive it.
A US National Transportation Safety Board review of national aviation accidents from 1983-1999 found that more than 95% of aircraft occupants survived accidents, including 55% in the most serious incidents, the BBC reports.
So there's nothing to fear then?
Not quite. Civil aviation still carries "very large risks", says Dutch consultancy firm To70. Pilots suffering from mental health issues and fatigue are among the biggest safety concerns for the industry, the company explains.
Those concerns are shared by Ashley Nunes, who studies transportation safety and regulatory policy at MIT. "Limiting our perception of safety to fatal crashes alone narrows our appraisal of risk," he says in an article for Canadian newspaper The Globe and Mail.
"Human errors that can jeopardise air safety continue to occur throughout the industry," he continues, citing the example of a recent survey in which more than 95% of pilots admitted to landing their airplane when conditions dictate they shouldn't.
The survey, completed by 2,340 pilots worldwide, "paints a worrying picture about the current and future state of air safety", Nunes says.
What is the consensus?
Although there have been a number of headline-grabbing aviation disasters in recent years, the statistics are clear: flying is safer than it has ever been. However, that does not mean air travel is completely without risk.

Continue reading for free
We hope you're enjoying The Week's refreshingly open-minded journalism.
Subscribed to The Week? Register your account with the same email as your subscription.