History and hedonism: a trip through Alabama
From Martin Luther King Jr to Mardi Gras, the quintessential Deep South state has plenty to offer in these turbulent political times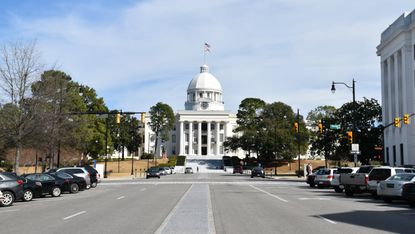 Every year in London, there's a huge media and trade show called World Travel Market. For a journalist like me, it's an opportunity to sit down with representatives of locations from all around the world and plot some feature ideas and potential trips for the following 12 months. Last year, the Trump effect was on many people's minds. There were reports of a considerable slowing of US tourism – the "Trump Slump" as some papers had it – and, rather than leave it as the elephant in the room, I asked many US travel representatives about it. Answers typically went along political lines.
Representatives of left-leaning California were critical of the president, both for his politics and his effect on visitor numbers. Traditionally Republican states adopted fixed grins and denied there was any problem whatsoever – with one exception. One very unexpected exception: Alabama.
Rather than sweep the state's sometimes inglorious past under the carpet, Alabama's representatives acknowledged the "Trump Slump" and explained that they're putting their history front and centre, with heavy promotion of the Alabama Civil Rights Trail. "We can't deny it didn't happen," one told me. "Besides, you don't get a Civil Rights Trail without having a terrible record in civil rights."
Subscribe to The Week
Escape your echo chamber. Get the facts behind the news, plus analysis from multiple perspectives.
SUBSCRIBE & SAVE
Sign up for The Week's Free Newsletters
From our morning news briefing to a weekly Good News Newsletter, get the best of The Week delivered directly to your inbox.
From our morning news briefing to a weekly Good News Newsletter, get the best of The Week delivered directly to your inbox.
It was a surprising turn of events, a contradiction to the attitude of some of their close neighbours and their own reputation, but then contradiction appears to be something of a theme in Alabama. When Jeff Sessions' senate seat was available 12 months into Trump's presidency, Alabama swung dramatically to the left and voted for Doug Jones, making him their first Democrat senator for 25 years. And when I accept an invitation to visit Alabama a few months later, it contains its own contradictory element: as well as exploring the Civil Rights Trail, we'll finish the week with a massive party. Mobile is the birthplace of Mardi Gras in the South and they party there longer and harder than they do in New Orleans.
We start our trip in Birmingham, with a lesson on pronunciation. "I know y'all have your Birmin'am," explains our guide, local author and journalist Verna Gates, "but this is Bir-Ming-Ha-Am. Four syllables."
Bethel Baptist Church is our first stop and Collegeville, its barren location, is swift shorthand for segregation of the black workers that lived here, a marshy floodplain, dotted with simple, run down houses that stand in stark contrast to the skyscrapers and stunning architecture of the city centre.
Our guide is Dr Martha Bouyer, a local African American historian and executive director of the Historic Bethel Baptist Church Foundation, and she starts – inevitably – by pointing out the structure to the right of the church. A metal frame marks the outline of the parsonage where The Reverend F. L. Shuttlesworth lived with his family. It's an outline because local Klansmen destroyed the parsonage, with 16 sticks of dynamite, on Christmas Day 1956, an explosion that very nearly cost Shuttlesworth his life.
The bomb – the first of three such attacks on the church – came about because Shuttlesworth was a leading figure in the Civil Rights Movement, a close friend of Dr. Martin Luther King Jr., and Bethel was at the heart of many of the peaceful protests that finally, slowly, resulted in, well, positive if limited, change. Inside, Dr. Bouyer runs through some of the history, with snippets of quite astonishing legislation – still enforced in the 1960s – designed to deny black citizens basic human rights, including having to give way to white people on the sidewalk, and "eyeballing"; essentially being perceived to have looked at a white person in the wrong manner or, indeed, at all. By the time I'm asked to read a poem – Alabama Centennial by Naomi Madgett – we're tearful, and bristling with silent rage, and deeply aware that this hint of injustice we're feeling is only a very, very microscopic fraction of what those affected have lived with in the US for centuries.
Some three miles away stands the 16th Street Baptist Church. On the back wall hangs a clock, stopped at 10:22am, a reminder of the time on 15 September 1963 when a Klan bomb killed four girls - Addie Mae Collins, Carole Robertson, Cynthia Wesley and Denise McNair - and injured 22 others as they prepared for a "Youth Day". If it's possible to find any silver lining in this senseless, racist murder, it's that it's generally seen as the incident that forced president Lyndon B. Johnson's Government to sign the Civil Rights Act of 1964.
Just across the street stands the Birmingham Civil Rights Institute. If your time is short, this is the stop you must make, as it relays the history of the region and its struggle in compelling, efficient and moving style.
From Birmingham (don't forget that fourth syllable), it's around a two-hour drive to the next "must see" stop: Selma. It's a quiet, rural town that seems an unlikely setting for so many key events in Civil Rights history. Brown Chapel is an unassuming building, again in a barren part of town, that was the starting point for several marches including the famous Bloody Sunday march that attempted, on 7 March 1965, to walk from Selma to Montgomery, but met with the violent intervention from State Troopers on the Edmund Pettus Bridge.
Today – particularly thanks to Ava DuVernay's film Selma – the bridge is a practical monument to the struggle. On this crisp winter's day, with the surrounding sparse countryside, vast grey sky and the greenish brown Alabama River flowing, there's an almost sepia quality to the bridge, and it's easy to picture the marchers, in news-reel style, crossing to the other side – and impossible to understand the level of violent force with which they were met.
It took two further attempts before Martin Luther King Jr., and, by now, some 25,000 interfaith demonstrators, successfully crossed the bridge and marched the 54 miles to Montgomery, the state capital. For us, it's a straightforward hour's drive, past endless fields, many of which served as impromptu camp sites during the walk.
The State Capitol building stands at the end of Dexter Avenue – at a high point known as Goat Hill – and opposite Dexter Avenue Baptist Church, an imposing, red brick structure, and the only church where Dr King ever served as a pastor.
The street itself is regarded as one of the most historic in the US. The State Capitol was where the South formed the Confederacy. At the other end stands the Winter Building, from which the order to fire on Fort Sumter – the act that started the American Civil War – was sent. Court Square Fountain can also be found on Dexter and marks the site of a former slave market. A stone's throw from that is the spot where, in 1955, Rosa Parks refused to give up her seat on the bus. And, on a lighter note, on the other side of the road "since 1917" stands Chris's, the simple diner famed for its hotdogs, burgers and for being where local resident Hank Williams wrote "Hey Good Lookin'."
We're shown around Dexter Avenue Baptist Church by Wanda Howard Battle, whose knowledge is matched only by her enthusiasm. As we stand in Dr King's office, surrounded by the books that inspired him, Wanda urges us to go home and tell the stories. We'll try, Wanda. We'll try.
And then it's onto Mobile and, while enjoyable, it's almost impossible to shake the mood of the previous few days. It's perhaps appropriate then that it rains heavily the day we march in a parade, our brightly coloured costumes, masks and fancy dress becoming heavier as the day progresses.
Parades are pretty much a daily occurrence during Mardi Gras season, which runs from New Year's Day until "Fat Tuesday". Although much of Mardi Gras is controlled by a hierarchy of "mystic societies" or "krewes", with planning it is possible to attend one of the many balls thrown during the season, or to march in a parade. The former is sold to me as "an extravaganza, like the best Broadway show you've ever seen." That might be the reality with some, but I suspect most are like the one I see: the best Broadway show you've ever seen where everyone involved has been drinking since midday.
It's slightly shambolic but oddly compelling. The parade is the more interesting element, where you get to walk the streets, throwing gifts to the crowds, from Moon Pies (an incredibly sweet marshmallow and biscuit confection) to toys and, particularly, strings of coloured beads. The noise of the crowds is remarkable, and even the wet can't diminish the volume of their clamouring and screaming for necklaces. There's a final intriguing contradiction too as the majority of those marching give a particularly wide berth to the one family on the route wearing MAGA hats and standing behind a pro-Trump banner.
So should you go to Alabama? To paraphrase Wanda, the stories must be told, to hopefully one day see the "brighter tomorrow" that she and so many others are working to create. The people are lovely and hospitable and the food scene – which offers a very strong culture of farm-to-fork dining alongside the more traditional BBQ and soul food – is very exciting.
As for the Civil Rights Trail, recent concern about voter suppression across the south makes it more relevant than "just" a series of tourist destinations but, for a glimpse of how life was and, for a very large percentage of the world, still is, it's one of the most essential things I could recommend in the US.
North America Travel Service offer a fly drive package to Alabama that includes:
Flights with Delta (delta.com) – with Wi-Fi access, free mobile messaging, in-seat entertainment, complimentary prosecco and more - from London Heathrow to Atlanta return.
3 nights Elyton Hotel, Birmingham; 2 nights Renaissance, Montgomery; 2 nights Battle House, Mobile and 3 nights Hilton Garden Inn, Gulf Shores (room only basis)
Intermediate car rental based on AlamoGold for duration of trip. Pick up Atlanta/Drop off Atlanta
Detailed Road Book with day-by-day itinerary and Road Atlas.
From £1,974 per person based on two adults sharing.
To make a booking, call North America Travel Service call 0333 323 9099 or see northamericatravelservice.co.uk

Continue reading for free
We hope you're enjoying The Week's refreshingly open-minded journalism.
Subscribed to The Week? Register your account with the same email as your subscription.