Fact check: does the EU want a European super-army?
France and Germany back the controversial proposal in call for closer co-operation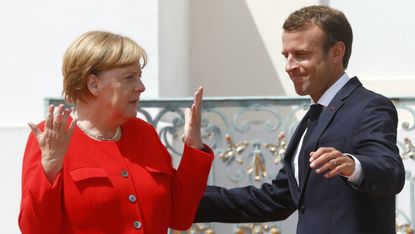 (Image credit: Michele Tantussi/Getty Images)
The ongoing saga of Brexit has seen rows about the Ireland-Northern Ireland border backstop taking centre stage in recent months, with many other key European issues put on the back-burner.
Indeed, amid confidence votes, delays and the furore of the UK Government being found in contempt of Parliament, it is easy to forget the EU rules and regulations that continue to enrage more hard-line Tory Brexiteers. As Ross Clark writes in The Daily Telegraph: "So chaotic has become the process of Brexit that one can sometimes forget why the British public voted to leave the European Union."
But in the past month, a controversial French-led proposal to create an EU army has resurfaced - a prospect that many Brexiteers "loathe", according to The Independent.
Subscribe to The Week
Escape your echo chamber. Get the facts behind the news, plus analysis from multiple perspectives.
SUBSCRIBE & SAVE
Sign up for The Week's Free Newsletters
From our morning news briefing to a weekly Good News Newsletter, get the best of The Week delivered directly to your inbox.
From our morning news briefing to a weekly Good News Newsletter, get the best of The Week delivered directly to your inbox.
In November, French president Emmanuel Macron warned that Europeans cannot be protected without a "true, European army" to defend the EU from China, Russia and even the US.
Clark insists that such a proposal "shows we made the right decision" to leave the EU, while Nigel Farage told EU leaders that for the UK "leaving the European Union is now indeed a liberation" as it had become "an empire, a militarised European Union".
But many EU leaders, including German chancellor Angela Merkel, have expressed support for a "real, true" European army.
So what would an EU army involve, and do its leaders really want one?
What are EU leaders proposing?
The Centre for European Reform said in 2016 that "Britain's eurosceptics have spent years frightening people with the idea of an EU army", and that "conspiracy-minded Brexiters insist that, were the UK to stay in the European Union, British troops might soon be faced with conscription into a Brussels-controlled army".
But should their fears be dismissed so readily? European Commission (EC) president Jean-Claude Juncker has "long been a vocal supporter of the idea that the European Union should have more common defence capability, separate from the US-dominated Nato military alliance," Reuters reports.
But Macron's statements in November appear on the surface to lend credence to the Brexiteers' concerns. The French president said that Europeans can no longer rely on the US to defend them in response to President Donald Trump's decision to pull out of a landmark 1987 nuclear treaty with Russia that effectively protects Europe from nuclear weapons.
"Who is the main victim? Europe and its security," Macron told French radio station Europe 1. "I want to build a real security dialogue with Russia, which is a country I respect, a European country - but we must have a Europe that can defend itself on its own without relying only on the United States."
This was followed by a near-identical statement the next week by Chancellor Merkel, who said that "the times when we could rely on others are over", and attempted to allay concerns that such an army would undermine Nato by adding: "This is not an army against Nato, it can be a good complement to Nato."
The proposal has caught the eye - and provoked the ire - of President Trump, who last week tweeted that such a pan-European military organisation "didn't work out too well in W.W. I or 2"
But is their proposal an EU army?
Not really. Despite Macron and Merkel's use of the term "real EU army", it appears that the creation of a genuine joint military force across EU nations is highly unlikely.
The Independent reports that "a number of proposals have been put on the table for how EU nations could co-operate more closely on defence", and notes that the European Commission has explicitly stated that closer defence co-operation "is not about creating an EU army".
This is because, as the BBC points out, the deployment of troops into harm's way "remains the ultimate sovereign decision of a national government", and not a supra-national organisation such as the EU. It notes that an example of this is the fact that there is no "Nato army" currently in service, "merely an alliance of national components trained and accustomed to operating together".
This increased level of co-operation appears to be what Juncker and the EC are aiming for, despite EC spokesperson Margaritis Schinas giving mixed messages in the wake Merkel's announcement of support for an EU army.
He initially stated: "We are delighted that both the president of the French republic and the German chancellor, with a few days interval, publicly backed this idea."
When asked directly about the "true army" remarks, Schinas said: "This is the Commission that put forward lots of initiatives and proposals to start building gradually a more meaningful and assertive defence identity in these difficult geopolitical times," he told reporters at a regular briefing. "I don't think that this defence identity will start with an EU army."
What about the EII?
In the same week that Macron called for an EU army, he also presided over the launch of the European Intervention Initiative (EII), a "coalition of European militaries ready to react to crises near the continent's borders", Reuters reports.
France, Germany, Belgium, Britain, Denmark, Estonia, Finland, the Netherlands, Spain and Portugal have all signed up to the initiative, which Macron first mentioned a year previously and involves "joint planning work on crisis scenarios that could potentially threaten European security" such as natural disasters, intervention in a crisis or evacuation of nationals, the Telegraph reports.
Politico notes that Theresa May "quietly endorsed the initiative at a Franco-British summit at the Sandhurst Military Academy in January but did not publicise the step to avoid antagonising hard-line Brexiteers in her Conservative Party, to whom any idea of an 'EU army' is anathema".
However, the Telegraph says that the French-led initiative has been "seized on by British diplomats" who argue that it is not an EU army, but a "potential vehicle for post-Brexit defence co-operation outside the EU framework".

Continue reading for free
We hope you're enjoying The Week's refreshingly open-minded journalism.
Subscribed to The Week? Register your account with the same email as your subscription.