The scourge of modern-day slavery
Millions of people are still held in slavery around the world. Why does India have the most? Here's everything you need to know.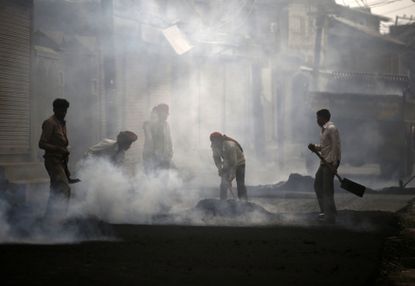 (Image credit: REUTERS/Danish Ismail)
Millions of people are still held in slavery around the world. Why does India have the most? Here's everything you need to know:
How many are enslaved?
Across the globe, nearly 46 million people are living in some kind of bondage. The most prevalent form of slavery is debt bondage, in which laborers are tied to an ever-growing debt, working long hours for no take-home pay. Sex slavery is also rife, with millions of women and girls sold into forced prostitution. In the shrimping industry, workers are kidnapped and forced to work on boats or in processing plants, unable to escape. India has by far the greatest number of enslaved people, according to the 2016 Global Slavery Index, with some 18 million Indians trapped in debt bondage or forced labor. The other countries with the most slave labor are China, Pakistan, Bangladesh, and Uzbekistan. Americans unknowingly consume many products made by slaves, including seafood from Thailand, clothing from South Asian sweatshops, and smartphones fashioned from minerals from Congolese mines. Siddharth Kara, director of the program on human trafficking at Harvard's Kennedy School of Government, said the products made by slaves and bonded laborers "touch almost every aspect of the global economy, including frozen fish, tea, coffee, rice, wheat, diamonds, hand-woven carpets, salt, cigarettes, and sporting goods."
Subscribe to The Week
Escape your echo chamber. Get the facts behind the news, plus analysis from multiple perspectives.
SUBSCRIBE & SAVE
Sign up for The Week's Free Newsletters
From our morning news briefing to a weekly Good News Newsletter, get the best of The Week delivered directly to your inbox.
From our morning news briefing to a weekly Good News Newsletter, get the best of The Week delivered directly to your inbox.
How do people become slaves?
Bonded labor usually starts with a simple debt. Haresh, a man in West Bengal, India, borrowed about $110 from the local landowner in his village more than 20 years ago so he could marry his wife, Sarika. Some repayment arrangements involve a fixed term of labor, say seven years, but others, like Haresh's, accrue interest at extortionate rates, and the laborer can never pay it off. "My entire family is still in debt to the landowner," Haresh said. "Sarika and I work in the fields; my sons and their wives work at the brick kilns. One day my grandchildren will work for the landowner. We will only be free when we die."
What work do slaves do?
In India, bonded labor can be found in the textile industry, farming, and manufacturing, but perhaps the most egregious form is in brick making. India's caste system has created a huge labor pool of ethnic minorities and Dalits — the lowest, or untouchable, caste — who can't find legitimate jobs. These people are fodder for the quarry and brick kiln operators. It's brutal work: Laborers squat all day in mud, carving out bricks, while others heave the bricks into blazing kilns. They must live on-site, paying their employers for food and rent, but since they aren't paid enough to cover those expenses, they are trapped in endless bondage. Their children work, too, breaking coal for the kiln fires, and when the parents die, the kids inherit the ever-growing family debt.
How many children are held in slavery?
Nobody knows for sure, but in India alone the total is in the millions. In addition to working in the brickyards, children weave carpets or sew, while others are forced to beg and turn over the proceeds. But the vast majority of child laborers work on farms. Until recently, India was making progress getting children out of the fields and into school. In 2009, the government mandated free, compulsory primary education. But last year, the new government of Prime Minister Narendra Modi approved a law allowing children under 14 to work in "family enterprises," arguing that poor families can't survive without everyone's labor. That loophole, though, is easily exploited. Kailash Satyarthi, who won the Nobel Peace Prize in 2014 for his efforts to end child labor, says that millions of children who are said to be working for their parents are actually sold into bonded labor. Many girls end up in sexual slavery (see below).
What does the Indian government say?
It says it is doing its best. Last month, right after the slavery index came out, the government introduced a draft of a wide-ranging law to combat human trafficking. The law will provide shelters for victims and set up special courts to try traffickers. It also drafted a policy setting a minimum wage for domestic workers. But such laws are useless without proper enforcement, and that's where India lags. All Indian states, for example, are required to perform district-by-district surveys to identify those in bonded labor, but many states consistently report an implausible figure of zero cases.
What can be done?
The U.S. and U.K. have already passed laws forbidding the importation of slave-made goods, though they can be difficult to track. Last year, world governments pledged through the United Nations to end forced labor, human trafficking, and slavery by 2030. But Andrew Forrest, the Australian mining magnate who founded the antislavery foundation Walk Free, says government is just part of the solution. The real key, he says, is for business owners to demand to know the sourcing of each product in their supply chain. Forrest says he eliminated forced labor in his own mining concerns in exactly that way. "It is time to draw a line and say, 'No more,'" he says. "This isn't AIDS or malaria, it is a man-made problem that can be solved. It's time to take real action to free the world from slavery once and for all."
Turning girls into sex slaves
Human traffickers take young girls from their villages, promising their families the girls will get jobs as maids, with good salaries. Guddi, a girl from a village near Kolkata, told activist Hazel Thompson, author of the sex slavery exposé Taken, that she came to Mumbai at age 11 to be a domestic. Instead, she was brutally raped and beaten by a brothel owner and held in a windowless caged room. She was allowed out of the room only to eat and service customers. "I am trapped on all sides, sister," Guddi said. "My life was taken when they brought me here." Thousands of girls are trafficked each year in Mumbai alone. Even if such girls manage to escape, they know no life but prostitution, and their families consider them sullied and won't take them back.

Continue reading for free
We hope you're enjoying The Week's refreshingly open-minded journalism.
Subscribed to The Week? Register your account with the same email as your subscription.