How big of a threat is North Korea?
Kim Jong Un's "Hermit Kingdom" is amassing a nuclear arsenal that could reach South Korea, Japan — and even the U.S. Here's everything you need to know: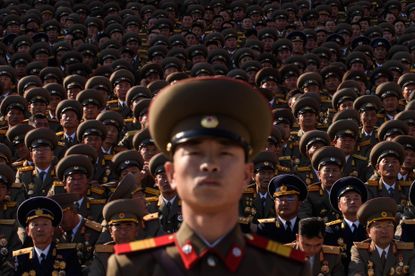 (Image credit: ED JONES/AFP/Getty Images)
Sign up to our 10 Things You Need to Know Today newsletter
A free daily digest of the biggest news stories of the day - and the best features from our website
Thank you for signing up to TheWeek. You will receive a verification email shortly.
There was a problem. Please refresh the page and try again.
Kim Jong Un's "Hermit Kingdom" is amassing a nuclear arsenal that could reach South Korea, Japan — and even the U.S. Here's everything you need to know.
How large is Kim's nuclear arsenal?
His tyrannical regime now has an estimated 20 nuclear warheads — and is adding a new weapon to that stockpile every six weeks or so, experts believe. North Korea has also been steadily upgrading its ballistic missiles. It has already successfully mounted a small nuclear warhead on a 1,500 km–range Rodong missile that can reach South Korea and Japan — and is on course to develop 13,000 km–range intercontinental ballistic missiles targeting the continental U.S. by early next decade, according to observers at Johns Hopkins University. President Obama and his predecessor, George W. Bush, allowed North Korea's nuclear escalation to take a backseat to other threats, like Iran, largely dismissing Kim's threats to burn Seoul and Manhattan "down to ashes" as bluffs and posturing. But the U.S. ignores North Korea's growing nuclear arsenal — and the instability of its erratic leader — at its peril, says Mark Fitzpatrick of the International Institute for Strategic Studies. "Just because Pyongyang wants us to pay attention," Fitzpatrick told The Economist, "that doesn't mean we shouldn't."
Subscribe to The Week
Escape your echo chamber. Get the facts behind the news, plus analysis from multiple perspectives.
SUBSCRIBE & SAVE
Sign up for The Week's Free Newsletters
From our morning news briefing to a weekly Good News Newsletter, get the best of The Week delivered directly to your inbox.
From our morning news briefing to a weekly Good News Newsletter, get the best of The Week delivered directly to your inbox.
When did North Korea go nuclear?
Kim's father, Kim Jong Il, made the nuclear program central to the dictatorial regime's identity in the early 1990s, as a way of unifying the country after a devastating famine. President Bill Clinton tried to check North Korea's nuclear ambitions in 1994 with the Agreed Framework, a pact that exchanged economic aid for the freezing of the country's nuclear program. But Pyongyang continued to provoke the West with rocket tests, and after Bush was elected in 2000, talks broke down when Pyongyang failed to provide verification of its compliance. In 2003, North Korea quit the Non-Proliferation Treaty and announced it had nuclear weapons, carrying out its first nuclear test three years later. Under the leadership of 33-year-old Kim Jong Un, who came to power upon his father's death in 2011, the pace of nuclear and missile tests has accelerated dramatically — culminating with a fourth nuclear test, of a supposed hydrogen bomb, in January.
How worried should we be?
It's difficult to say, given the secrecy surrounding the Hermit Kingdom. Many of its missile and nuclear tests have failed or been hyped. In January, for example, Pyongyang claimed to have detonated its first hydrogen bomb, but experts said the tremors were smaller than expected for an H-bomb. Nevertheless, the Kim regime appears to be compiling all the pieces for a deliverable atomic device. Kim recently posed with a miniaturized atomic warhead supposedly light enough to ride atop a rocket that could span the Pacific. "Their systems never work first time," says aerospace engineer John Schilling, "but they persevere."
Would sanctions stop them?
They haven't so far. The U.N. Security Council has just passed the toughest sanctions in two decades, however — banning the export of coal, iron, and other minerals that provide vital funds for the government's nuclear program. The success of the sanctions will depend almost entirely on China — Pyongyang's most influential ally, and the nation with which it does 90 percent of its trade. Beijing officially opposes Kim's bid to become a serious nuclear power, and is becoming more frustrated by the belligerent ruler every day. But China's leaders will never risk punishing North Korea so severely that its regime would collapse, sparking regional chaos and sending millions of North Koreans fleeing across the border into China. (See below.)
What else can the U.S. do?
Not a lot, except strengthen its missile defense systems at home and abroad. Last week, the Obama administration announced it would deploy the new Terminal High Altitude Area Defense (THAAD) system in South Korea, to reduce the chance of an attack from Kim's regime. "But that doesn't mean you just build more missile defenses and walk away," says former White House nuclear adviser Gary Samore. The THAAD system can destroy about 90 percent of what is fired toward South Korea, but if just one nuclear warhead slips through that net, it could kill and injure an estimated 420,000 people in Seoul. "We need some kind of process to begin to freeze what [the North Koreans] are doing," says Samore. But nothing, including positive inducements to negotiate, has served to restrain Kim's reckless behavior.
What are Kim's intentions?
His primary goal is to stay in power, but otherwise, he's a mystery. Kim's former classmates at his Swiss boarding school have described him as "unpredictable" and "prone to violence." South Korea's intelligence agency recently reported that he's obsessed with the fear that he will be overthrown, and that the 5-foot-9-inch dictator has swollen to 285 pounds because he copes with his anxiety by bingeing on food and alcohol. In his paranoia, Kim has presided over several brutal purges in his military; in 2013 he executed his uncle, Jang Song Taek, calling him a traitor and "despicable human scum." International security analyst Alexandre Y. Mansourov of the Nautilus Institute warns that if the volatile tyrant believes he's about to be attacked, he could do the unthinkable. "Pyongyang will likely assume the worst," Mansourov says, "and rush to use the nuclear weapons out of fear of losing them to allied preemption."
Regime collapse: The aftermath
One of the biggest dilemmas China faces is trying to rein in its North Korean ally with economic sanctions — but without tipping Kim Jong Un's regime over the edge. If the regime collapses, experts agree, there will be absolute chaos. There would be widespread looting by the country's starving citizens, and violence in the gulags holding the country's 120,000 political prisoners. Millions of people would rush the border into China, and South Korean and U.S. troops would be forced to occupy a devastated and dysfunctional country. In his final days, Kim might choose to pass the nuclear weapons under his control to terrorists — or even launch them himself, as a final act of suicidal revenge. The regime's collapse would probably spark a brutal civil war with very high stakes, says North Korea expert Andrei Lankov — like "Syria with nukes."
Continue reading for free
We hope you're enjoying The Week's refreshingly open-minded journalism.
Subscribed to The Week? Register your account with the same email as your subscription.
Sign up to our 10 Things You Need to Know Today newsletter
A free daily digest of the biggest news stories of the day - and the best features from our website