Emmanuel Macron's historic challenge
Can he keep the populists at bay?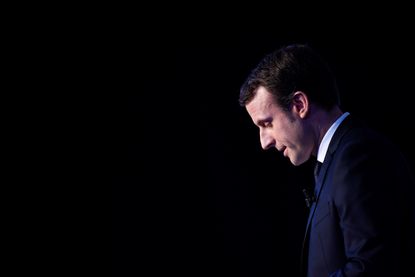 (Image credit: LIONEL BONAVENTURE/AFP/Getty Images)
History, Karl Marx once said, repeats itself — first as tragedy, then as farce. Sunday's election for the French presidency seems poised to prove him right.
Back in June 2016, David Cameron and London's center-right establishment held a referendum on whether Britain should leave the European Union, confident the idea would never pass. But the race-baiting know-nothings of the U.K Independence Party convinced voters to go ahead with Brexit anyway.
A few months later, Hillary Clinton went head-to-head with Donald Trump for the American presidency. Once again, everyone seemed confident that Clinton, the avatar of the well-educated, over-qualified, upwardly-striving meritocratic class, would best Trump, an authoritarian used-car salesman with toxic attitudes toward women and immigrants. Trump now lives in the White House.
Subscribe to The Week
Escape your echo chamber. Get the facts behind the news, plus analysis from multiple perspectives.
SUBSCRIBE & SAVE
Sign up for The Week's Free Newsletters
From our morning news briefing to a weekly Good News Newsletter, get the best of The Week delivered directly to your inbox.
From our morning news briefing to a weekly Good News Newsletter, get the best of The Week delivered directly to your inbox.
That brings us to Sunday's matchup. In one corner is Emmanuel Macron, a political independent and scion of French privilege, formerly an investment banker and an economic minister. In the other corner is Marine Le Pen of the National Front, whose reactionary stances on subjects like immigration are actually a softening of the party's former proto-fascism.
After a number of other candidates were scuttled by the first round of the vote, there's been enormous pressure for the various voting factions in France to unite against Le Pen. But the case for opposing her rests far more on visceral horror at her xenophobic stances than on any substantive alternative vision. When the two candidates sat down for a recent debate, New York Times reporter Rachel Donadio tweeted that "Le Pen is casting herself as a protector of French people worried about work, health care. Macron [is] casting himself as fact-checker-in-chief."
This whole dynamic should sound eerily familiar to anyone who watched the showdown between Clinton and Trump. Once again, the Western world will try to halt the rising forces of right-wing nationalism with another ambassador of cosmopolitan finance capitalism.
Granted, polling shows Macron with a solid lead for the final round of the election. But it's hard to escape the sickening feeling that we're witnessing the "farce" portion of history's cycle.
In the broad middle of Western citizens, support for global capitalism in general and the European Union in particular is in a state of upheaval, if not outright collapse. Much as these institutions' defenders may wish otherwise, this is not crazed irrationality on the part of voters: Deindustrialization and the loss of good-paying working-class jobs have hit country after country. Inequality has soared, though more so in America than elsewhere. At the same time, the eurozone's catastrophically dysfunctional monetary policy, plus its financial rulers' obsession with austerity, are punishing Europe with extended bouts of joblessness. Greece is enduring the equivalent of the Great Depression, except longer. France itself has dealt with roughly 10 percent unemployment for years, and far worse rates for youth unemployment.
Western leaders like Clinton and former President Obama responded by defending the national and international institutions of the modern global order, while recommending modest tweaks. Macron falls right in with this tradition. (Obama even took the remarkable step of explicitly endorsing him.) Macron is a fierce proponent of trade, immigration, and social tolerance, while his economic platform is a meliorist and technocratic hodgepodge. He also helped usher through a package of EU-imposed austerity measures while working as economic minister.
What's most discouraging is the depressingly familiar way Macron treats the forces of global capitalism as some natural disaster we all have to live with. When a Whirlpool factory shut down in his hometown, Macron responded with: "What will I do? I'll go in a truck and say, 'With me, it won't close?' We know that it's not true."
Say what you will about Le Pen, she is at least willing to argue forthrightly for blowing up the whole system and creating something new. "I want to destroy the EU," she said in a 2014 interview. "The EU is deeply harmful, it is an anti-democratic monster." She rails against job loss and casts herself as the defender of the working class. In the blue-collar areas of France, where deindustrialization has hit French workers the hardest, Le Pen outpaces Macron by a considerable margin.
It's both perverse and tragic that Le Pen's willingness to think big comes coupled with the populist right's paranoia towards Islam, its zero-sum hostility to immigrants, and its toxic cultural reaction. But it should surprise no one who is a student of human nature and history. More to the point, the Clintons and Obamas and Macrons of the world have worked very hard to present global finance capitalism and the cosmopolitan values of tolerance and multiculturalism as a package deal. Voters are taking them at their word.
But will Macron be more like Clinton, and lose to the forces Le Pen represents? Or will he be more like Obama and keep them at bay for a while longer?
Interestingly, Macron does not hail from any of France's major parties. He built his movement, En Marche!, from the ground up, and it relies on the same mass volunteer enthusiasm and sophisticated data crunching that characterized Obama's bombshell arrival on the American scene. So Macron is somewhat of an outsider in a political sense, if not a socioeconomic one.
But if he wants to be the leader France, Europe, and the world need, he cannot be satisfied with sharing Obama's fate.
Despite his pro-European rhetoric, Macron has recommended genuinely ambitious reforms to the eurozone's monetary and financial structure — ones that really would push back at much of the economic destruction the currency union has wreaked. Recently, he's even flirted with parts of Le Pen's playbook, suggesting that threatening to withdraw France from the EU might be necessary to force those changes.
By all accounts, Macron is a slippery politician and a privileged opportunist. But these might not be entirely bad things. If he concludes that his own political glory requires it, he might yet betray his class and throw in with the populists. It does occasionally happen, as America's own Franklin Roosevelt demonstrated. Should he go that route, Macron would give the justified fury of the Western working class a far more humane outlet.
But to pull off the transformation, Macron will have to abandon the road that Obama, Clinton, Cameron, and the rest have paved for him. I'm not holding my breath.

Continue reading for free
We hope you're enjoying The Week's refreshingly open-minded journalism.
Subscribed to The Week? Register your account with the same email as your subscription.