Trump is the world's biggest mark
The latest White House scandal reveals just how easy it is to trick the president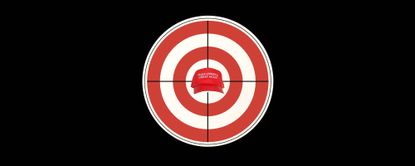 (Image credit: Illustrated | Image courtesy iStock)
Sign up to our 10 Things You Need to Know Today newsletter
A free daily digest of the biggest news stories of the day - and the best features from our website
Thank you for signing up to TheWeek. You will receive a verification email shortly.
There was a problem. Please refresh the page and try again.
The latest in the string of thoroughly exhausting crises emanating from the Trump White House arrived yesterday with The Washington Post's big scoop that President Trump divulged highly classified information to high-level Russian officials. According to the Post, Trump "seemed to be boasting" to Russian Foreign Minister Sergey Lavrov during their Oval Office meeting last week about the "great intel" he gets, and then divulged some secret information regarding the Islamic State. Senior administration officials issued strongly worded "denials" that didn't actually deny anything and then clammed up as more infighting consumed the White House.
Trump, meanwhile, has taken to Twitter to defend himself and assert his "absolute right" to share information with Russia as his way of convincing them to "step up" their efforts against the Islamic State. It's all quite messy and chaotic, which is in keeping with pretty much everything the Trump White House has done to date.
What are we to make of this most recent erosion of trust in governing institutions? A lot of excitable people on Twitter and within the Democratic caucus are taking it as another bit of evidence that Trump is a Russian stooge. On the Republican side, top elected officials are letting it be known that they're "troubled" by these developments and will remain so right up to the moment that they have to vote to send a tax cut to Trump's desk.
Subscribe to The Week
Escape your echo chamber. Get the facts behind the news, plus analysis from multiple perspectives.
SUBSCRIBE & SAVE
Sign up for The Week's Free Newsletters
From our morning news briefing to a weekly Good News Newsletter, get the best of The Week delivered directly to your inbox.
From our morning news briefing to a weekly Good News Newsletter, get the best of The Week delivered directly to your inbox.
For me, the takeaway from all this is that Donald Trump is literally the world's biggest mark.
He's privy to some of the most valuable knowledge that exists, he's obviously unaware of the impact that his words can have, and he's frighteningly easy to manipulate. Those qualities are ripe for exploitation, as the emerging details of this Russia meeting make clear.
Pretty much everything about the Oval Office meeting with Lavrov and Russian Ambassador Sergey Kislyak has been strange and hard to explain. From a political and policy standpoint, the mere fact that two high-level Russians were invited to the Oval Office was awkward given that it is the stated position of American intelligence agencies that Russia's government interfered in the election that sent Trump to the White House.
When it came time for the meeting itself, all U.S. media were banned but a Russian photographer was allowed in to take pictures that were quickly blasted out by Russian media. White House officials later claimed that the Russians had tricked them by not disclosing that the photographer worked for a state-owned news outlet. And during this Oval Office meeting that Lavrov and Kislyak finagled (and managed to sneak a state-employed journalist into) Trump starts doling out prized morsels of classified info.
The best spin that Trump associates tried to put on this was that the president was just being his gregarious and voluble self. One anonymous Trump adviser told Politico that Trump was probably just trying to impress the Russian dignitaries and "doesn't sometimes realize the implications of what he's saying." So according to the president's own allies, Trump had something of value but didn't really understand what it was, so he showed it off like a 4-year-old marching down the street waving a $100 bill.
The other side to this coin is Trump's own vulnerability to disinformation. A few hours before The Washington Post story hit, Politico published a piece detailing how Trump's senior staff manipulate his behavior and jockey for his favor by slipping printed copies of news articles — often from disreputable sources — into his inbox. The president clearly has trouble recognizing the weight and importance of the information he's given, and he's driven by flattery and the demands of his ego. If Trump's advisers can so easily exploit those weaknesses for their own benefit, then who's to say a foreign intelligence service can't do the same?
This puts U.S. allies in a difficult position. If Trump is willing to give up classified info just to impress some Russian officials, then other foreign leaders can't have much confidence that the things they discuss with the president of the United States will remain under wraps. NATO leaders were already in the position of having to dumb down and truncate the policy agenda for an upcoming summit in order to accommodate the president's limited knowledge and attention span. Now European allies are commenting openly about restricting intelligence sharing with the U.S. because they can't be sure Trump won't go blabbing to some random diplomat who compliments his drapes.
All of this, sadly, was a predictable consequence of electing Donald Trump president. The image Trump projects of himself as a savvy and cunning negotiator has always been an elaborate con that he has used to defraud the credulous and vulnerable. Now that he's in a position of tremendous authority with grave responsibilities that far outweigh his capacity to handle them, Trump is proving to be quite the mark himself.
Continue reading for free
We hope you're enjoying The Week's refreshingly open-minded journalism.
Subscribed to The Week? Register your account with the same email as your subscription.
Sign up to our 10 Things You Need to Know Today newsletter
A free daily digest of the biggest news stories of the day - and the best features from our website
Simon Maloy is a political writer and researcher in Washington, DC. His work has been published by The Huffington Post, The American Prospect, and Salon.