What it's like to do business in China
So you want to sell to the Chinese market?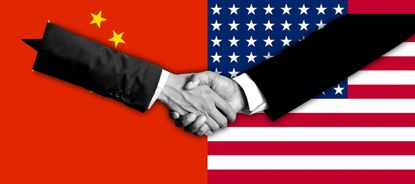 (Image credit: Illustrated | Tatomm/iStock, Wikimedia Commons)
China does not make life easy for non-Chinese companies. The latest example is Google, which simply avoided the Chinese market for years, but now may be developing a search app that complies with the country's strict information rules. More broadly, President Trump is in a major spat with China over everything from trade balances to market access to intellectual property.
But just what is it like for foreign companies — American or otherwise — trying to do business in China?
Its market is a truly massive prize, with the country boasting the second largest GDP in the world. "It's really an incredibly important player, second only to the United States in terms of its overall role and impact on global trade," David Firestein, the founding executive director of the China Public Policy Center at the University of Texas, told The Week. That of course makes it corporate catnip. And as Firestein laid it out, the challenges posed by China come in three flavors.
Subscribe to The Week
Escape your echo chamber. Get the facts behind the news, plus analysis from multiple perspectives.
SUBSCRIBE & SAVE
Sign up for The Week's Free Newsletters
From our morning news briefing to a weekly Good News Newsletter, get the best of The Week delivered directly to your inbox.
From our morning news briefing to a weekly Good News Newsletter, get the best of The Week delivered directly to your inbox.
First off, there's China's hybrid economy: Some of it is market based, but many sectors remain state-owned and state-run. That means many sectors just aren't really open to foreign companies, even if, from a purely "market perspective," the foreign company has an advantage compared to its would-be Chinese competitors. Market signals just don't apply to large swaths of the Chinese economy. On top of that, there are some sectors the Chinese government considers especially sensitive — think defense technology or vehicles — and is loath to let foreign companies intrude.
Second, there's the fact that China is a self-described "people's democratic dictatorship." Unlike America and many other nations, where multiple and co-equal branches of government can be at odds with one another, all portions of China's government are ultimately subject and accountable to the Communist Party.
As a result, there's often less transparency in China's rulemaking process. Companies can be caught off guard by regulations, and "there is no independent judiciary," as Firestein bluntly put it. As such, Chinese courts are not always reliable enforcers of contracts. That doesn't mean foreign companies from America or elsewhere never win legal disputes within Chinese courts. But the deck is stacked against them in ways you won't find in Western nations.
China's one-party rule also comes with political and speech restrictions. There's Google's situation, of course. LinkedIn also made waves a few years ago by agreeing to have its website censored by algorithms and human reviewers. (For instance, users were told posts relating to the 25th anniversary of the Tiananmen Square massacre wouldn't be available in mainland China.) Facebook is still struggling to build a version of itself that will be allowed to operate in the country. Companies like Twitter and Snapchat have either been banned or butted heads with China's "Great Firewall" — the government's system for censoring information on the internet. And the screws have been tightened under President Xi Jinping.
China has also cracked down on virtual private networks (VPNs), software that can encrypt communication and allow companies and other players to talk internally while circumventing the Great Firewall. Or companies are pushed to only access VPNs approved by the Chinese government. China also increasingly requires companies doing business there to use data and storage hubs built within its own borders.
These restrictions can be politically fraught. But the time, money, and resources needed to comply also bring extra costs to the price of doing business. Nor is it just a problem for big tech: Companies like Mercedes-Benz, Delta Airlines, and Marriott have all gotten on the Chinese government's bad side with the political content of their advertisements — by, say, implying Taiwan or Tibet are separate countries, or by quoting the Dalai Lama.
Finally, that brings us to intellectual property. According to Firestein, we should also think of this topic as splitting into three distinct parts.
There's technology transfer: Chinese regulations often require foreign companies to partner with a state-run Chinese firm if they're going to open shop there. That's happened to GM, Volkswagen, Qualcomm, and Intel, for instance. And that intrinsically involves sharing intellectual property and technology with the Chinese partner. There's good old-fashioned copyright violations: Chinese companies brazenly copy patents, brands, logos, and such. (Nor, as mentioned above, can foreign companies always rely on Chinese courts to shutdown this behavior.) Finally, there's outright commercial espionage: Chinese actors physically breaking in or hacking into foreign companies — either on foreign soil or within China — and making off with trade secrets.
All of these are significant issues. But Firestein also made an important distinction. Outright copyright infringement and commercial espionage both happen to companies without their consent. But that isn't true of partnerships and technology transfers. "Companies are always entering into these arrangements voluntarily because they believe it's in their best interests to do so," Firestein said. "And I think that point often gets lost in the discussion."
Frankly, this also applies to China's speech restrictions and other forms of control and censorship. Complying with these rules may burden companies by making them look bad. But compliance is simply a cost of choosing to do business in China. Whether foreign companies like China's rules or not, they know what they're getting into.
In many respects, we're ultimately reminded that every country and culture is different. The way China deals with rights and laws and economic freedom is often antithetical to American values. That does create an asymmetry and a lack of reciprocity. "China is asking companies to do something that other countries don't ask China or any other country to do when their companies enter their markets," Firestein said. "It can be enormously frustrating to foreign economic players trying to carve out market access in China."
But getting China to emulate our system is a matter of politics, diplomacy, and social dialogue. As for the economics? "What I think we've seen is that the overwhelming majority of American companies have chosen of their own volition to accept [China's] terms," Firestein concluded.
America chose its economic system. And one precept of that system is that our companies are ultimately just out to make a buck.

Continue reading for free
We hope you're enjoying The Week's refreshingly open-minded journalism.
Subscribed to The Week? Register your account with the same email as your subscription.