If you think another civil war is imminent, get off Twitter
America's virtual civil war is bound to stay online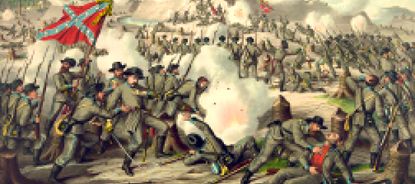 (Image credit: Illustrated | Library of Congress)
Sign up to our 10 Things You Need to Know Today newsletter
A free daily digest of the biggest news stories of the day - and the best features from our website
Thank you for signing up to TheWeek. You will receive a verification email shortly.
There was a problem. Please refresh the page and try again.
Is the United States careening toward a new civil war? A surprisingly wide array of commentators appear to think so.
In the turbulent opening months of the Trump administration, Foreign Policy magazine asked security experts about the likelihood of the country descending into widespread civil violence over the next 10-15 years, and the consensus put the odds at about 30 percent. Others, including The New Yorker and The Nation, have posed the question to historians. Meanwhile, on the right, National Review, The American Conservative, and historian Niall Ferguson have begun to take the question quite seriously, while most recently, fabled investigative journalist Carl Bernstein leavened his CNN commentary on the Brett Kavanaugh confirmation hearings by describing the Supreme Court nomination fight as "almost the Gettysburg and Antietam, the absolutely essential battles" of our "cold civil war."
Is it true? Should Americans on both sides of our ideological divide be stocking up on ammunition and preparing for the imminent outbreak of hostilities?
Subscribe to The Week
Escape your echo chamber. Get the facts behind the news, plus analysis from multiple perspectives.
SUBSCRIBE & SAVE
Sign up for The Week's Free Newsletters
From our morning news briefing to a weekly Good News Newsletter, get the best of The Week delivered directly to your inbox.
From our morning news briefing to a weekly Good News Newsletter, get the best of The Week delivered directly to your inbox.
The answer is no.
It's true that politically engaged Democrats and Republicans, progressives and conservatives, left-wing and right-wing activists and opinion journalists increasingly despise each other and express that loathing with verbal viciousness online. But of course a digital conflagration is quite a bit different than a real one, and there is precious little evidence — actually, almost none — that our online warfare is translating into real-world violence. We also have no reason, thus far, to think this will change.
This reality can be a challenge to recognize and accept. That's because the emotions triggered by antagonists on social media are intense, and spending one's time immersed in digital battles can give the impression that the world itself is becoming a mosh pit of hatred and rage.
But it isn't. Just as one could be forgiven for concluding from his tweets that President Trump is an actual tyrant (when in fact he's a remarkably impotent president), so online mêlées feel like evidence of real-world civil unrest and looming violence. But they're not. They're the expression of the passions of a small number of highly polarized, intensely committed partisans whipping themselves into ever-greater paroxysms of rage while most of the rest of the country goes about its business largely unaware of the tumult.
If you doubt it, compare the real world of the past couple of years with any comparable span of time during the late 1960s or early 1970s. Political assassinations; widespread, large, and sometimes violent protests; race riots and burning cities; regular terrorist bombings — all of this was commonplace during those years, and all of it looks far more like the early stages of a civil war than anything happening now. Yet of course there was no civil war in America 50 years ago. Still less is one about to break out in the present.
Instead, we have a reality-show civil war played out online, on talk radio, and on prime time cable news, like a video game in which participants (some of them anonymous) succumb to furious outrage and delight in provoking it in others. The virtual reality can be so convincing and all-consuming that those immersed in it find it difficult to separate their own partially performative fury from what's really going on around them in the wider world.
Don't believe me? Consider the numbers: During prime time, somewhere between two and three million people watch right-slanted Fox News, with Rachel Maddow's left-leaning program on MSNBC in the same range. That's about six million viewers — or roughly 2 percent of the country — highly engaged with highly partisan spins on the news. Twitter, which more than anything else is what feeds the impression of a world spinning out of control, is similarly marginal. Yes, President Trump's perpetually news-making and polarizing account has over 54 million (worldwide) followers. But his most popular tweets typically garner around 100,000 likes, with many receiving far fewer than that. That's a miniscule portion of the 138 million people who voted in the 2016 presidential election.
Now, as I've written about on numerous occasions, the American electorate (along with elected officeholders) is ideologically polarized and becoming more so over time. That isn't an illusion. Democrats and Republicans increasingly view the world in profoundly different ways. That's real, and it's bad for the country.
But a civil war isn't just a function of disagreement. It's far more a function of intensity of conviction. It costs close to nothing for a liberal to fire off an insulting tweet about a right-wing statement on Twitter — or for a conservative to yell at the TV screen during Tucker Carlson's latest rant about America-hating professors. But is either partisan anywhere close to picking up a weapon, firing it in anger, and facing the prospect of being beaten or shot in response? I'll believe it when I see it.
And those are the people who care enough about political disputes to spend time surfing partisan websites or watching ideological talk shows. What about the countless millions of Americans who don't pay much attention to politics? Who have vaguely defined views on everything ranging from the Supreme Court to ObamaCare's individual mandate to Ted Cruz? Who are focused on work and love and family and find the political spectacle both extremely confusing and immensely degrading? None of them are remotely close to reaching for a rifle, to killing and risking being killed for some political cause.
Now add in the not-inconsiderable number of Americans who are addicted to alcohol or pain killers, or who have dropped out of the workforce and sunk into a personal oblivion of video games, pornography, and drugs. These people may be the least likely of all to commit themselves to an ideological fight.
Put it all together and we're left with a portrait of a country in which the vast majority is politically apathetic, disconnected, turned inward toward their private lives, more disgusted by politics than likely roused by it to acts of war — with a tiny, engaged minority seemingly on the edge of political violence, but only so long as it remains a largely spectator sport.
That's not a country on the verge of civil war. It's a country rapidly losing the capacity to distinguish between a seductive digital fantasy of heroic battles waged against sinister enemies and the unedifying reality of national dysfunction and decline.
Continue reading for free
We hope you're enjoying The Week's refreshingly open-minded journalism.
Subscribed to The Week? Register your account with the same email as your subscription.
Sign up to our 10 Things You Need to Know Today newsletter
A free daily digest of the biggest news stories of the day - and the best features from our website
Damon Linker is a senior correspondent at TheWeek.com. He is also a former contributing editor at The New Republic and the author of The Theocons and The Religious Test.