18 Trump toys that are guaranteed to ruin Christmas morning
Consider yourself warned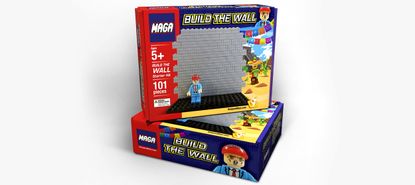 When you make a purchase through links on our site, we may earn a commission
Parents, listen: I know you have strong political opinions. Maybe you're even part of the 40 percent of Americans who think President Trump is doing a good job! But that is not an excuse to inflict terrible pro-Trump toys on your innocent children this December.
Most political toys are novelty items desired more by collectors with bad taste than actual kids. Forget being naughty or nice — finding one of these in your stocking is worse than getting a lump of coal. Here are 18 presents to absolutely not get for any children this season.
Subscribe to The Week
Escape your echo chamber. Get the facts behind the news, plus analysis from multiple perspectives.
SUBSCRIBE & SAVE
Sign up for The Week's Free Newsletters
From our morning news briefing to a weekly Good News Newsletter, get the best of The Week delivered directly to your inbox.
From our morning news briefing to a weekly Good News Newsletter, get the best of The Week delivered directly to your inbox.
1. An extremely boring 'Lego' set
Price: Preorder for $29.95
CNN had to talk to experts to figure out that this faux-Lego "build the wall" set is "probably more for the parents." No kidding — what kid gets excited about building a wall? The glaringly racist toy comes from the pro-Trump website Keep and Bear, which also sells a "Trump sends Hillary to prison" set.
2. A magic eight ball with Trump's voice
Price: $16.95
President Trump will be the first one to tell you about his terrific foresight, so it was probably only a matter of time before someone turned him into a magic eight ball. "I love almost everything about this president," one Amazon reviewer wrote of this toy, which has 25 different answers in Trump's voice for yes-or-no questions. The reviewer added that the eight ball "will go down as one of my favorites." One can only wonder, with what else?
3. A brunette Trump action figure
Price: $99.99 and up
Before Trump was president, he was ... an Apprentice action figure. With brown hair? Okay, so it's not exactly accurate, and it's unclear what sort of action this figure will be doing apart from firing people. Maybe stick to his sidekick, Tariff Man.
4. This piece of fine literature
Price: $18.89
Trump might not be doing much swamp-draining these days, but hey, that's what fiction is for. While there are all sorts of pro-Trump children's books out there, this one styles the president as a caveman who saves the day by banishing congressional reptiles, including a turtle that looks suspiciously like a certain Republican senator. I only have one question: Isn't that toga disrespectful to the flag?
5. Trumpy Bear
Price: $39.90
All the hard work that went into naming this toy is reflected in its premium price, although GetTrumpyBear.com also offers customers the choice of making "just two easy payments" of $19.95. This product went viral after its farcical commercial aired, although it does indeed appear to be an actual toy that no child in your life actually wants.
Price: $19.99
Anyone who survived the 1990s remembers Chia Pets, so why not give the new generation the same trauma by watching a ceramic Trump sprout frightening green hair?
Price: $35.00
Charlie is no Marlon Bundo, but he is officially sanctioned merchandise of the Trump organization. Modeled after "Eric and Lara Trump's very own beagle" that no one has ever heard of, the pup comes with a ribbon that says "Trump" lest anyone mistake it for being apolitical.
Price: $25.99
While this Transformer toy looks innocent enough, it actually contains a secret pro-Trump message. Yes, really. As reported by i09, "MAGA" is written underneath the Autobot logo on the car in the Cybertronian alphabet. A Hasbro spokesperson said the company investigated and "discovered that one of our vendors inserted this as part of the design without authorization," adding that "we do not intend for our products to carry political messages, and apologize to anyone who was offended by this message."
Price: $18.99
(American AF)
Sold by a website called "American AF," this stamp can be used by your children to ruin your cold hard cash and drive you into bankruptcy. Fitting?
Price: $33.98
All aboard the Trump train, or at least, the Trump Inaugural Box Car. This 1/87 scale model comes with its very own display track and would be the perfect present for your child's first infrastructure week.
Price: $69.99
Of course Funko Pop, the creator of expensive ooey-gooey collectable dolls, has a Trump figure, although the company's signature bulbous eyes do the man no favors. They did nail the comb-over, though. Still — just get your kid started on a quarter collection instead.
Price: $19.49
There are all sorts of pro-Trump clothes that you can put on an innocent baby, but the "adorable deplorable" romper is in particularly bad taste seeing as there are still infants separated from their parents at the border.
13. The classic Trump board game
Price: Used for $33 and up
Trump: The Game is one of the president's many hilarious flops, perhaps because it's, uh, not fun (although its commercial is). The objective — surprise, surprise — is to make "millions" or "billions." Mother Jones called it "Monopoly but really dumb" while Vox's verdict was that it is "just boring."
14. It's an incredible, unstoppable titan of terror! It's ... Trumpzilla?
Price: Out of stock until 2019
Not every Trump toy out there is in support of the president. This "nation-smashing," "spark-spitting" wind-up-toy might tell the world you don't like Trump, but it will still wreck some kid's Christmas.
15. The world's most hideous pool float
Price: $21.55
You probably won't see any Instagram models drifting around an infinity pool in one of these. This floaty toy lets everyone know your kid loves Trump and has awful aesthetic taste, which kills two birds with one stone but will also definitely get him bullied at pool parties. Stick with the water wings.
16. The MAGA hat gets a makeover
Price: $19.99
If your kid outgrows their mini MAGA camo hat, you can opt instead for this "fun" cap, which comes branded with your choice of one of three Trumpy phrases. Your offspring can sport a message like "Obama, You're Fired" while simultaneously using the apparatus to drink her ... apple juice. Handy!
Price: $19.95
Before today, you probably had no idea that you could buy a troll doll of both the American president and the North Korean dictator. Moreover, you probably did not realize that those troll dolls would be identified as "Tweety Boy Trump" and "Little Kim Rocketman," nor that they would be poised to partake in a wrestling match (?) reffed by Vladimir Putin (???). Now you do! But just because you are equipped with this knowledge does not mean you should get this for your kids. Don't.

Continue reading for free
We hope you're enjoying The Week's refreshingly open-minded journalism.
Subscribed to The Week? Register your account with the same email as your subscription.