Greta Thunberg's climate crusade
A Swedish teenager with autism is trying to shame adults into action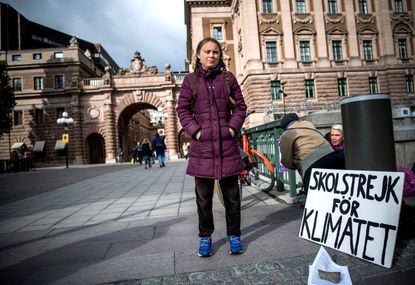 (Image credit: JONATHAN NACKSTRAND/AFP/Getty Images)
A Swedish teenager with autism is trying to shame adults into action. Here's everything you need to know:
Who is she?
Greta Thunberg is a 16-year-old Swedish schoolgirl whose "School Strike for Climate" campaign has sparked a global youth movement involving hundreds of thousands of teenagers in more than 100 countries. In the past few months, she has met with Pope Francis and addressed the EU, the U.N., and the British Parliament. At the World Economic Forum in Davos, Switzerland, she told corporate executives and political leaders that their greed was robbing her generation of its future. For every audience, she delivers the same blunt message, drawing on last year's alarming report from the U.N. Intergovernmental Panel on Climate Change. "Around the year 2030, 10 years, 252 days, and 10 hours away from now," she told Parliament last week in perfect English, "we will be in a position where we set off an irreversible chain reaction beyond human control." If adult leaders don't act, she says, their "irresponsible behavior will no doubt be remembered in history as one of the greatest failures of humankind."
Subscribe to The Week
Escape your echo chamber. Get the facts behind the news, plus analysis from multiple perspectives.
SUBSCRIBE & SAVE
Sign up for The Week's Free Newsletters
From our morning news briefing to a weekly Good News Newsletter, get the best of The Week delivered directly to your inbox.
From our morning news briefing to a weekly Good News Newsletter, get the best of The Week delivered directly to your inbox.
How did her movement begin?
Thunberg says she was inspired by the students from Parkland, Fla., who walked out of classes in March 2018 to protest gun violence after 17 of their classmates and teachers were massacred in a school shooting. Last summer, Sweden suffered through its most extreme heat spell on record, with temperatures in the 90s and forests bursting into flame above the Arctic Circle. Fed up with inaction, Thunberg decided one day last August not to go to school, and instead sat alone outside the Swedish parliament building with a sign saying "School Strike for Climate." On the second day of Thunberg's protest, other students joined her, and they kept it up for nearly a month until the Swedish elections. Thereafter, she led school strikes every Friday, and they soon spread to Belgium, the Netherlands, and other countries through the hashtag #FridaysForFuture. On March 15, some 1.5 million students in 2,000 cities around the world turned out for a global strike.
What led her to this cause?
Thunberg has been diagnosed with autism spectrum disorder, ADHD, and selective mutism, a disorder that interferes with speech. "I have always been that girl in the back who doesn't say anything," she says. She was just 11 years old when she became concerned about climate change through school, after viewing films about deforestation, plastic clogging the oceans, and the melting of polar ice. The discovery that her planet's future was in peril helped plunge the sensitive young girl into a deep depression. She stopped going to school, stopped talking, and even stopped ­eating — stunting her growth. Thunberg eventually emerged from her depression when she decided she could do something to prevent the bleak future that scared her so. The once silent child now routinely addresses crowds of thousands of people and gives eloquent interviews. "It is like day and night," says her father, Svante Thunberg. "It is an incredible transformation."
How has her autism influenced her?
People like Thunberg who have Asperger's syndrome, a mild form of autism, tend to be very literal and ruthlessly logical. Most neurotypical people can live with the cognitive dissonance that comes with accepting the reality of climate change but doing nothing about it; for Thunberg, that contradiction is intolerable. She is relentless in her marshaling of science, logic, and morality to make her case. Her first converts were her parents, who have adopted her veganism and traded their car for an electric model. Her mother, Malena Ernman, a famous Swedish opera singer, has given up flying because of the carbon-­intensive exhaust that planes emit. That decision has limited her career.
What do her critics say?
Some have charged that Thunberg was put up to her campaign by environmental groups or green-energy companies. But Thunberg and her family say she has never received a dime for her work. Still, she has other detractors. When she met the pope, Italian newspapers denounced her as a "pain in the ass" and her movement as a mere "excuse to skip school." Just last week, conservative British journalist Brendan O'Neill mocked her autistic affect, saying her "monotone voice" made her seem "like a cult member." Thunberg isn't fazed. "I expected when I started that if this is going to become big, then there will be a lot of hate," she says. Most European governments, though, have praised her message, and Norwegian lawmakers have nominated her for a Nobel Peace Prize.
What does she want?
Climate scientists say the world must slash emissions of greenhouse gases in half by 2030, and to nearly nothing by 2050, in order to keep warming to 1.5 degrees Cel­si­us. Beyond that mark lie devastating ­impacts — ­extreme droughts and floods, severe storms, food shortages, wildlife extinctions, cataclysmic sea-level rise, and mass movements of climate refugees. Thun­berg is demanding that governments abide by the emissions reductions they promised to make in the 2016 Paris climate agreement. She rejects the buck-passing tendency of adults to place their hopes in young activists like her. "I don't want you to be hopeful," Thun­berg says. "I want you to panic. I want you to feel the fear I feel every day. And then I want you to act."
What it would take
The U.N.'s warning says it's barely possible to avoid the worst outcomes — but only if countries drastically alter their ways of life over the next 10 years, including dramatic changes to energy generation, transportation, agriculture, and construction. Nations would have to switch from reliance on oil, gas, and coal to solar, wind, and nuclear power. Beef consumption in Western countries should drop by at least 90 percent, because cows produce methane, a greenhouse gas much worse than carbon dioxide, and the land they graze on should be reforested to store carbon. A vast scale-up in carbon-capture technology will be necessary. "If we continue to produce, consume, to function as we are doing now," says U.N. climate chief Patricia Espinosa, "we know that we are going toward a catastrophe."
This article was first published in the latest issue of The Week magazine. If you want to read more like it, you can try 8 issues for only $1 here.

Continue reading for free
We hope you're enjoying The Week's refreshingly open-minded journalism.
Subscribed to The Week? Register your account with the same email as your subscription.