24 hours in the Rudy zone
All of the totally incoherent, self-incriminating things Trump's lawyer said in the last day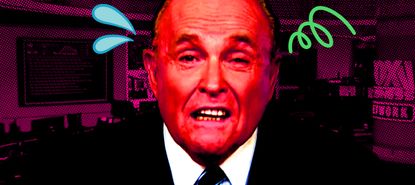 (Image credit: Illustrated | Screenshot/YouTube, yopinco/iStock, aerial3/iStock)
Sign up to our 10 Things You Need to Know Today newsletter
A free daily digest of the biggest news stories of the day - and the best features from our website
Thank you for signing up to TheWeek. You will receive a verification email shortly.
There was a problem. Please refresh the page and try again.
America's mayor is on the loose.
Long having held a reputation for being brash and outspoken, Rudy Giuliani's big mouth has gotten him into trouble many times before. This time, though, the former mob-busting prosecutor turned New York City mayor turned President Trump's personal attorney has been on the defensive for days as growing evidence has linked him to potentially impeachable concerns about the White House's relations with Ukraine.
After a Washington Post article published Tuesday night detailed Giuliani's efforts to "seize an unsanctioned diplomatic role [in Ukraine] for himself," the former mayor made several jaw-dropping appearances on TV and online — and perhaps finally said just a little bit too much. Here's a breakdown of Giuliani's off-the-rails 24 hours.
Subscribe to The Week
Escape your echo chamber. Get the facts behind the news, plus analysis from multiple perspectives.
SUBSCRIBE & SAVE
Sign up for The Week's Free Newsletters
From our morning news briefing to a weekly Good News Newsletter, get the best of The Week delivered directly to your inbox.
From our morning news briefing to a weekly Good News Newsletter, get the best of The Week delivered directly to your inbox.
The Ingraham Angle interview
Appearing on Laura Ingraham's Fox News program on Tuesday night, Guiliani made several startling claims. Among them was a suggestion that State Department officials were the ones to direct him to get involved with Ukraine, a claim that contradicts quotes in The Washington Post's report. In the words of one former senior official, "we had the same visibility as anybody else — watching Giuliani on television."
Ingraham pressed Giuliani on why the State Department would pick him — a private citizen and Trump's personal attorney — rather than use members of the FBI or Justice Department to look into questions regarding Ukraine. "The FBI's performance in the entire investigation including up to this moment is flawed," Giuliani answered.
First thing's first; it's baffling that Giuliani would characterize himself as a humble country lawyer when he "was born in New York, went to NYU law school, and worked all his life in New York and Washington," as Politico put it.
But what's even more important about this moment in Giuliani's interview is the gesture he makes, holding up his phone and insisting "it's all here." That might not have exactly been the smartest move, since he literally cites his phone records as evidence that the State Department outsourced Ukrainian diplomacy to him.
"Giuliani has essentially invited Congress to subpoena his phone records," New York University law professor Ryan Goodman told The Washington Post's Greg Sargent. "It's highly likely that Giuliani personally will be subpoenaed" due to the gesture. Whoops!
I have no great insight into this. It's just hilarious.
After taking a brief break from Ingraham's show ("you gotta get your voice back," the host had told him), Giuliani was invited back on to debate liberal radio host Christopher Hahn. Giuliani immediately had an outburst on air, shouting for Hahn to "shut up" and calling him an "idiot" and "moron." Hahn seemed both bewildered and pitiful: "You're ruining your reputation, Mr. Mayor," he said. "And it is time for you to take a step back and please stop going on like this."
The tweets
Giuliani then kept himself busy online overnight, using years-old right wing talking points to slam ... former President Barack Obama? For those keeping track at home, Giuliani has now ticked off reference to unproven conspiracies ranging from Hunter Biden to Obama. But he keeps going...
If all of that makes little sense to you, congratulations.
Basically, this is another conspiracy Giuliani is lumping onto his already-impressive pile. This line is straight out of the 2018 book Secret Empires: How the American Political Class Hides Corruption and Enriches Family and Friends by Breitbart senior editor Peter Schweizer, who also wrote Clinton Cash. As Media Matters writes in an enlightening piece, Giuliani's conspiracy-spouting seems to indicate that the Trump campaign wants to use these half-baked theories to work up "a fog of corruption around the Democrats" as Clinton Cash did in 2016.
I know, I know, Whitey Bulger's nephew, I'm getting there. What Giuliani is trying to suggest, as Schweizer does in his book, is that Joe Biden's son, Hunter Biden, partnered with former secretary of state John Kerry's stepson and mobster Whitey Bulger's nephew on a Bank of China business deal. Only, there have already been considerable holes poked in this theory, including that Kerry's stepson's representatives say his role is "misreported" by Schweizer, and that he's never been to China.
The Fox & Friends interview
After sleeping for all of five hours or so, Giuliani got up Wednesday morning and immediately headed to the Fox & Friends studio to pick up where he left off. While Giuliani's reference to Soros might seem out of the blue here, what it really indicates is that Trump's lawyer is dealing in recycled right-wing conspiracy theories grounded in shaky evidence at best (and let's not forget that time Giuliani retweeted someone calling Soros the antichrist!).
As The Intercept explains, Giuliani has likewise alleged in the past that Ukrainian President Volodymyr Zelensky was under the control of "people who worked for George Soros." His "proof" was that "George Soros has a not-for-profit called Antac. Antac is the one that developed all of the dirty information that ended up being a false document that was created in order to incriminate Manafort." But as The Intercept notes, Antac "is not, in fact, controlled by Soros or responsible for the records of secret payments to Manafort."
Giuliani additionally appears to mean Karen Greenway, a former FBI agent in the International Corruption Unit who had worked on the Paul Manafort investigation in Ukraine. While she attended Soros events, the FBI defended it as part of her investigative work, writing "In furtherance of the FBI's mission and in the course of their duties, FBI employees routinely travel and participated in public forums in an official capacity."
Giuliani's Manafort obsession is interesting all on its own. "What does Giuliani care about Manafort?" writes Esquire. "It's Trump who cares about Manafort. Maybe he wanted something that would muddy the waters around his former campaign manager's activities in Ukraine, perhaps just enough to justify pardoning him."
Well that's a head-scratcher. Keep in mind that before it was released Wednesday morning, the transcript of Trump's conversation with the Ukrainian president wasn't even available to lawmakers. Why would Trump's personal lawyer, who is not a part of the administration, see or hear it first?
This is strange on so many levels. For one, it's a complete change of strategy; Giuliani had already admitted he himself had pushed Ukraine to investigate Joe Biden, so claiming otherwise all of a sudden makes literally no sense.
Lo and behold, just hours after Giuliani attempted to sew confusion about if it was Trump or Zelensky who brought up investigating Joe Biden, the White House released the transcript confirming, yes, it was in fact Trump. Giuliani's bizarre attempt to muddy the waters by claiming otherwise only tarnishes his own believability going forward, evidently suggesting he has no interest in being transparent or clarifying for the American public exactly what's going on.
No comment necessary.
Want more essential commentary and analysis like this delivered straight to your inbox? Sign up for The Week's "Today's best articles" newsletter here.
Continue reading for free
We hope you're enjoying The Week's refreshingly open-minded journalism.
Subscribed to The Week? Register your account with the same email as your subscription.
Sign up to our 10 Things You Need to Know Today newsletter
A free daily digest of the biggest news stories of the day - and the best features from our website
Jeva Lange was the executive editor at TheWeek.com. She formerly served as The Week's deputy editor and culture critic. She is also a contributor to Screen Slate, and her writing has appeared in The New York Daily News, The Awl, Vice, and Gothamist, among other publications. Jeva lives in New York City. Follow her on Twitter.