Why interest rates are free marketers' favorite tool
The alternative is the thing they hate most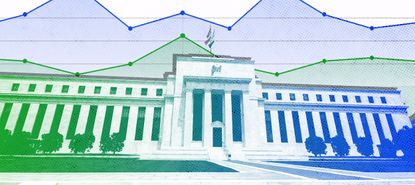 (Image credit: Illustrated | qingwa/iStock, NatalyaBurova/iStock, Aerial3/iStock)
Earlier this week, the Federal Reserve decided to keep interest rates steady at its ultra-low target range of 1.5-to-1.75 percent. Mainstream policymakers and economists mostly agree this is necessary, but it would probably go too far to say they're happy about it. Low interest rates come with perceived trade-offs: more risk of financial bubbles, harms to savers, and more. There's also the instinctive sense that low interest rates in a time of 3.5 percent unemployment are just wrong.
But if current interest rate policy is both necessary and disturbing, that suggests a policy tool that is ill-fit to its purposes. That central banks adjust interest rates up and down to balance the economy — lowering interest rates to boost growth, and hiking them to cool off inflation — is now so commonplace that it's often treated as an inevitable part of the natural order. It's not though; it's a policy setup produced by a long line of ideological and political decisions. We could in fact use a completely different policy toolkit to balance the various trade-offs in the economy. So why don't we?
Let's back up for a moment. Right now, inflation in the U.S. is remarkably low. As a practical matter, that's the justification for keeping interest rates low: As long as prices remain stable, why not leave credit cheap, and allow jobs to keep growing and wages to keep rising? But there's also the worry about financial bubbles: that higher interest rates discourage risk-taking by investors, while lower rates encourage it. Thus, even if inflation is low, maybe we should hike interest rates anyway in order to ward off the possibility of another 2001- or 2008-style bubble and burst?
Subscribe to The Week
Escape your echo chamber. Get the facts behind the news, plus analysis from multiple perspectives.
SUBSCRIBE & SAVE
Sign up for The Week's Free Newsletters
From our morning news briefing to a weekly Good News Newsletter, get the best of The Week delivered directly to your inbox.
From our morning news briefing to a weekly Good News Newsletter, get the best of The Week delivered directly to your inbox.
The problem is that interest rates are an extremely blunt weapon that cause a lot of collateral damage. By constraining credit, higher interest rates force businesses to either stop growing and hiring, or they force them to fail and lay a bunch of people off. Unemployment either stops falling, or actually increases, and wages stop rising. That, in everyday language, is how higher interest rates cool off inflation.
That's a pretty high price to pay to keep prices stable, never mind to prevent the occasional financial bubble. When the Fed hiked interest rates to 17 percent or more to kill the 1970s inflation crisis, it set off a brutal recession that did massive, still-unresolved damage to Americans' wages and livelihoods. The Fed has never tried anything equally aggressive to ward off asset bubbles, but preventing the 2008 housing bubble would probably have taken interest rates of 10 percent or higher. That's probably why current Fed officials have largely avoided hiking interest rates in the name of financial stability, even though the worry keeps bubbling up in their conversations.
As a result, some Fed officials are broaching the possibility of using tools other than interest rates to prevent bubbles. In a speech late last year, for instance, Fed Governor Lael Brainard suggested that "macroprudential tools" other than interest rates be used to "temper the financial cycle." In plain English, Brainard was suggesting the Fed use more elaborate financial regulations, rather than higher interest rates, to prevent asset bubbles. The Financial Times noted there are a lot of options to choose from: Fed officials could raise the capital requirements banks have to meet, or even raise the requirements for certain specific activities, and those requirements could be raised or lowered with the business cycle. The Fed could also impose tighter and more exacting regulations on what sorts of loans can be offered when — by tightening rules around debt-to-income ratios for borrowers, and other restrictions.
In fact, a similar alternative applies to managing inflation itself. If the U.S. government ever decided that throwing people out of work was too high a cost, it could leave interest rates low and use regulations to manage prices instead. In fact, this is precisely what the government did during World War II, when our war-effort spending massively overheated the economy. Granted, the primary point there was to defeat Nazism, but a positive offshoot of the war effort was an eye-poppingly low unemployment rate of 1.5 percent. To keep inflation in check, the government relied on an elaborate system of price controls, plus specific rules about what sort of loans banks could offer when, and to what purposes.
At this point, you've probably noticed a theme here. When it comes to both asset bubbles and inflation, if we don't use the Fed's control of interest rates to manage them, the alternative is much more aggressive central planning by the government. High interest rates constrain the aggregate supply of credit, while allowing private banks and businesses to decide how to distribute that supply; so if the government doesn't constrain credit at the aggregate level, it needs to give banks and businesses across the economy much more detailed orders about what they can do with all that credit — how to manage their business decisions and prices and balance sheets.
For mainstream economists and lawmakers, that's really the key thing: Interest rates may be a broadsword rather than a scalpel, and one that leads to perpetually excessive unemployment, but that's the price we have to pay to protect the free market system. They just rarely state the trade-off in such blunt terms, usually burying it under lots of jargon. Greg Mankiw, a center-right economist, was unusually honest in a recent debate, when he admitted that the current policy approach keeps employment perpetually below where it could be. "Getting the government involved in price setting might improve the allocation of resources from the standpoint of simple theory," he wrote. But "the complexity of the economy and the history of price controls suggest that this solution is not practical." Agree or disagree with Mankiw's assessment of history, this is at least an unusually clear statement of the trade-off.
The funny thing that happened recently is that the mainstream policy approach has finally done so much long-term damage to Americans' livelihoods that it's become impossible for the Fed to justify higher interest rates, even on the mainstream's pinched terms. Faced with that new reality, many of our officials may have to start rethinking their aversion to central planning whether they want to or not.
Of course, if ordinary workers knew that we've basically been sacrificing their jobs and wages to maintain our ideological devotion to the free market, they might have demanded a rethink a long time ago.

Continue reading for free
We hope you're enjoying The Week's refreshingly open-minded journalism.
Subscribed to The Week? Register your account with the same email as your subscription.