Le Manoir aux Quat'Saisons review: 'Britain's most perfect meal'
Raymond Blanc's five-star country house and two-Michelin star restaurant is truly exceptional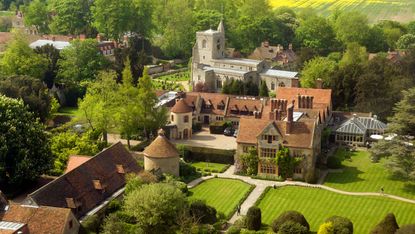 (Image credit: Nigel Harper)
From the flat, oak-lined fringes of the Oxfordshire countryside emerges a celebrity of tan and terracotta. Its abundance of steep chimneys and golden gables peek over the trees, before the drive gives way to handsome stone gates and weather-washed plaques that proclaim your arrival. Welcome to Le Manoir aux Quat'Saisons, a Belmond Hotel.
Describing its driveway may be my only bid for originality because, well, what hasn't already been written about Le Manoir? Raymond Blanc's labour of Anglo-French love has received extra-stellar reviews since its opening in 1984, where it shot into the stratosphere with two Michelin stars and never came down again.
A decade of accolades followed, with awards and TV shows liberally sprinkled across its clean-cut lawns like wildflower seeds. Most recently it added a green Michelin star to its ranks, to absolutely no one's surprise. Le Manoir was made for Michelin's eco-friendly gong.
Subscribe to The Week
Escape your echo chamber. Get the facts behind the news, plus analysis from multiple perspectives.
SUBSCRIBE & SAVE
Sign up for The Week's Free Newsletters
From our morning news briefing to a weekly Good News Newsletter, get the best of The Week delivered directly to your inbox.
From our morning news briefing to a weekly Good News Newsletter, get the best of The Week delivered directly to your inbox.
Everything here sings of seasonality and sustainability. Plates are filled with foraged, home- and locally-grown ingredients. They're usually picked from the recognisable potager gardens where "TV Raymond" roams, waxing lyrical about haricot and beetroot. The seafood is hand-dived or caught by creel and pot, while more than half of the wine menu is organic and biodynamic.
It isn't just the food either. The surrounding hotel is a Belmond blanket of sophisticated green rusticity. Dedicated to no waste and low-impact, there's a zero landfill policy, all the amenities are 100% recycled and you're even encouraged to steal the non-reusable toiletries. It's all spectacularly self-aware which, for the eye-watering price tag, it probably should be.
Opulence without smugness
Stepping under the French and British flags at the front door, ever-accommodating staff offer the first of many, many drinks: Veuve Clicquot or Hundred Hill's Preamble No 2 – a local sparkling made just up the road – is a deliciously dry fizz with a hint of sweet stone fruits and almond. Eschewing the siren call of Cliquot turns out to be a wise choice: the room comes with its own bottle, which is the star of the hotel's regularly held champagne evenings. It's one of the multitude of gifts and nibbles the room holds. There are truffles, Blanc's lemon cake, madeira wine and a fruit cornucopia, all with take-out boxes on hand.
The glass of sparkles and I settle in the garden, where music percolates on the breeze over sunbaked grass, a palette of sand and soft greens surrounds the 15th century manor house. A handful of day-trippers, diners and guests natter and it all feels delightfully civilised. Around the corner, tonight's menu grows from the mulch and vegetable beds; beans trail up bamboo poles, golden courgette flowers emerge behind bristly leaves, and rows of vibrant chard await their close-up in the kitchen.
Drinks begin in one of the reception rooms, a platter of soft squishy seats and walls hand-painted lemon and gold that embodies the meaning of "lounge". From every window here there's some sweet aspect. The angled roofs, creeping fingers of fig, laurel and wisteria, and the legendary lavender path that leads to the manor.
With the likes of island umeshu or Pineau de Charentes to hand, it's easy to admire the ambience. Le Manoir is laidback luxury, all opulence without smugness. Diners are encouraged to wear comfortable, casual clothes. Beside the couch is a portrait of Blanc dressed as Napoleon, brandishing a baguette. Aside from the service, nothing here is taken too seriously.
Said service is very much part of Le Manoir's experience. Warm and welcoming, everything that can be done for you is done with charm and care. Every want, need and generous top-up anticipated without being overbearing. Blanc's staff are as impressive as his menu.
Sentiment thrown out of the window…
Ushered into the conservatory dining room, aglow with candles and conversation, the show finally begins. My server for the night is introduced and the Blanc-designed show plate is whipped away to be replaced with canapés. The tuna loin tartare dressed with kimchi and cherry is a brilliant mix of supremely soft tuna belly, seaweed crunch and a hovering heat, while the melon verbena is a refreshing herbal hit of lemon and lush melon.
Canapés aren't considered one of the menu's seven courses for the evening (£220 per person). They join the nebulous list of extras, alongside vegetable crisps, olives and the bread basket, which drifts its way between tables looking unspeakably tempting. It's a basket to soliloquise over; the sun-dried tomato and confit garlic roll could have formed the entire menu and still earned its rave review.
The accompanying wine flight alongside is supposedly optional, but your ability to refuse anything is very much checked at the old oak door. A tart, grassy Riesling with a great finish accompanies the first act: Le Jardin. A sublime pistou soup that takes three days to clarify into an intense, basil-infused broth; it sets the standard straight out. It's beautiful, the soup poured at the table into a bowl of baby herbs, croutons and the most absurdly perfect beans. They look like they have been shaped and sanded by hand.
Also under the Riesling's watch is the second course, Le Crabe. Fond childhood memories of seeking out the scuttling creatures makes crab rather hard to swallow – I never eat it. One bite of Le Manoir's offering is all it takes, however, to have me throwing decades of sentiment out the window. The meaty, creamy Devonshire crab has real bite and the rich bisque below is divine. Satellites of kaffir lime sorbet, passionfruit jelly, coconut gel, succulent sea beans and finger lime caviar create a mix of textures and temperatures that's pure genius. Two courses in and I'm already picking favourites.
'My belly is blissfully brimming'
One of the tangerine coloured blooms spotted in the garden has found its way onto the next plate, Fleur de Courgette. Stuffed with a luminous green mousse of herbs, mushroom and scallop, the show-stealing courgette flower shares the plate with a beautifully fat Orkney hand-dived scallop poached in girolle liquor. The two sit atop pickled cauliflower fungus, wild mushrooms and vibrant orange enoki: a melange of salt and umami, tang and a whispered breath of truffle. Courgettes are grown purely for their flowers at Le Manoir: in summer they harvest 100 flowers a day.
The accompanying Mersault is beautiful: crisp, citrus, with toasted barrel notes that linger on the palette. I could write odes to it, but it's soon replaced with my favourite wine of the night. The phenomenal Bandol overturns long-held feelings of rosé's inferiority with hints of strawberry, raspberry and rose petals. It pairs with Les Saveurs de Bouillabaisse, a beautiful marriage of pan-seared Cornish sea bass, sea herbs, fennel and saffron rouille. The Cabinero prawn – the pinkest, plumpest, most perfectly cooked prawn – was nothing short of remarkable.
By the time the beef comes, my belly is blissfully brimming and yet the Aberdeen Angus fillet and Jacobs ladder has me salivating. Served with chicory, onion purée, beetroot, nasturtium oil and a glorious braised baby gem lettuce, its earthiness balances with rich red wine sauce. The flavours are extraordinary, the beef beyond belief. Washed down with a smoky Margaux of ripe berries and pleasant bitterness, it's a moody and marvellous plate after the lightness of fish and garden vegetables.
Shortly after, a veritable gurney of cheese arrives, practically groaning under the weight of lemony goats, tangy washed rinds and nutty, spruce-wrapped cheeses. The wares change every three months, excepting the Comté, which shares its region with Blanc so earns a forever-home amid the dried fruit, grapes and chutneys. With a server like Edward Scissorhands, every slice getting a new set of cutlery, and I order with bold abandon.
Nearing full capacity
By this point it's becoming ever more evident that I'm biting off more than I can chew. The soft slice of fig bread might have been a mistake, but its jammy sweetness says otherwise. I can't regret a bite, though I'm nearing full capacity. Thankfully, a much-needed breather before the first dessert lets you sit back and be ineluctably drawn into the ambience.
The quiet, glittering hubbub of the conservatory is an array of people, from the once-in-a-lifetime birthdays to regular patrons. There's cross-table conversation too, sparkling smiles and shared laughs over the generous wine portions, glances over to preview the next course. We're all cheek-apple happy because of brilliant food and it's easy to forget both my fullness and purpose. The server is just too charming, the wine so plentiful, the dimmed lights making note-taking even harder. I'm helpless to resist as the Pêche Melba made its way in front of me.
Reader, I ate it. I embraced sweet defeat and let elasticity do its job. The melba is an almondy crème frâiche panna cotta with compressed yellow peaches, lavender sorbet, redcurrant and raspberry jus, topped by a snappy tuille. It tastes like summer, of the scorched grass just outside and sunlight. Le Cassis et Chocolat follows, a rich chocolate cremeux with airy blackcurrant meringues and sorbet that's sublime. The vanilla and tonka espuma softens the berry tartness and the Grenada 65% chocolate doesn't fight the fruit for the top spot. Plate-lickingly lovely and the ideal end to Britain's most perfect meal.
Except that it isn't, because we have coffee and petit fours yet to come. I still have a full glass of the dessert Banyuls to drink – a treacly wine of spices, caramel and berries – but that doesn't stop our server. Two complimentary digestifs appear alongside it: a fabulous apricot liqueur and rather less fabulous green chartreuse that would strip the shine off a Blanc hardback (a signed copy of which has been left gift-wrapped in the room).
The verdict
By the time I slope up to my suite, doing my finest impression of a waterbed, the mallow-soft mattress is a very welcome sight. A last glimpse into the restaurant shows a battleground of empty glassware and demolished plates. I spot someone about to experience their first bite of tender beef and watch bliss blossom across their face. I'm almost jealous.
After several hours of indulgence and epicurean ecstasy, my own long-awaited dinner at Le Manoir is done. Was it ridiculously expensive? Of course. Incomprehensibly, unaccountably, unthinkably so. Was it also exceptionally, stupidly, mouth-meltingly good? Absolutely. And for that, it remains entirely priceless.
Le Manoir aux Quat'Saisons, a Belmond Hotel, Church Road, Great Milton, Oxford OX44 7PD. Overnight stays start from £1,040 per room, including breakfast; belmond.com

Continue reading for free
We hope you're enjoying The Week's refreshingly open-minded journalism.
Subscribed to The Week? Register your account with the same email as your subscription.