Rolls-Royce Spectre review: an ultra-luxury all-electric super coupé
We get behind the wheel of the new Spectre at a first drive event in California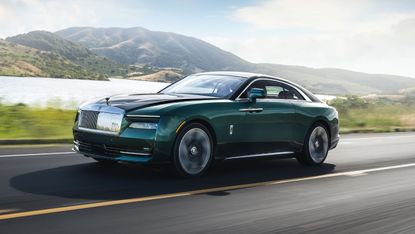 (Image credit: Mark Fagelson Photography)
Sign up to our 10 Things You Need to Know Today newsletter
A free daily digest of the biggest news stories of the day - and the best features from our website
Thank you for signing up to TheWeek. You will receive a verification email shortly.
There was a problem. Please refresh the page and try again.
Rolls-Royce first, electric car second. It's a soundbite which crops up time and time again from the brand's top brass, all in attendance at the Spectre's first drive event in Napa Valley, California. At first glance, there is little that gives away its full EV credentials. Familiar features such as the Pantheon grille, the Spirit of Ecstasy ornament on the bonnet, coach doors and the sweeping lines of the Phantom coupé reassure potential customers that the marque hasn't made any drastic departures from its 123 year heritage. It comes as no surprise, then, that some 60% of pre-orders are from existing Rolls-Royce owners.
As for the drive, the electric drivetrain – dual motors producing a maximum output of 576bhp – should lend itself perfectly to the signature Rolls-Royce experience: instant torque, silent running, and a sense of one imperceptible gear. Fitted with a generous102 kWh battery giving a claimed range of 329 miles, it seems to stack up here too. We will, of course, go into more detail on this later, but the brand is certainly convinced – by the end of 2030, its entire portfolio will be fully electric.
Luminaires in the electrical world
Rolls-Royce's transition away from its reputed V12 isn't as much a bolt from the blue as you might first think. Turn the clock back to the late 1800s. A certain Charles Rolls purchased an electric-powered car – he liked they were clean, noiseless, smell and vibration free – and his soon to be business partner, Henry Royce, was an electrical engineer, supplying motors to the first electric cars. So they were luminaires in the electrical world, and knew, first hand, the benefits of a silky smooth electric drivetrain.
Subscribe to The Week
Escape your echo chamber. Get the facts behind the news, plus analysis from multiple perspectives.
SUBSCRIBE & SAVE
Sign up for The Week's Free Newsletters
From our morning news briefing to a weekly Good News Newsletter, get the best of The Week delivered directly to your inbox.
From our morning news briefing to a weekly Good News Newsletter, get the best of The Week delivered directly to your inbox.
Founded in 1904, the marque first started dabbling with the non-production fully electrified version of the Phantom in 2011 – around the same time that the Tesla Model S went into full production – and then the striking looking Vision concept a few years later.
It was in September 2021 that the Spectre was officially announced, and even though the rigorous 2.5 million kilometre testing programme was still underway – from the Arctic Circle to hot weather testing in South Africa – the order book quickly filled, far exceeding the brand's expectations. Indeed, if you order one today, expect to wait well into 2025 before taking delivery. The first ones roll off the production line this September.
Although Rolls-Royce won't be drawn on price – after all, each Spectre will probably be totally unique and made to the customer's own high spec – it is likely to be significantly north of £400,000. Yes, this is an eye-watering sum for most, but given Rolls-Royce owners have on average more than seven cars in their garage, it's a price many will be willing and able to pay.
A nice dash of modernity
Seeing the Spectre in the flesh – under the bright Napa Valley sunshine – is an impressive sight. That's not to say it shouts at you – far from it. Bold yes, but surprisingly subtle too. It looks every part the Rolls-Royce with some discreet flourishes that bring it more up to date and of the moment. There were ten Spectres in Napa, each differently specced. Some have a more garish, and perhaps questionable colourways – although these may well appeal to their considerable Middle Eastern customer base – but particularly great looking is the Imperial Jade and Black Upper Two-Tone that we drove. When paired with the immense 23" 7 Spoke Part-Polished Wheels which are fabulous looking; the combination was pretty exquisite.
Despite being nearly three metric tonnes and 5.5m in length, it manages to maintain the sleek and sporty look you'd expect from a two-door sports coupé. The director of engineering, Mihiar Ayoubi, told me that despite having to house a significant 700kg battery, the top line of the car is only 2cm higher than their previous coupé, which seems an impressive feat.
The rear is subtle: smooth lines sweeping gently back from the windscreen, and the modestly sized vertical tail lights – spliced with bare aluminium, a nice dash of modernity – are housed on muscular shoulders which gently protrude over the rear wheels.
New details and a futuristic look
To the front, it looks every part the Rolls-Royce, but, again, with some minor tweaks which help give a mellower look and a nod to its EV status. For instance, the Pantheon grille is slightly wider than ever before which softens the imperious two metre width; the Spirit of Ecstasy's design has received some aero-tuning to marginally help aerodynamics; and, the split headlights feature a daylight running LED strip on the top half which give a slightly futuristic look – a great touch.
The coach doors are a staggering 1.5m in length – their longest ever – and although they're made from lightweight aluminium, it's no bad thing that opening and closing is power assisted. With the ignition on, simply hold down the brake pedal and the driver's door smoothly closes – a really nice new addition only seen on the Spectre. There is still a button for both driver and passenger for the door closing feature too.
When seated, it feels very familiar, and like a Rolls-Royce should. Same steering wheel, deep-pile carpets, massage seats and exquisite stitch work – but there are some nice new details to point out. The Starlight roof effect is now also incorporated into the doors – some 4,976 additional fibre-optic lights – which, when combined with those in the roof, give a wonderful effect at nighttime. The dash features a new digital panel – which is coloured to match any bespoke interior colour scheme – and is wonderfully simple with no risk of information overload, or indeed any kind of EV range gamification going into great depths about driver stats. The main components shown are speed, power reserve, range and battery percentage.
In the rear, the seats are of course comfortable, but being a two door coupé, they are inevitably more on the snug side of things. If it was ever in doubt, this points even more so to this being a driver owned car.
Effortlessly smooth drive
When behind the wheel, there's a refreshing absence of driver modes or choices. Simply select drive from the steering wheel column mounted shifter, and from there it's effortlessly smooth. One-pedal driving, down to a complete stop, is the only other driver adjustment available – just select the regenerative braking function "B" mode on the shifter. At first, the rate of deceleration seemed almost aggressive, but after a while you become accustomed and it even became nice to engage with this more efficient way of driving, forcing you to read the road much further ahead to avoid using the brake pedal.
The ride is as near silent as you will experience in any car. With Rolls-Royce's knowhow in this area, combined with noiseless electric motors and additional insulation from the battery sitting beneath the cabin floor, it's no surprise. Indeed, if this silence leaves you feeling a little disoriented when accelerating – which apparently it can – press a button to have a synthesised version of a V12 played discreetly through the speakers.
Electrics and power
The Spectre is equipped with an impressively sized 102kWh lithium-ion battery. There are larger ones out there, such as Mercedes, Polestar and Audi who trump this by around 5kWh. However, its provenance is very good – lithium and cobalt are sourced from controlled sources in Australia, Morocco and Argentina who only use 100% green electricity. This may seem a more minor detail to mention, but this is increasingly relevant and is an important factor for those buying with green motivations.
Range is claimed at 329 miles – rather impressive for a near three tonne car. Although this is purely anecdotal, in the favourable Calofornian weather conditions, the crew responsible for charging and taking care of the Spectres commented they were regularly achieving more than 300 miles. Either way, with the average Rolls-Royce client having seven cars in their garage, if the journey is to be a long one, they'll probably opt for one of their petrol cars rather than use a public charging station.
It is powered by two motors which equate to an internal combustion engine of 584 hp, with 900Nm of torque, so it's certainly not lacking in power. Put your foot flat to the floor and it will achieve 0-60mph in 4.4 seconds. The acceleration curve is interesting – because the car should pass the "champagne test" (which obviously it wouldn't in reality, but it gets the brand's point across) the engineer has intentionally avoided that instant off the mark speed EVs are capable of, think Tesla. Instead, initially there is a very slight lag – done intentionally to mimic the response of a combustion engine – then when it hits around 20mph, the power really gets laid down and picks up speed much quicker.
The best 'magic carpet ride' yet
However, this car wants you to cruise, to sit back and eat up the miles, effortlessly. Fitted with their largest air suspension ever, two active roll bars, four wheel steering and all-aluminium space frame making this 30% stiffer than any previous Rolls-Royce, this is surely Rolls-Royce's best "magic carpet ride" yet. There's almost no rocking if one side of the car hits an undulation, and bumps or potholes in the road are dealt with effortlessly. If you throw it into a corner, you won't be surprised to hear there is some understeer and minor lurching. Although it does still handle impressively if you want it, this just isn't a driving style you'd want to adopt in this car.
Charles Rolls and Henry Royce would probably have been surprised to have heard they'd be waiting more than a century for their brand's first EV to roll off the production line. But chances are they would have been satisfied with the Spectre – it is a really successful first step into the world of electrification.
Continue reading for free
We hope you're enjoying The Week's refreshingly open-minded journalism.
Subscribed to The Week? Register your account with the same email as your subscription.