Marina Bay Sands review: 48 hours at Singapore's most iconic hotel
The setting of two key scenes in Crazy Rich Asians lives up to its glitzy reputation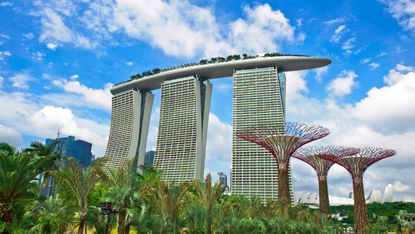 Sign up to our 10 Things You Need to Know Today newsletter
A free daily digest of the biggest news stories of the day - and the best features from our website
Thank you for signing up to TheWeek. You will receive a verification email shortly.
There was a problem. Please refresh the page and try again.
I feel it's incumbent upon me to preface this review with a trigger warning. If you're easily offended by excessive luxury, this piece contains graphic descriptions of 1lb meatball starters, gold bar vending machines and a Ferrari clothing store exclusively for kids.
I'm speaking, of course, about Marina Bay Sands, affectionately known as MBS (not to be confused with the crown prince of Saudi Arabia). It's the triple-towered icon of the Singapore skyline, the setting of two key scenes in the 2018 blockbuster Crazy Rich Asians – which, in some ways, says it all.
The hotel and shopping complex is owned by the Las Vegas Sands Corporation and bears many of the hallmarks which have given the Nevada city its reputation for glitz and glamour. To take just one example, I'd like to briefly describe to you MBS's Straits Suite, where Hollywood's muscliest antipodean, Chris Hemsworth, once stayed.
Subscribe to The Week
Escape your echo chamber. Get the facts behind the news, plus analysis from multiple perspectives.
SUBSCRIBE & SAVE
Sign up for The Week's Free Newsletters
From our morning news briefing to a weekly Good News Newsletter, get the best of The Week delivered directly to your inbox.
From our morning news briefing to a weekly Good News Newsletter, get the best of The Week delivered directly to your inbox.
'This is not just luxury – this is MBS luxury'
First of all, think big. Think very big. Think enormous. 330sqm to be precise (well it would have to be large to accommodate Hemsworth's infamous biceps, no?). One of the living room walls consists entirely of glass, offering a stonking view of Singapore's famous financial district from the 50th floor.
And the amenities are similarly mind-boggling. Guests of the roughly £4,000-a-night Straits Suite can enjoy a 24-hour butler service and make use of an in-suite hair salon, karaoke lounge, jacuzzi, private gym, massage room and colossal living-dining zone with a baby grand piano. Even with all this, my highlight was the three toilets with in-built sensors so the lids automatically rise when you enter, saving your weary arms from any unnecessary labour. This is not just luxury – this is MBS luxury.
Why stay here?
Not every room is quite as grand as the Straits Suite, of course. But it does reflect the kind of opulence that MBS aims for across the board. With more than 2,500 rooms in total, MBS is the largest hotel in Singapore and everything, from its location overlooking the Singapore Strait to its vast array of onsite activities, is in keeping with its five-star reputation.
To give but one micro-example, on arriving back at our bedroom after a full day exploring the resort's many attractions, we found our once-bedraggled phone and computer charging cables lovingly wound up and tucked away. It's this kind of attention to detail that makes each guest feel like they're something of a VIP – even if they're not Chris Hemsworth.
MBS is something of a self-contained utopia, a sanctity of splurge if you will. Think of an elite luxury brand and it's almost certainly housed within the hotel's enormous adjacent shopping mall. And, thanks to a warren of connected passageways, you're able to walk from luxury site to luxury site without ever having to take a step outside!
What to eat and drink
Beyond the consumerist delights, there are myriad options for treating your tastebuds at MBS. The complex features 80 different dining options to pick from, as well as 17 signature or celebrity chef restaurants (Gordon Ramsey, Daniel Boulud and Wolfgang Puck are among the biggest of the names).
We were lucky enough to sample some of those signature options and will run you through some of the highlights and lowlights.
On our first night, we dined at LAVO, an indoor-outdoor Italian restaurant and rooftop bar perched on MBS's 57th storey with a magnificent view of Singapore's twinkling skyline at night. This was where we were treated to/confronted by the 1lb meatball starter. "The Meatball", as it is introduced on the menu, is a signature dish at LAVO that's comprised of "imperial" wagyu beef and Italian sausage, and served with an ice cream scoop-sized dollop of ricotta on the top.
Unfortunately, when "The Meatball" arrived at my table, I couldn't help but recall Shakespeare's The Merchant of Venice (I'm an English literature graduate – sue me) and the problematic role that a pound of flesh plays in that seminal work. While delicious for one, two and perhaps even three bites, expecting anyone to pursue a main course, let alone a dessert, after tackling such an obstacle is asking a little too much. Since a large number of animals had clearly given their lives to provide a dish of such scale, I felt obliged to eat as much as I could. But the Herculean scale of the task did somewhat cloud the rest of the evening. The other courses were certainly pleasant, but I was in such a state of bloated delirium that it would not be fair to pass judgement. Did I mention LAVO had a lovely view?
The following morning I was concerned about a proverbial hunger hangover from the eternal meatball, but my appetite promptly returned when presented with the array of local and western breakfast options at Spago. An offshoot of Wolfgang Puck's renowned Beverly Hills eaterie, this spectacular signature restaurant is also located on the rooftop of MBS, overlooking one of the three (yep, that's right) infinity pools.
With the sun peeking through the clouds, we supped our fresh carrot and watermelon juices, grazed contentedly on delicious dim sum and lazily digested the headlines of the Straits Times (feeling rather guilty as we read about Storm Eunice battering the UK).
Fast forward several hours and we're (somehow) sitting down for lunch at Rise, a Southeast Asian buffet-style restaurant located by the lobby at Tower 1. To me, a buffet usually brings to mind slightly queasy memories of giant metal trays laden with confused international fare. This experience turned my assumptions upside down and back again.
We were greeted with a delicious fresh mint welcome drink containing a floating longan fruit, followed by a warming bowl of pumpkin soup. We then devoured an enormous seafood platter consisting of every kind of shellfish you might imagine, including lobster, clams and sea snails (I tried to keep one of their pretty speckled shells as a memento but despite some vigorous scrubbing, I couldn't quite get rid of the smell). We then helped ourselves to whatever buffet options we could still manage to fit in our swollen stomachs, somehow finding room to sample some treats from the cheeseboard and a delicate slice of coffee cake. On any given day, this restaurant has a roster of 20-30 chefs cooking up some of the most delicious foods from around the world and the result is an indulgent gastronomic delight.
By the evening, and with my belt buckle loosened several notches, we made our way through the maze-like MBS shopping mall to DB Bistro & Oyster Bar. The restaurant describes itself modestly as serving "French homestyle dining with soulful brasserie classics steeped in tradition" – and the food we got to sample stood up to this lofty hype.
We were served DB's speciality oysters for a starter – a magical maelstrom of hazelnut, seaweed crust and gratiné coming together in sumptuous seafood harmony. For mains, we shared a Tasmanian sea trout and a pork schnitzel, which were both generous but thankfully not excessive portions. We washed down everything with delicious cocktails served in what can only be described as goblets, and bathed in glorious fullness as the evening came to a close.
What to do
There's no shortage of activities to keep you active and occupied at MBS. Perhaps the most Instagrammable is the iconic infinity pool at the hotel's very top level – towering 200m from the ground. It's split into three 50m segments and the anxious among you will be relieved to hear it has a no-inflatable-floats policy, so you don't have to worry about a gust of wind taking any lilos for an impromptu paragliding trip.
We were fortunate to get the very best out of the pool thanks to the generosity of one particularly accommodating member of staff, Moe. Proving himself as much an accomplished photographer as a lifeguard, he insisted on taking a portfolio's worth of extremely beautiful (and extremely embarrassing) photos of my boyfriend and I perched at the pool's edge, with the expanse of Singapore's high-rise canopy spreading out in the backdrop. Moe's good humour and generosity typified the kind of hospitality we enjoyed throughout our stay. (PS: thanks to Covid, you currently have to book a timed slot at the pool and I highly recommend either a nighttime or sunrise session to catch a view of Singapore at its most seductive.)
Another fun water feature can be found at the other end of hotel, on its bottom-most floor. There you can find an homage to Venice, or Vegas, in the form of a gondola-style ride down a river of rainwater gathered by the one of the hotel's two rain ocoli (Google it). The other oculus collects water for sanitary purposes.
Pre-Covid, we could have gone clubbing at the resort's Marquee nightclub, which contains its own Ferris wheel and three-storey slide. For fans of a bit of TLC, there's also the luxurious Banyan Tree Spa, which we didn't get a chance to visit during our trip.
And for the shopoholics out there, MBS is something of a nirvana. Once you get over the rather pretentious use of the word "shoppes", you'll find 270 retailers and more than 170 luxury brands (including stunningly unnecessary luxury lines specifically for kids, including Ferrari, Versace and Dior). There's also the aforementioned gold vending machine, which we can't say we sampled.
Out of all the various on-site activities, our favourite was the ArtScience Museum. The building itself is something of a work of art, looking like a cross between a lotus flower and an open-palmed hand, and suitably referred to as The Welcoming Hand of Singapore. There's even a rather beautiful Anish Kapoor installation just outside the main entrance.
We had a tour of the Radical Curiosity exhibition, which launched in January and is open until July. Our lovely personal guide, Gail, took us through the extraordinary life and achievements of a gentleman I'd shamefully never heard of, Buckminster Fuller.
I'll spare you a biography of the great man, but safe to say his life's work is well worth an exhibition and the one they've put on at ArtScience is a doozy. Fuller is considered to be the most documented man in history: he journalled his life almost every 15 minutes from 1920 until 1983, often sleeping for just two hours a day. The exhibition uses a combination of interactive, immersive and thoroughly engaging tools to draw you into Buckminster's world of art, science, architecture and design.
After finishing the exhibition (and with an acute sense of just how little I've accomplished compared with the indefatigable Buckminster), we enjoyed a cinematic virtual reality experience at the museum's VR Gallery. We were taken on a journey through our galaxy with a mixture of awe-inspiring archive footage and some hyper-realistic special effects, which was a happy distraction from contemplating my inadequacies.
Verdict
I must confess that when I found out I was going to be able to review Marina Bay Sands, I wanted to find something to dislike about it. The resort is hardly a byword for discretion and modesty, and I had assumed that I would find the glitz and glam a bit OTT. But I am only human. I was bowled over by the experience – the utterly unparalleled views, the spoilt-for-choice food options, the fascinating exhibition and the wonderful staff who went above and beyond at every turn (we had a personal photographer at the pool, for goodness sake).
MBS might be excessive, but it is undoubtedly excellent. Without any hesitation, I'd give the entire experience five stars and would happily stay again (if I could afford it!).
Marina Bay Sands, 10 Bayfront Ave, Singapore 018956; marinabaysands.com
Return economy flights from London to Singapore with Singapore Airlines cost from £605 per person if booked by 31 March at singaporeair.com
Continue reading for free
We hope you're enjoying The Week's refreshingly open-minded journalism.
Subscribed to The Week? Register your account with the same email as your subscription.
Sign up to our 10 Things You Need to Know Today newsletter
A free daily digest of the biggest news stories of the day - and the best features from our website
Kate Samuelson is the newsletter editor, global. She is also a regular guest on award-winning podcast The Week Unwrapped, where she often brings stories with a women's rights angle. Kate's career as a journalist began on the MailOnline graduate training scheme, which involved stints as a reporter at the South West News Service's office in Cambridge and the Liverpool Echo. She moved from MailOnline to Time magazine's satellite office in London, where she covered current affairs and culture for both the print mag and website. Before joining The Week, Kate worked as the senior stories and content gathering specialist at the global women's charity ActionAid UK, where she led the planning and delivery of all content gathering trips, from Bangladesh to Brazil. She is passionate about women's rights and using her skills as a journalist to highlight underrepresented communities.
Alongside her staff roles, Kate has written for various magazines and newspapers including Stylist, Metro.co.uk, The Guardian and the i news site. She is also the founder and editor of Cheapskate London, an award-winning weekly newsletter that curates the best free events with the aim of making the capital more accessible.