Meet Ken Chesebro, the low-profile architect of Trump's 'fake electors' plan
How a former "liberal Democrat" helped engineer a core part of the former president's alleged plot to subvert the 2020 election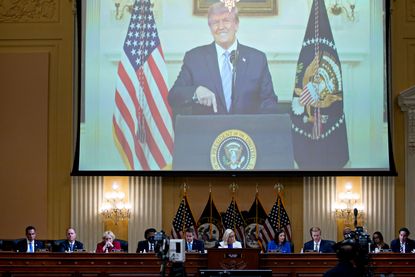 (Image credit: Photo by AL DRAGO / POOL / AFP via Getty Images)
It's been a particular feature of Donald Trump's White House tenure, as well as the concurrent slate of scandals, that the general public is now familiar with a host of ancillary characters whose proximity to the former president has earned them a measure of infamous notoriety; Mike Lindell, Sidney Powell, Michael Flynn, and the like have embraced their roles as MAGA figures. Run down a timeline of the past six years of Trump-related news, and you'll find yourself reacquainted with a long list of names like John Eastman, Brad Parscale, and Corey Lewandowski — people who enjoyed a robust fifteen minutes of Trump-associated, headline-grabbing fame before receding back into their respective MAGA fiefdoms.
But while many of Trump's inner circle of operatives and enablers have risen to the rank of household names (at least, in the households that care about these sorts of things), others have remained largely anonymous despite their significant roles in the former president's most grandiose enterprise: working to allegedly subvert his 2020 election loss. Thanks to the growing slate of criminal indictments against Trump and his associates, however, that measure of anonymity has begun to be pulled back, vaulting a new cadre of alleged election subversionists into the spotlight. And perhaps chief among them is a little-known Ivy League lawyer known to his college classmates as "the cheese."
Meet Kenneth Chesebro, the "instrumental" attorney behind Trump's legal effort to block Joe Biden from assuming the presidency.
Subscribe to The Week
Escape your echo chamber. Get the facts behind the news, plus analysis from multiple perspectives.
SUBSCRIBE & SAVE
Sign up for The Week's Free Newsletters
From our morning news briefing to a weekly Good News Newsletter, get the best of The Week delivered directly to your inbox.
From our morning news briefing to a weekly Good News Newsletter, get the best of The Week delivered directly to your inbox.
"A shy, awkward nerd among nerds"
Before he authored a series of newly public memos outlining the scope of former president Trump's (ultimately unsuccessful) "fake electors" plan, Kenneth Chesebro was a "Harvard-trained lawyer once keen on liberal causes" who had been "registered as a Democrat as recently as 2016" according to The Washington Post. As a student at Harvard, Chesebro studied alongside legal analyst Jeffrey Toobin under the eye of high-profile constitutional-law professor Laurence Tribe, who described Chesebro as often going "too far out for me," in Toobin's profile of his erstwhile classmate. "There was a lack of judgment," Tribe added.
Chesebro was a "shy, awkward nerd among nerds" Toobin recalled, noting that his low profile at the time has "rendered his current notoriety a source of bafflement to those who have known him since those days." According to friends who spoke with the Washington Post, Chesebro's politics "seemed to shift" rightward over the past decade, particularly after he began earning "sizable returns" on investments in cryptocurrency. He began working with the conservative Claremont Institute, and represented Republican clients including Senators Ted Cruz of Texas, and Utah's Mike Lee. This placed him in the orbit of former Wisconsin Judge and GOP operative James Troupis, who was responsible for bringing his fellow Wisconsin native into the Trump campaign's legal circle.
Co-conspirator 5
While attorney John Eastman has been identified as the driving legal force behind Trump's "false electors" plan, "Chesebro who first proposed the idea" to Troupis in a Nov. 18 memo, Rolling Stone said. Three weeks later, Chesebro authored another note, this time going further than his initial memo with what Justice Department Special Counsel Jack Smith later called a "sharp departure" in his criminal indictment of Trump for alleged election subversion.
In this subsequent memo, Chesebro argued that not only would a slate of alternate electors from six states "create a scenario under which Biden can be prevented from reaching 270 electoral votes," but that even if the plan failed at the Supreme Court — which he predicted it would — it would nevertheless "guarantee that public attention would be riveted on the evidence of electoral abuses by the Democrats, and would also buy the Trump campaign more time to win litigation that would deprive Biden of electoral votes and/or add to Trump's column." Other ensuing memos focused on operationalizing the scheme, including a Dec. 13 note to Trump attorney Rudy Giuliani, identifying Jan. 6 as the opportunity for Vice President Mike Pence to "announce his recusal from presiding over the joint session of Congress." He gamed out several outcomes, including one in which then-Speaker of the House Nancy Pelosi would assume the presidency, and another in which Trump could step aside and make Pence commander-in-chief.
The best way to understand the alternate electors' plan, MSNBC explained, is to think of them the "same way we would counterfeit money." The plan, ultimately, was to convince Pence to enact the "equivalent to passing phony money. Or worse, walking into Congress and declaring that our true currency had been nullified and the counterfeit money was the official legal tender of the United States."
Even though Eastman became "a key figure who championed the plan and worked more directly with Mr. Trump on it," the New York Times explained, Chesebro was unambiguously its "architect." For his involvement, Smith identified Chesebro as an unindicted "co-conspirator 5" in his federal charges against Trump.
Although Smith has opted not to charge Chesebro for his involvement in the false electors plan, he has been named as one of the 19 defendants alongside Trump in Fulton County, Georgia, District Attorney Fani Willis' sprawling racketeering indictment. He has been charged with conspiracy to commit impersonating a public officer, conspiracy to commit first-degree forgery, conspiracy to commit false statements and writings, conspiracy to commit filing false documents, and conspiracy to commit forgery, among other allegations.
Chesebro nevertheless defended his work in a 2022 interview with Talking Points Memo, explaining that if he has "come under criticism for identifying possible strategic options that might come into play under various scenarios that could develop, it should be kept in mind that this is what lawyers do."
"It is the duty of any attorney to leave no stone unturned in examining the legal options that exist in a particular situation," he added.

Continue reading for free
We hope you're enjoying The Week's refreshingly open-minded journalism.
Subscribed to The Week? Register your account with the same email as your subscription.