Are luxury goods getting even more exclusive?
The sharpest opinions on the debate from around the web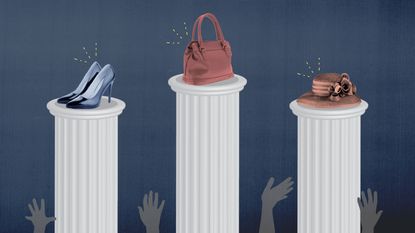 (Image credit: Illustrated | iStock)
With gas prices steadily rising and baby formula still difficult to obtain, it can be tough for the average American to care about something as seemingly frivolous as personal luxury goods. But high-end retail has shown surprising resilience during the second year of the pandemic as "card transactions for luxury goods among consumers earning more than $125,000 a year increased 21 percent in April compared with a year earlier," The Wall Street Journal notes.
Still, that doesn't mean retailers are immune to the global economic sea change. How have brands like Chanel, Tiffany & Co., Louis Vuitton, Hermes, and others balanced the high costs of inflation and shipping, combined with cash-strapped customers?
The answer might be that exclusive luxury items are actually becoming more exclusive. Many retailers have actually raised prices to protect their brands, since those who are able to afford such goods are also the most likely to be in a position to stomach the higher prices. Here's what the experts are saying about the shift toward luxury brands becoming even more exclusive:
Subscribe to The Week
Escape your echo chamber. Get the facts behind the news, plus analysis from multiple perspectives.
SUBSCRIBE & SAVE
Sign up for The Week's Free Newsletters
From our morning news briefing to a weekly Good News Newsletter, get the best of The Week delivered directly to your inbox.
From our morning news briefing to a weekly Good News Newsletter, get the best of The Week delivered directly to your inbox.
Exclusivity is the whole appeal
During the pandemic, many Americans were flush with newly disposable income, since they weren't spending money on things like gas to commute to work, travel expenses, or other monthly bills. As a result, more customers than ever were able to load up their online shopping carts with Gucci and Prada. Some retailers, including Hermes and Chanel, may not be experiencing the impacts of rising energy costs on hand-made goods, CNN Business reports — but that hasn't stopped them from advantageously hiking prices.
However, in the eyes of such luxury brands, an influx of new customers might not actually be a good thing, since the impression of exclusivity is one of their most attractive characteristics. Chanel is one such brand that worked hard to protect its luxury status. As Reuters reported during the latest price gouge, a "small classic handbag cost 7,750 euros ($8,454) on Chanel's French website ... 6 percent more than in November last year. The same bag sold for 5,500 euros in January 2021 and 4,550 euros in November 2019." In fact, Chanel has "hiked prices of its iconic handbags by an average of 71 percent since before the pandemic," according to analysts at Jefferies.
Bernstein Research estimated that "Louis Vuitton's global handbag price increases came in on average between 6 percent and 7 percent," The Wall Street Journal reported. In China, for instance, a medium Louis Vuitton Couissin bag used to cost 30,000 yuan, about equal to $4,730, but has since risen to 37,500 yuan, which is over $5,000 an increase. Yikes!
Luxury items are more attainable on installment plans
But turning away willing customers isn't a strategy all brands embraced. Several department stores such as Saks Fifth Avenue and Bloomingdales, which carry high-end products, instead began offering installment payment plans, which opened the door for middle-class consumers to purchase luxury goods while not spending so much in one sitting. In addition, online luxury consignment shops including The RealReal and Farfetch also began accepting payment plans for new and used luxury goods, while also offering customers a chance to resell their items and possibly get new pieces for a lower price.
"Over the past [two years], the younger generation [has] preferred to use 'Buy Now, Pay Later' to budget their purchases, with spending up 925 percent since the start of the pandemic," Business Wire stated. And with more manageable payments available to middle-class customers, brands can afford to increase their overall prices without spooking away financially on-the-fence buyers.
Higher prices are a general expectation (for now)
Companies have had no qualms with passing their higher pandemic costs down to customers — even if the companies in question are barely impacted by the pandemic. "One area where both high earners and lower-income consumers are in complete agreement is in their perception that companies are taking advantage of the situation to increase prices above what is required," Forbes' Pamela N. Danziger writes.
Bernard Arnault, the chairman and chief executive of LVMH said the company was prepared for the impacts of inflation, stating, "We have an advantage on quite a few other companies and groups, which is that we have a degree of flexibility on our prices."
For now, that might mean customers will expect luxury goods to have even higher-than-normal costs. But they might not be satisfied with those price tags forever. As Stephen Rogers, the managing director at Deloitte Insights Consumer Industry Center, further predicted to Forbes, a "moment will come when consumers no longer blame the pandemic, supply chain, and the war in Ukraine for inflation. When that occurs, they will turn their indignation onto the companies."

Continue reading for free
We hope you're enjoying The Week's refreshingly open-minded journalism.
Subscribed to The Week? Register your account with the same email as your subscription.