HSBC shares rise after £1.5bn buyback pledge
Plan takes total returned to investors in past three years to more than $25bn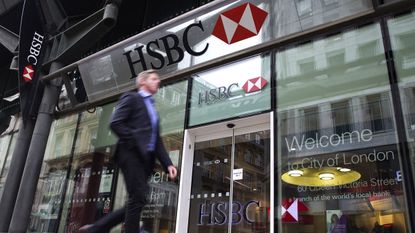 (Image credit: Justin Tallis/AFP/Getty Images)
HSBC's latest IT glitch affects millions of customers
05 January
Millions of personal and business customers that hold accounts with HSBC have been hit by an IT glitch that is now in its second day.
The Daily Mail says that customers were complaining on Twitter from around 8am today that the online banking page on HSBC's UK website was not functioning. The bank confirmed it was experiencing fresh issues with the website – just hours after it had announced that a problem which shut down services on Monday had been fixed – but said its mobile banking app was still working.
Subscribe to The Week
Escape your echo chamber. Get the facts behind the news, plus analysis from multiple perspectives.
SUBSCRIBE & SAVE
Sign up for The Week's Free Newsletters
From our morning news briefing to a weekly Good News Newsletter, get the best of The Week delivered directly to your inbox.
From our morning news briefing to a weekly Good News Newsletter, get the best of The Week delivered directly to your inbox.
Personal and business customers were locked out of their accounts for up to nine hours yesterday, the BBC says, adding that the bank commands a total of 17 million accounts in the UK. Today personal account holders are again unable to access services, while business customers are experiencing "significantly reduced capacity" that is causing slow processing. The problem has not been identified but an external attack by hackers has been ruled out.
HSBC previously suffered a technological issue in August 2015, when 275,000 bank payments failed to go through just before the Bank Holiday weekend.
While the technical breakdown is attracting negative headlines, there was more positive news for shareholders of the bank after Sky News reported that the financial conduct regulator has dropped a "deep dive" investigation into the tax evasion scandal that engulfed its Swiss private banking unit last year.
The Financial Conduct Authority did not launch a formal probe and so did not make public its decision, which was made a couple of months ago. It would have been seeking evidence of misconduct by staff in the UK arm of the group rather than studying compliance with tax law, which is a matter for HMRC.
The furore over HSBC's Swiss banking unit had first emerged in 2008 after a file was passed to French authorities. Many of the accounts were held legally, but there was anger that staff at the bank were said to be giving explicit advice on how to avoid taxes in overseas jurisdictions.
HSBC HQ review: Toronto now in the frame
14 December
HSBC might move its head office out of the UK after a review, also shunning both New York and Hong Kong, says The Times.
The paper cites discussions between senior executives at the bank and officials from the Canadian city of Toronto, which took place before HSBC revealed a final decision might be delayed until next year.
These talks were first reported by the Toronto Star back in October and were instigated by Toronto Mayor John Tory on his first overseas trade visit to London.
"Toronto is a . . . global financial services capital, and we just felt that when we saw news of them taking a look at moving their head office that we should be a part of that," Tory told the Star at the time.
"If you don't participate, then you don't learn and if you don't participate, then you certainly can't win. So, we've put our best foot forward . . . The rest is in the hands of the gods, as they would say."
The Times says bank executives have also held "other discussions about the possibility of moving to Toronto". It points out the city has a "strong financial sector with robust regulation" and that Canada is "HSBC's biggest North American market".
Early speculation had suggested HSBC would opt for Hong Kong if it left the UK. This would take the bank back to its historic base, from which it moved following the takeover of Midland Bank in 1992, and reflect a 'pivot' to Asia that has been signalled repeatedly in recent years.
But recent poor results in the region and the growing influence of mainland politics on the province have raised serious questions. As a result the US and specifically New York has emerged as a major contender.
There is also a strong view that the bank may ultimately decide there is little value in a costly relocation from London, since the British government has made accommodative gestures in reducing the impact of a banking levy and softening new rules on senior bankers.
Some big shareholders in the bank have indicated they would be willing to support a move if the board felt it was in HSBC's long-term interests (see below).
HSBC could face fresh probe into credit card charges
10 December
HSBC is set to face a new regulatory probe into credit card charges it stopped applying in 2010, amid allegations they were 'unlawful'.
After a 12-year battle by one campaigner over fees one of the bank's subsidiaries charged for recovering arrears, the complaints watchdog yesterday hit out at the Financial Conduct Authority for its "farcical" approach and failure to investigate.
The FCA has said it will now "reconsider its decision", The Times reports.
At issue are charges added automatically to the bills of customers already in arrears, to cover recovery of overdue repayments. They were levied by HFC Bank, which was bought out by HSBC as part of its takeover of US consumer finance group Household in 2003, and which has managed store cards, including for John Lewis.
The charges were laid out in terms and conditions and the bank agreed to stop them in 2010. But Nicholas Wilson, a whistleblower and former solicitor, claims to have reported to the bank in 2003 that the charges were "unlawful", The Guardian says.
He has campaigned on the issue doggedly since then, eventually submitting a Freedom of Information Act request and contacting the Complaints Commissioner.
Antony Townsend, the commissioner, issued a report earlier this month which in which he said "the FCA's actions were characterised by "delay and muddle" that "bordered on the farcical". Townsend highlighted that the FCA did not pass the matter on to the Office for Fair Trading until two weeks before it took over regulation of consumer credit from the latter in April 2014.
The FCA said: "Following the complaints commissioner decision, the Financial Conduct Authority can confirm that it will reconsider its decision not to look into allegations made in relation to the debt collection practices of HFC Bank Limited.
"The FCA will be issuing an apology to the complainant shortly."
HSBC shareholders split over HQ move
24 November
Institutional shareholders of banking giant HSBC are divided over whether the bank should consider moving its headquarters outside the UK.
Martin Walker at Invesco Perpetual told the Daily Telegraph the review of its head office location, announced earlier this year, was "the right question to ask at this stage in the regulatory cycle". He indicated that regulation in the UK had "swung too far" since the financial crisis and that international banks were "duty bound" to shareholders to consider options.
"With any move to any new jurisdiction you would clearly need to weigh up the benefits versus the potential idiosyncrasies of the new jurisdiction. It is a balancing act, but clearly if HSBC felt that it was beneficial to be domiciled somewhere else, then that would be a move I would support," Walker added.
Speaking on BBC Radio 4's Today programme this morning, David Cumming, head of equities at Standard Life Investments, had similarly argued that regulation was too punitive for global banks in the UK and that unless watchdogs "change tack" there might be benefits for profits and dividends in another jurisdiction.
"I think HSBC … are very, very close to losing patience with this never ending process," he said. "A lot shareholders, including ourselves, if they did move, we'd be supportive of that given the current situation in terms of regulation."
But another fund manager investor, Hermes Investment Management, disagrees. Its senior analyst Filippo Alloatti told the Telegraph the bank is unlikely to shift its headquarters as the system in the UK is set up for global banks – and that the nature of international regulation means institutions of its size will not escape the net wherever it chooses to base itself.
HSBC had said it would report back on the review by the end of this year, although this is now more likely to come in February when it announces full-year results. Rivals to the UK include Hong Kong, which had been HSBC's base before it bought Midland Bank in 1992, as well as the US.
HSBC profit surge fails to mask Hong Kong slump
02 November
HSBC shares fell in early trading this morning, despite the bank reporting a sizeable year-on-year increase in profit for the third quarter.
Pre-tax earnings were $6.1bn for the three months to September, up from $4.6bn during the same period last year and ahead of the $5.2bn expected by analysts, the Financial Times reports. But underlying pre-tax profits fell 14 per cent to $5.5bn, with revenues dropping by four per cent.
The biggest contributor to the income dip is the Hong Kong wealth management business, which suffered in the face of the stock market slump in China. Hong Kong accounts for close to 70 per cent of HSBC's Asian operations by assets and is crucial to the bank's growth plans, which are focused on the rise of an emerging middle class right across the region.
With economic signals coming out of China currently less than encouraging, Jackson Wong, associate director for Simsen Financial Group, told the Daily Telegraph that revenue growth may prove elusive for some time. Investors appear to agree and the bank's shares have fallen 1.5 per cent.
On the plus side, the figures point to a reduction in penalties for past misdemeanours, with the third-quarter bill for fines and redress down $1.4bn. A major cost reduction programme, which will eventually see 25,000 jobs axed worldwide, has also borne fruit and contributed to the positive overall result.
"Cost control had not really lived up to the target, but now it looks like HSBC is finally in control," said Wong.
The slowdown of sales in Hong Kong will reignite the debate over HSBC's ongoing headquarters review, which had been thought to be focusing on the city as a rival to London but has now thrown up the possibility of a move to the US (see below). Few clues were offered in HSBC's results and there is no certainty that a decision on the bank's possible relocation will be made before the year's end.

Continue reading for free
We hope you're enjoying The Week's refreshingly open-minded journalism.
Subscribed to The Week? Register your account with the same email as your subscription.