HSBC shares rise after £1.5bn buyback pledge
Plan takes total returned to investors in past three years to more than $25bn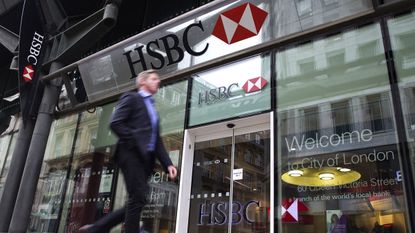 (Image credit: Justin Tallis/AFP/Getty Images)
HSBC has closed a quarter of its branches in two years
14 December
Bank shut down four branches a week this year – and will close 57 more early next year
Among the high street banks that have collectively closed more than 1,000 bank branches over the past two years, HSBC has led the way, according to research from the consumer body Which?
Subscribe to The Week
Escape your echo chamber. Get the facts behind the news, plus analysis from multiple perspectives.
SUBSCRIBE & SAVE
Sign up for The Week's Free Newsletters
From our morning news briefing to a weekly Good News Newsletter, get the best of The Week delivered directly to your inbox.
From our morning news briefing to a weekly Good News Newsletter, get the best of The Week delivered directly to your inbox.
Out of a total of 1,046 bank branches that were shut down, HSBC closed 321, two-thirds more than its nearest rival.
The Guardian says the closures account for around a quarter of its branches open in January 2015. With 222 closures over the past 12 months alone, HSBC is currently shutting outlets at a rate of four per week.
The bank also told the paper it will be closing 57 branches "in the first few weeks of 2017".
Royal Bank of Scotland has shut down 191 branches in the past two years, followed by Lloyds Banking Group (180 closures), Barclays (132), the Co-operative Bank (117), Santander (87) and TSB (18).
A number of other banks are also planning to continue axing branches in the year ahead, with Lloyds aiming to shut 200 outlets.
HSBC and its rivals have consistently cited the rise of online and mobile banking as a reason for the closure of local branches, which they say have become uneconomic.
But Which? says many customers are left in the lurch when their high street bank closes, according to the BBC. "While 56 per cent of adults used online banking last year, there are still 20 million adults who don't – or can't – use it".
Worse, "the areas most affected by closures – south-west England, Wales and Scotland – are predominantly rural and often with unreliable [internet] connectivity".
To mitigate the impact of branch cuts, Royal Bank of Scotland, along with its Natwest subsidiary in England and Lloyds Banking Group, are extending the range of mobile banking vans in order to reach rural communities.
HSBC among trio of banks fined £400m for rate-rigging
8 December
HSBC is one of three banks to have been hit with a collective €485m (£415m) fine over the alleged fixing of a key benchmark interest rate.
The London-headquartered bank's fine was by far the smallest of the three, €33m (£28m). Wall Street giant JP Morgan was fined €337m (£284m) and French bank Credit Agricole €114m (£96m).
Altogether seven institutions were said to have operated as a "cartel" to fix the Euribor interest rate between 2005 and 2008. The other four – Royal Bank of Scotland, Barclays, Deutsche Bank and Societe Generale – settled a €820m (£621m) penalty in 2013.
Euribor, like Libor, is one of several key interest rates at which banks lend money to each other. It is used as the benchmark to set the price for billions of euros of transactions every day.
Rates were based on an average of submissions from a panel of banks. It has been widely established that many submitting traders tried to artificially influence the rate higher or lower, in the process improving their margins and profits.
Regulators have already issued a number of fines over interest rate manipulation, but this latest penalty was effectively a punishment for anti-competitive behaviour.
Margrethe Vestager, the EU competition commissioner, said the commission had found "chats" between traders congratulating themselves on setting the rate at a level that suited their needs, says The Guardian.
A spokesperson for HSBC said: "We believe we did not participate in an anti-competitive cartel. We are reviewing the European commission's decision and considering our legal options."
Both JP Morgan and Credit Agricole vigorously deny any wrongdoing. The two banks have indicated they could appeal against the decision.
HSBC shares soar on future dividend hopes
7 November
HSBC has pulled off the seemingly impossible after posting quarterly results that for the second period in a row show a massive drop in profit but a sharp rise in shares.
The bank's share price was up 4.5 per cent in afternoon trading in London, three-times the wider increase on the FTSE 100 and the third-fastest riser of the day, despite pre-tax profits for the three months to September falling "to $843m (£678m) from $6.1bn (£4.9bn) in the same period a year ago", says the BBC.
After tax, Europe's largest bank posted a loss of $204m (£165m), says the Financial Times.
The positive outlook of investors is partly due to the fact HSBC's results were dented by substantial one-off costs. The sale of the bank's Brazilian unit wiped $1.7bn (£1.4bn) off its profits, while additional PPI compensation costs in the UK accounted for another $489m (£394m).
Once these effects are stripped out, profit for the period rose seven per cent to $5.6bn (£4.5bn).
But, as was the case after HSBC reported a drop of almost £3bn in its half-year profits in August, the main reason for the jump in share price relates to the prospects for investor payouts in the future.
A "technical change" in the regulatory treatment of HSBC's 20 per cent stake in the Chinese bank BoCom, for example, has boosted assumed capital reserves from 12.1 per cent to 13.9 per cent, reports the FT.
This, says HSBC's chief executive Stuart Gulliver, means the bank has "tons more flexibility and optionality" to extend a $2.5bn (£2.02bn) share buy-back programme being financed by the sale of the Brazilian unit, or to maintain its dividend yield.
"[The] move suggested the PRA would be more inclined to smile on buybacks and the dividend payments needed to support a hefty yield of around 6 per cent," says the FT's Jonathan Guthrie.
HSBC offers £200 to switch your current account
15 September
Bank and building societies may be cutting their interest rates on savings accounts and making it increasingly difficult to get a mortgage, but they are falling over themselves to win new current account customers.
HSBC is the latest bank to offer a whopping joining bonus to new customers. Switch to its Advance or Premier account and you can pocket a £200 cash reward.
It's a very generous offer, but unsurprisingly there are some catches.
In order to bag the full £200 you have to stick with HSBC for at least 12 months. Open an Advance account and switch at least two direct debits or standing orders to the account via the Current Account Switching Service and you'll receive £150. Then register for mobile or online banking within 60 days and after 12 months you'll receive the other £50.
But, don't let your choice of current account be swayed entirely by the cash reward the bank is offering. When you are choosing a current account you need to pick the account which will work best for you.
If you are always in the black find one paying a decent interest rate; if you are regularly in the red go for one that isn't going to penalise you with hefty overdraft charges.
Also, consider the bank's reputation for customer service. You don't want to be stuck with a bank that doesn't answer the phone, has ludicrous bank opening times and an online service that regularly crashes.
HSBC doesn't top the polls for customer service. In fact Moneysavingexpert.com and Which? have both ranked it in the bottom half of high street banks.
But, it's accounts could suit some people.
The Advance account doesn't pay interest, but account holders can open a linked regular savings account paying six per cent. If you deposited the maximum amount each month you could earn £97 interest over a year.
It also has an interest-free overdraft for the first six months. But if you go into an unauthorised overdraft you'll pay an eye-popping £5 a day.
Also, in order to qualify for an Advance account you must pay in at least £1,750 a month. So, if you have a large income and want to get into a good savings habit this could be a good account to choose.
But, if you tend to use your overdraft you could be better off moving to HSBC's online and telephone-only sister bank First Direct, which is offering a £100 switching bonus and a £250 interest-free overdraft.
Alternatively, if you can't meet the hefty income requirements of HSBC's Advance account then you could opt for the Halifax Reward Account. You get £100 for joining via the switching service and if you pay in £750 a month, stay in credit and have two active direct debits you'll also earn a £5 a month reward.
HSBC shares surge despite £2.9bn profit hit
3 August
HSBC shares have surged today despite a massive hit to profits so far in 2016.
The bank posted pre-tax profit of $9.7bn (£7.2bn) in half-year results this morning, down $3.9bn (£2.9bn) on the same period last year, the BBC says.
For the second quarter in particular, which chief executive Stuart Gulliver described as a "turbulent period" for the banking sector, HSBC reported profit of $3.6bn (£2.7bn), which the Financial Times reports was down by around $3bn (£2.25bn) on last year.
In addition, the bank has scrapped its "progressive" dividend policy, which Gulliver said had been taken to mean investor payouts would "go up forever".
It has also abandoned its target of reaching ten per cent return on investment next year, a figure Shore Capital analyst Gary Greenwood told The Guardian had already been revised lower from a previous target of 12 to 15 per cent.
These developments would normally be interpreted negatively by investors, especially in the context of consistent underperformance and another big slide in profit.
However, HSBC's shares jumped three per cent in early trading and have continued to push higher through the day. By 1.45pm, they were up 4.4 per cent to 504.15p, well ahead of a modest dip in the wider FTSE 100.
This has been attributed mostly to the bank's pledge to buy back $2.5bn (£1.9bn) of shares by the end of this year, reflecting the proceeds of the sale of its Brazilian unit.
Share buybacks are typically made a premium to the prevailing price and are seen as another way to distribute money to shareholders.
HSBC also said it would seek to make another major wave of buybacks next year, after US regulators finally gave approval for the proceeds of the sale of its businesses in 2012 and 2013 to be remitted back to its UK parent.
More regulatory approval will be needed in the UK and it is unlikely all of the proceeds will be passed on, but analysts told the FT the distribution could amount to $3bn (£2.25bn).

Continue reading for free
We hope you're enjoying The Week's refreshingly open-minded journalism.
Subscribed to The Week? Register your account with the same email as your subscription.