Notes on a scandal: lessons learned in a post-Weinstein era
The fallout from Hollywood's sexual harassment row is being felt far further afield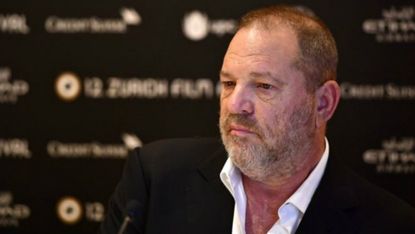 (Image credit: Getty Images)
The sexual harassment row sparked by allegations against film producer Harvey Weinstein has spread far beyond Hollywood - but what are the lessons to be learned in the "post-Weinstein" era?
As the fallout of the scandal is felt in a range of other industries, and even governments, Wired writer Jason Parham says: "Men of power must now reckon with their sins, and so must we."
'No one is safe'
Subscribe to The Week
Escape your echo chamber. Get the facts behind the news, plus analysis from multiple perspectives.
SUBSCRIBE & SAVE
Sign up for The Week's Free Newsletters
From our morning news briefing to a weekly Good News Newsletter, get the best of The Week delivered directly to your inbox.
From our morning news briefing to a weekly Good News Newsletter, get the best of The Week delivered directly to your inbox.
Social change is unsettling, says Naomi Alderman in The New York Times. But there's also a sense now that "no one is safe" - a term, she notes, that has two meanings in this instance.
"Women have known for a long time that there are no particulars that guarantee a man to be safe - not saintly Holocaust activism nor having produced [the film] Kill Bill nor being the president of the United States," Alderman says.
But men, too, have cause to feel uneasy now - an unease voiced by Charles Moore, former editor of The Daily Telegraph, who wrote an article earlier this month entitled: "This scandal shows that women are now on top. I pray they share power with men, not crush us."
"Many men are feeling a certain unsettled sense that perhaps there are things in their recent or distant pasts that, looked at a certain way, might not bear as charitable an explanation as they had been tempted to give them in their own minds," says Alderman.
Al Harris, who runs workplace equality programmes, told The New York Times that there is an apprehension that men will be falsely accused of sexual harassment.
The scandal - and the apprehension - is spreading worldwide.
"I've gone through life with the privileged belief that no one would believe an accusation of criminal wrongdoing against me unless it was proven in court. I no longer believe that - at least, not when it comes to sex crimes," writes Jonathan Kay in Canada's National Post.
Kay concedes, however, that he expects little sympathy, since "historically, the principles of criminal procedure haven't done much for sexual assault victims".
Indeed, in the case of Weinstein - who denies many of the allegations - questions have been raised as to why New York authorities backed away from prosecuting the movie mogul in 2015 after securing a seemingly damning recording of a meeting between him and an Italian model.
Kay believes the solution is to expand the concept of due process in a way that "guarantees women will have their concerns and accusations taken seriously when they are first raised, including at the corporate level".
A recalibration of power
To truly put an end to harassment in the workplace, say experts, there must be not only strong anti-harassment policies in place, but also real consequences for harassers. And most importantly, there must be a culture that doesn't ignore the behaviour.
"We're talking about an issue that is endemic to the workplace," Sharmili Majmudar, director of strategic partnerships at advocacy agency Women Employed, told the Chicago Tribune. "We have to look at two really large areas: one is how do we make it safe and easy for people to report sexual harassment, and how do we ensure the workplace culture becomes one that is intolerant of it."
Another question that needs to be raised is just how much women are valued on every level in industry.
"It's about the recalibration of power," says Parham.
A roundtable discussion among five female TV and film executives unearthed a roadmap to what screenwriter Mara Brock Akil describes as "reprogramming what we have allowed" - which is to say, the old, patriarchal culture of the entertainment business.
"The women agreed that it boiled down to representation in boardrooms and in corner offices, in director chairs and leading roles, in writers' rooms and production studios," says Parham.
The colour issue
Despite the widespread public reckoning, some commentators claim there is still a big blind spot over which sexual harassment allegations are taken seriously.
The Atlantic's Gillian B. White claims there is an implicit message that "believability, sympathy, and public rage are reserved only for certain women. And those women are rarely women of colour."
The Daily Beast's Stereo Williams agrees: "The Harvey Weinsteins and [accused comedian] Louis C.K.s of the world have been cast out, but many famous men who stand accused of abusing black women still roam free."
Williams cites, in particular, the continued fame and prestige of singers Chris Brown and R. Kelly, both of whom have been the subject of numerous allegations.
"The saddest fact I've learned is nobody matters less to our society than young black women. Nobody," says Jim DeRogatis, who was the first journalist to report the allegations involving Kelly and teenage girls.
Williams adds: "At a time when Lady Gaga records with R. Kelly, and Sony and Spotify continue to promote Chris Brown, these advocates ask: why don't we care about what happens to black girls? And they're met with outrage or indifference, as the machine churns on."
Talking cure
Commentators say there needs to be a space for new conversations about the fundamentals of relationships between men and women.
"We know that the old rules of sex were all wrong, but we haven't reached consensus yet on what the new rules are," says Alderman.
CNN's Matt Lewis agrees: "If you suggest that a lot of guys simply don't understand the new rules, this is taken as an admission against interest. It is perceived that you are out of touch."
"The things that Weinstein is accused of are so horrific that any attempt to discuss the larger societal impact of changing expectations opens you up to accusations that you are making excuses for inexcusable behaviour," Lewis adds.
"When I feel hopeful, I think we're on a long journey to a more nuanced way of thinking about sex and relationships," says Alderman.
"There will be need to be complicated and prolonged conversations between young men and young women about what constitutes consent, what is an abuse of power."

Continue reading for free
We hope you're enjoying The Week's refreshingly open-minded journalism.
Subscribed to The Week? Register your account with the same email as your subscription.