Instant Opinion: 'David Cameron yearned to modernise but his legacy is chaos'
Your guide to the best columns and commentary on Monday 12 September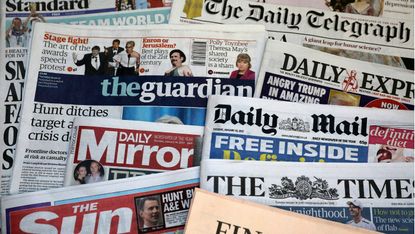 The Week's daily round-up highlights the five best opinion pieces from across the British and international media, with excerpts from each.
1. Jason Cowley in the New Statesman
on David Cameron's upcoming autobiography
Subscribe to The Week
Escape your echo chamber. Get the facts behind the news, plus analysis from multiple perspectives.
SUBSCRIBE & SAVE
Sign up for The Week's Free Newsletters
From our morning news briefing to a weekly Good News Newsletter, get the best of The Week delivered directly to your inbox.
From our morning news briefing to a weekly Good News Newsletter, get the best of The Week delivered directly to your inbox.
David Cameron yearned to modernise the Tory party but his legacy is one of chaos
"David Cameron's book is called For the Record. A more appropriate title would have been A Legacy of Chaos. Cameron believed that he could remake the Conservatives in his own image, as a moderate party of centre-right liberalism: pro-market, tolerant and cosmopolitan. But like Ed Miliband, he misunderstood the present and misread the forces in play after the financial crisis, seeking to govern a country that did not exist. He could not or refused to understand the effects of prolonged austerity on the small cities and towns. Nor did he understand why Nigel Farage's anti-immigration rhetoric appealed to so many working-class voters. And so he held a referendum during the worst refugee crisis in Europe since the Second World War and was appalled by the xenophobia it encouraged."
2. Alastair Heath in The Daily Telegraph
on right economic path forward
Post-Brexit, we need real capitalism – not stealth foreign nationalisation
"Libertarian, competitive capitalism is the greatest system ever devised to create wealth and allow people to pursue their dreams. By seeking to maximise profits, companies serve their customers in the most efficient way. Growth is maximised. Individual rights are sacrosanct: property cannot be confiscated, lying and committing fraud is not permissible and a well-enforced rule of law is essential. There are no bailouts and no subsidies. Externalities, such as pollution, can be internalised with the right policies. State capitalism is different. Its agents don't focus on maximising profits: instead, they serve their political masters and help them conduct their domestic and foreign policy. Nominally private firms that control key infrastructure are ideal vehicles to facilitate espionage, or to exert leverage on rival nations. Factories are built in favoured locations, not where it makes the most commercial sense. Resources are allocated inefficiently, and growth isn't maximised. Rights are violated: the Chinese tech industry is based on a gross disregard for privacy."
3. Kuba Shand-Baptiste in The Independent
on the honours list
The honours system is a joke. Theresa May just proved it – Boris Johnson will break it
"The system has long been a vehicle for cynical political patronage, peppered with upstanding, genuinely hard-working citizens to sweeten the sour taste. But in Theresa May's own words, she claimed to want a system that ensured we "recognise when people out there are really contributing to our society and their communities. Looking at her list, and the wave of criticism that followed, it's clear her grasp on what that actually means was lost long ago. Those bona fide recipients failed to mask the absurdity of other honourees. The key rewards were for unflinching loyalty, not unfailing altruism."
4. Jenni Russell in The Times
on modern working
Less is more when it comes to time at work
"In the age of the smartphone and the internet, professional work scarcely has boundaries at all. It's the new normal to be sending emails at midnight, to restart projects after a distracted supper, to interrupt family Sunday lunches with work calls. Normal, and miserable. Many of us are stressed, overwhelmed, always typing to keep up. We've bought the idea that we're better for doing more, that for success we must emulate the Steve Jobses and Elon Musks of this world."
5. Yomi Adegoke in The Guardian
on the decline of print media
Women's magazines are more progressive than ever – and they're all closing down
"The demise of women's mags would once have been met with jubilation by some feminists. Although they were a space for women in the media, they were often a toxic one: the circling of celebrity cellulite, the reinforcement of white beauty standards, the endless sex tips focused on every orgasm but your own, only further entrenched misogyny. But, by and large, this is not a representation of women's magazines today."

Continue reading for free
We hope you're enjoying The Week's refreshingly open-minded journalism.
Subscribed to The Week? Register your account with the same email as your subscription.