Instant Opinion: Keir Starmer must complete the 'purge of Corbynism'
Your guide to the best columns and commentary on Tuesday 16 June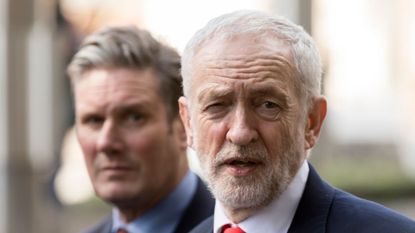 (Image credit: Thierry Monasse/Getty Images)
Sign up to our 10 Things You Need to Know Today newsletter
A free daily digest of the biggest news stories of the day - and the best features from our website
Thank you for signing up to TheWeek. You will receive a verification email shortly.
There was a problem. Please refresh the page and try again.
The Week's daily round-up highlights the five best opinion pieces from across the British and international media, with excerpts from each.
1. Rachel Sylvester in The Times
on how the Labour leader must take on the hard-left
Subscribe to The Week
Escape your echo chamber. Get the facts behind the news, plus analysis from multiple perspectives.
SUBSCRIBE & SAVE
Sign up for The Week's Free Newsletters
From our morning news briefing to a weekly Good News Newsletter, get the best of The Week delivered directly to your inbox.
From our morning news briefing to a weekly Good News Newsletter, get the best of The Week delivered directly to your inbox.
Keir Starmer should finish the purge of Corbynism
"Brand matters in politics at least as much as it does in business. That is why both Tony Blair and David Cameron were so determined to detoxify their parties. Their aim was to change perceptions and reach out to new audiences rather than simply reinforce preconceptions. For Mr Blair that meant adding an element of the Tin Man to Labour's Scarecrow, and for Mr Cameron that required giving the Tory party a heart as well as a head. Their electoral fortunes depended largely on how far they succeeded. Sir Keir is currently trying to broaden Labour's appeal: his refusal to back the toppling of Edward Colston's statue in Bristol reflects the views of voters more than his party's left wing... To return to the Yellow Brick Road, the Labour leader now needs to look to the Lion. Having shaped his shadow cabinet in his own image, and brought in a new, more moderate general secretary, he must next find the courage to take on his left-wingers over policy and dump the unrealistic pledges that made the party so unpalatable to the voters at the last election."
2. David Lammy, shadow justice secretary, in The Guardian
on getting serious about Black Lives Matter
Britain needs leadership on race inequality. Not just another review
"We do not need another review, or report, or commission to tell us what to do. I personally made 35 recommendations in the Lammy report on inequality in the criminal justice system. There are 110 specific recommendations in the Angiolini review about disproportionality in deaths in custody. There are 30 recommendations in Wendy Williams's review about the Home Office's failure in the Windrush scandal. There are 26 specific recommendations in Ruby McGregor-Smith's review about discrimination in the workplace. If Boris Johnson is serious about responding to the Black Lives Matter movement that has inspired people from all races and all backgrounds, he does not need to announce another commission on the back of a fag packet. Yet that's what he did, as an aside in his Daily Telegraph column today about the Winston Churchill statue. We do not need a repeat of Theresa May's 2017 race audit. It is time for action on the countless reviews, reports and commissions on race that have already been completed."
3. Tom Peck in The Independent
on data privacy in the age of coronavirus
I will not be downloading the NHS tracing app. This government cannot be trusted not to abuse our data
"I have thought about it, long and hard, and I have decided that I will not do it. It is not 2013 anymore, and I do not trust my government with my data. Pardon the pun, but to trust the people running the current government to look after your data would be like trusting the cookie monster to look after your cookies. Questions of this nature tend to be hypothetical. Civil liberties campaigners who have objections to ID cards, or large health databases and so on, tend to do so, at least in this country, on moral rather than practical grounds. You might agree to carry an ID card now, on the watch of a moderate, benign government, but how might those powers be used in the future by more sinister forces? This is not a conceptual or hypothetical question anymore, however. It is a real one. This country has an entirely malignant, entirely untrustworthy government. It is being run by the unsackable Dominic Cummings, whose own behaviour while running Vote Leave is a matter of public record."
4. Celia Walden in The Daily Telegraph
on looking back wincingly at our forebears
For all those thinking they are doing the right thing today, the next generation will find it wrong
"In all the recent acknowledgements of our past wrong-doings, we've never stopped to question our present mistakes - let alone how wincingly regressive some of the ideologies, thoughts and actions of 2020 will look to future generations. Although some of the steps we're taking to right past wrongs, such as the systemic racism that resulted in the death of George Floyd, are crucial and long overdue, I doubt our decision to allow children and adults to spend hours a day inhaling the toxic fumes of social media will look very enlightened to our great-grandchildren. They will likely look upon that with the same appalled disbelief as we now do the legal use of opium. They will gawp, too, at the notion that fat women were once 'shamed' for wanting losing weight, and shake their heads in astonishment when they read about how, as Britain tried to recover from a global pandemic, the re-opening of high-street clothing shops was deemed more pressing than the re-opening of schools. In our breathtaking arrogance, we have cocooned ourselves in our own convictions."
–––––––––––––––––––––––––––––––For a round-up of the most important stories from around the world - and a concise, refreshing and balanced take on the week's news agenda - try The Week magazine. Start your trial subscription today –––––––––––––––––––––––––––––––
5. Michelle Goldberg in The New York Times
on a landmark Supreme Court decision
Surprise! Justice on L.G.B.T. Rights From a Trump Judge
"Before Monday, you could legally be fired for being gay, bisexual or transgender in 26 states. Now the court has ruled that gay and transgender people are protected by Title VII of the 1964 Civil Rights Act, which prohibits employment discrimination on the basis of sex. The decision has extra cultural force because it was written by Justice Neil Gorsuch, a Trump appointee, and joined by the conservative chief justice John Roberts... The phrase 'But Gorsuch' is shorthand for how conservatives justify all the moral compromises they've made in supporting Trump; controlling the Supreme Court makes it all worth it. So there's a special sweetness in Gorsuch spearheading the most important L.G.B.T. rights decision since the 2015 ruling in Obergefell v. Hodges, which established a constitutional right to same-sex marriage. This isn't simply Schadenfreude. The fact that this momentous ruling was written by a right-wing judge sends a message that progress on L.G.B.T. rights will be very hard to reverse."
Continue reading for free
We hope you're enjoying The Week's refreshingly open-minded journalism.
Subscribed to The Week? Register your account with the same email as your subscription.
Sign up to our 10 Things You Need to Know Today newsletter
A free daily digest of the biggest news stories of the day - and the best features from our website