'Hold on to your pennies this Black Friday'
Your digest of analysis from the British and international press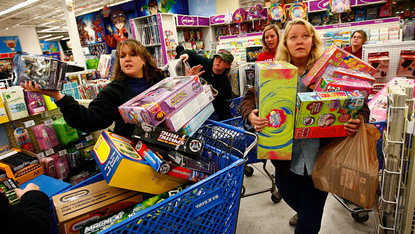 (Image credit: Tom Pennington/Getty Images)
1. I'm nervous about committing to Buy Nothing Day but anything is better than Black Friday
Zainab Mahmood for The i news site
on binge buying
Black Friday used to be "a foreign shopping frenzy we'd only see in American films and TV shows", says Zainab Mahmood on the i news site. The Boxing Day sales were the UK's equivalent, but "why would we need another day dedicated to bargain hunting?" It is now normal for shoppers to start hunting out deals in November too. Mahmood is taking part in Buy Nothing Day instead this Saturday, a day first organised in 1992 as an opportunity for society "to interrogate consumerism". Now she worries it'll be "the one day I'll cave". But interrogating one's shopping habits can change how we feel about the items we own. A fifth of Brits regretted their Black Friday buys last year, one survey found, and much waste is generated as a result. "Retail therapy only fills the void we're not nourishing with actual self-care," writes Mahmood. Instead, "hold on to your pennies and ask yourself what you really need".
Subscribe to The Week
Escape your echo chamber. Get the facts behind the news, plus analysis from multiple perspectives.
SUBSCRIBE & SAVE
Sign up for The Week's Free Newsletters
From our morning news briefing to a weekly Good News Newsletter, get the best of The Week delivered directly to your inbox.
From our morning news briefing to a weekly Good News Newsletter, get the best of The Week delivered directly to your inbox.
2. Was I right to support Brexit? If this is 'Global Britain', I'm starting to wonder
Fraser Nelson for The Daily Telegraph
on meek movements
Fraser Nelson voted for the UK to leave the EU "with a heavy and broken heart", he says in The Daily Telegraph. "I clung on perhaps too long to the hope that the EU would reform," but the Brexiters' vision of "Global Britain" was "what really tipped it for me". If correct, Britain would "rewire itself and strike bold trade deals", repair old alliances and start a new relationship with Europe. "We'd kill populism at home and have stable government in Westminster." Removing the red tape would mean more space for innovation and growth. "Where are these sunlit uplands?" he asks now. The UK's relationship with Europe appears unprofitable and those new alliances are mainly "rolled-over EU agreements". Where new opportunities present themselves, "Brexit Britain seems to be treading with terrified caution". It's now up to Tories who believe Global Britain "was more than a sound bite" to "steer their government – and their prime minister".
3. I find the government's attitude to the Channel crisis disturbing - they just don't care enough
Jess Phillips for The Independent
on a lack of action
"The tragedy of lives lost in the Channel was predictable," writes Jess Phillips for The Independent. These people "had hopes of safety and security for their families", and were "just like you and me". The trouble, the Labour MP writes, is that it takes their death for us to see their humanity. The lived reality of refugees in the UK is that the "tapestry of their humanity [is] wiped out by their immigration status". Priti Patel's "hardline rhetoric might sound good to her audience, but it is as flimsy as many of the vessels currently bobbing up and down in the Channel". The home secretary "bangs on about pushing refugees back", but trafficking gangs continue their work and "others relish the political capital in mass human suffering". The government thinks its borders bill "is some kind of miracle set of words", but "it won't stop the boats in the Channel". Diplomacy, alliances and aid are what is needed to solve the migrant crisis. Instead, the government will "point fingers", "act all tough and achieve absolutely nothing".
4. Starmer will have to rise above the culture wars to win
James Kirkup for The Times
on tactical talk
Tony Blair is right to advise Keir Starmer to reject the "'wokeism' of a vocal minority", says James Kirkup in The Times. This isn't so much to do with the issues that preoccupy them, but the way this minority "who carry such weight on the modern left prosecute their cause". Politics is about persuasion and winning over the people who don't agree with your views, says Kirkup. "Righteously denouncing those who dissent from you" fails on that measure. Understanding voters' priorities is also fundamental, but the concerns "that animate the activists are way down the list of issues that the wider public considers important". A party that seems more concerned with "the marginal identity politics squabble that fuel many social media conversations" can't hope to win over the wider electorate. The Tories could do with learning that lesson too. Blair isn't advising Starmer to take sides, "but to transcend that conflict".
5. We're longing for the one thing the metaverse can't give us
Joanna Novak for The New York Times
on treasuring touch
Through virtual and augmented reality, Meta – the new face of Facebook – aims to change the way we live and connect with our loved ones. But "for all its patter about bringing people together, Meta advances a fundamental human disconnection", writes JoAnna Novak in The New York Times. She will not go gently into the metaverse, but "not because I'm anti-technology". After struggling with eating disorders for more than 20 years, "the last thing I want is technology that further estranges me from my body". And lockdowns, social distancing and elbow bumps have left us in a "touch crisis". Tech workers know this. From robotic sloth-like pets to touchscreens that can transmit textures, developers are "increasingly confronting the need for touch". Meta signals Mark Zuckerberg's investment in "the 'embodied internet', but it is ultimately a technology that keeps us apart". What we need is "the tactile joys of being alive".

Continue reading for free
We hope you're enjoying The Week's refreshingly open-minded journalism.
Subscribed to The Week? Register your account with the same email as your subscription.