Why China has separated a million Tibetan children from their families
State-run boarding schools accused of 'intense political indoctrination'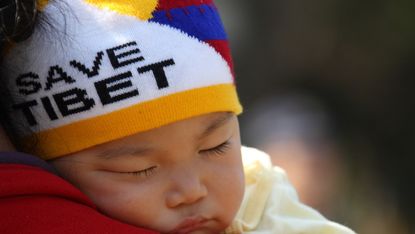 (Image credit: Tomohiro Ohsumi/Bloomberg via Getty Images)
An estimated million Tibetan minority children have been separated from their families and sent government-run boarding schools, UN experts claim.
In a joint statement this week, human rights advisors warned of a "large-scale" programme designed to "assimilate Tibetans into majority Han culture" and erode the children's identity.
Time's East Asia correspondent Charlie Campbell described the school scheme as "the latest case of a prolonged cultural assault on China's minorities" that threatens to "utterly erase Tibet's unique way of life".
Subscribe to The Week
Escape your echo chamber. Get the facts behind the news, plus analysis from multiple perspectives.
SUBSCRIBE & SAVE
Sign up for The Week's Free Newsletters
From our morning news briefing to a weekly Good News Newsletter, get the best of The Week delivered directly to your inbox.
From our morning news briefing to a weekly Good News Newsletter, get the best of The Week delivered directly to your inbox.
What is the scheme?
Children from rural communities are reportedly being placed in residential schools where lessons are "conducted solely in Mandarin Chinese with scant reference to Tibetan history, religion", said Campbell, "and certainly not exiled spiritual leader the Dalai Lama".
Beijing has been also accused of forcing Tibetans into other institutions. A 2020 by Washington D.C.-based think-tank The Jamestown Foundation found that China was coercing hundreds of thousands of people in Tibet into military-style training centres that were said to be akin to labour camps.
What did the UN say?
The statement issued by three UN experts this week said the school scheme appeared to be a "mandatory" programme "intended to assimilate Tibetans into majority Han culture, contrary to international human rights standards".
"Many residential schools are situated far from the family homes of students boarding in them," said UN special rapporteurs Fernand de Varennes, Farida Shaheed and Alexandra Xanthaki.
"As a result," they continued, "Tibetan children are losing their facility with their native language and the ability to communicate easily with their parents and grandparents in the Tibetan language, which contributes to their assimilation and erosion of their identity."
The trio also raised concerns about a reported substantial increase in the number of residential schools operating in and outside of the Tibet Autonomous Region.
China's Foreign Affairs Ministry did not respond to a request from The Globe and Mail for comment about the boarding school system. When the Toronto-based newspaper previously reported on this issue, the Chinese embassy to Canada accused the media of "hyping up" a false narrative.
The embassy added that "the reports of some Canadian media are pure nonsense and a disgraceful denigration of education in China's Tibet".
What is the dispute over Tibet?
The "remote and mainly Buddhist" region is "governed as an autonomous region of China, which is accused of suppressing cultural and religious freedom there", said the BBC.
Tibet is a historical region on the Tibetan Plateau, a high-altitude area in the extreme southwest of modern-day China. In the seventh century AD, a Tibetan empire with its own language and form of Buddhism carved out an identity separate from the surrounding lowlands, before collapsing into civil war in the ninth century.
China has long claimed a right to govern Tibet owing to a takeover of the region by the Mongol Yuan dynasty in the 13th century. The Mongols "are claimed as Chinese, and their subjugation of Tibet is claimed as a Chinese subjugation", said The New York Times. But Tibetans insist that the nation's "pre-eminent lamas" served as "spiritual mentors" to the Mongol emperors, "with no compromise of Tibet's independent status".
What's happening in Tibet now?
"China's communist regime thinks that Tibetan culture, our distinct language and religion, is a threat to national security," Dorjee Tsetne, a member of the India-based Tibetan Parliament in Exile, told Time. "China's aim is nothing less than to completely wipe out Tibet's national identity."
New York-based Tibetan author Ugyen Gyalp warned that Tibet is "fast diminishing under the unforgiving brutal wind of the ever changing geopolitical climate". The nation is "often intentionally ignored and thrown in the back burner of hypocrisy and anonymity", he wrote in an article for online magazine Bitter Winter.
US Secretary of State Antony Blinken was urged by the International Campaign for Tibet last week to "substantively take up the Tibetan issue with Chinese leadership" during his, subsequently cancelled, planned visit to Beijing.
The plea came as a new cyber law came into effect in Tibet that allows the authorities to "target Tibetans for online activity deemed critical of Chinese rule in the region", Radio Free Asia reported.
"Anyone that the Chinese authorities deem to have impaired China's national security and public interest can be punished under this law," said Dawa Tsering, director of the India-based Tibet Policy Institute.

Continue reading for free
We hope you're enjoying The Week's refreshingly open-minded journalism.
Subscribed to The Week? Register your account with the same email as your subscription.