The week's best parenting advice: August 11, 2020
Taming feral kids, planning for back to school, and more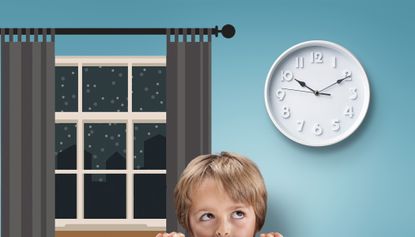 (Image credit: Illustrated | iStock/BrianAJackson, iStock/Ilyabolotov)
1. How to tame 'feral' kids
The pandemic has disrupted everyone's schedule, and in many families, rules about everything from screen time to bed time went out the window. But as the school year approaches, one overwhelmed parent asked Slate's Care and Feeding column how they can possibly go about reintroducing structure to their "feral" kids? "Don't beat yourself up about the March–August slide into chaos," writes Slate's Nicole Cliffe. She suggests a frank conversation with school-age children about the upcoming schedule shift, so they know what's coming."The more you can proactively talk about getting ready for fall, the easier it will be on everyone," she writes. As for the screen time creep, start cutting it down now. But make sure to give them other activities to fill the void, because "children will naturally fill a vacuum with things you absolutely don't want, if left to do so."
2. What's the plan?
Schools are reopening, and many are taking various precautions to prevent coronavirus outbreaks. That's all well and good, says Emily Oster, an economist and author of several parenting books, but "what happens when there is a COVID-19 case in a school?" This is inevitable, she says, so schools must create a "concrete plan for what will happen when this occurs." She suggests two pillars: a micro plan for when a single student or teacher tests positive, and a macro plan for addressing widespread outbreaks. What's the threshold for closure? The more detailed these guidelines are, the better, so parents can weigh their options and plan. "This planning could involve identifying backup care, talking to other parents about how to maintain social time during a school closing, or even deciding that we should opt for an entirely online experience from the start. … Schools need to face reality now, make a plan and then stick to it."
Subscribe to The Week
Escape your echo chamber. Get the facts behind the news, plus analysis from multiple perspectives.
SUBSCRIBE & SAVE
Sign up for The Week's Free Newsletters
From our morning news briefing to a weekly Good News Newsletter, get the best of The Week delivered directly to your inbox.
From our morning news briefing to a weekly Good News Newsletter, get the best of The Week delivered directly to your inbox.
3. My dad, the skateboarder
"This pandemic has got me doing some crazy things," writes Brian Bennett at CNET. Now a "middle-aged dad," he's taken up one of his old beloved hobbies: skateboarding. It helps him stay in shape, maintain his sanity, and get outside with the kids. "A quick skate is more than just good exercise. It helps me unplug and recharge," Bennett says. "It's hard for me to imagine a better escape that's attainable in my own neighborhood." Best of all? His children are loving it. "My son, who I just taught to skate too, is right on my heels," he says. Indeed, research shows a direct correlation between parents' physical activity and that of their kids. If you're itching to hop back on a skateboard, or revisit another activity you used to love, "do it!" Bennett says. Just remember, you're probably not as nimble as you used to be. "I strongly suggest both newbies and oldies wear some form of protective gear," he writes.
4. Back off, mom!
Studies have shown that children often benefit from making mistakes, and can learn from them. But new research suggests letting children fumble their way through a problem, rather than swooping in to rescue them, might actually be beneficial for parents, too. Mandy Richardson, a PhD student at Australia's Edith Cowan University's School of Medical and Health Sciences, conducted a study in which parents were told to observe their babies and toddlers exploring a new environment, without interfering. Richardson calls this "The Respectful Approach" to parenting. The parents also discussed with a study facilitator how to view their child as independent, and "to trust in the child's abilities." Afterward, these parents reported feeling less stressed and more confident in their children than parents in the control group. The study was admittedly small — with just 15 parents in the experimental group — and more research is needed. But Richardson says the findings suggest "the Respectful Approach intervention may improve parental stress and parenting competence."
Science Daily Journal of Child and Family Studies
5. A playtime happiness hack
"Lots of parents struggle to play with their kids," writes Joel Cunningham at Lifehacker. Don't feel guilty about it — imaginative play is great for kids' brains, but for adults, it can be mind-numbingly boring. That said, there are lots of benefits to playing with your kids, so Cunningham offers a "playtime happiness hack" that seems painfully obvious: "Instead of struggling to insert yourself into your child's incomprehensible games, find something that you both like to do, and do it together." For him, it was playing with air-dry clay. "The whole family has been having a blast," he says. "I feel relaxed rather than distracted and agitated." If you're not into clay, try puzzles, or playing catch. So long as it's an activity you truly enjoy, you'll both get more out of it.

Continue reading for free
We hope you're enjoying The Week's refreshingly open-minded journalism.
Subscribed to The Week? Register your account with the same email as your subscription.