The week's best parenting advice: March 9, 2021
Why some kids thrive with e-learning, how to parent like a hunter-gatherer, and more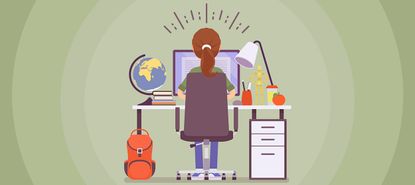 (Image credit: Illustrated | iStock)
1. When e-learning is actually better
Remote learning during the pandemic has been hard for many kids — but not all of them. Some parents are realizing their children actually thrive in an online learning environment, reports Eva Tesfaye at NPR's Morning Edition. This is especially true for some students with ADHD, or autism, or who generally "focus better when they are not around classmates," Tesfaye says. "Before virtual, when I was in-person, I had almost all F's, but now since virtual I have all A's," says 16-year-old Ava, who has ADHD and found in-person learning too distracting. Some schools are looking for ways to accommodate these students as classrooms reopen by launching permanent e-learning programs for kids who want them. "There's a great deal of excitement about this as a new option, a new possibility, for learning," says Paul Gausman, superintendent for the Sioux City Community School District in Iowa.
2. Hunter-gatherer parenting
"Has Western culture forgotten the best way to parent?" asks Michaeleen Doucleff in her new book Hunt, Gather, Parent. As part of her research, Doucleff observed families across the globe — from Maya parents in the Yucatan Peninsula to hunter-gatherers in Tanzania — and discovered a widespread parenting approach that she says can "minimize conflict and foster cooperation." It starts with parents going about their normal adult business — doing chores, working, socializing, etc. — and kids tagging along and occasionally being given small, helpful chores. "As the child grows up, the tasks become more complicated," and over time they learn not only life skills but to work together as part of a family, rather than be catered to by adults. In these cultures, if a child misbehaves or argues, the parents simply ignore the behavior, rather than "stoop to the child's level." Ignoring bad behavior is hard, Doucleff admits, but "once I learned this new parenting skill, my 3-year-old's executive functions quickly improved, and conflict in our home decreased dramatically."
Subscribe to The Week
Escape your echo chamber. Get the facts behind the news, plus analysis from multiple perspectives.
SUBSCRIBE & SAVE
Sign up for The Week's Free Newsletters
From our morning news briefing to a weekly Good News Newsletter, get the best of The Week delivered directly to your inbox.
From our morning news briefing to a weekly Good News Newsletter, get the best of The Week delivered directly to your inbox.
3. Letting the 'no' in
How do you deal with a child who says "no" to absolutely everything? Janet Lansbury, best-selling author of No Bad Kids and Elevating Child Care, says "no" is less of a command from young children and more of a feeling. "They often latch onto this word 'no' as a way of asserting self. Asserting… Well, I have a different point of view than you. This is me." A parent's job, Lansbury says, is to acknowledge the feeling and let it "have a life," without trying to fix it. This might be as simple as looking your child in the eye, nodding your head, and saying, "I hear that you're saying no." Even this can be difficult for parents because "it feels like if we let the no in, the no is going to win … But what happens is actually the opposite. When we agree with our child's right to feel no, or to feel whatever, then they're able to pass through it and feel better. Any feeling."
4. Bucolic baby names
Thanks to the pandemic, there's a growing interest in baby names associated with nature, reports Natalie Gontcharova at Refinery29. Nature-inspired names have been around forever (think Lily and Rose), but new whimsical names including Luna, Atlas, and Juniper are "quickly rising" on the trend-spotting baby-name website Nameberry's top name lists of 2021. As Gontcharova explains, the names we give our children often reflect our own aspirational desires, and "nature names can represent a longing to experience more of the world, which is particularly pronounced right now when many of our options and ability to move around is limited." Parents-to-be are also gravitating toward names associated with positivity and new beginnings, Gontcharova reports, and biblical names remain ever popular.
5. Spring forward, fall back asleep
Daylight Saving Time is March 14, and the change can be jarring for kids just like it can be for adults, "which is why you should start easing into the transition now," says Meghan Moravcik Walbert at Lifehacker. Shift your child's bedtime and waking time earlier by 15 minutes every day (or every two days, for a more gradual approach) leading up to the time change. Sunlight encourages wakefulness, Moravcik Walbert says, so consider investing in blackout curtains to keep things dark as the days get longer. And "if you weren't able to pull off gradually shifting their bedtime, your mission on March 14 is to completely wear them out … so you can head into bedtime as earlier as possible."

Continue reading for free
We hope you're enjoying The Week's refreshingly open-minded journalism.
Subscribed to The Week? Register your account with the same email as your subscription.