The big nothing of replacing Stephen Breyer
We appear to be at the start of one of the most routine processes in our politics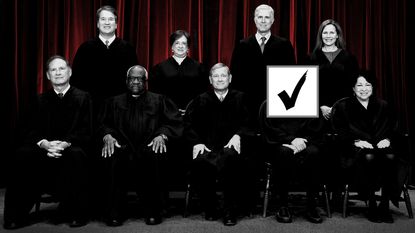 (Image credit: Illustrated | Getty Images, iStock)
Sign up to our 10 Things You Need to Know Today newsletter
A free daily digest of the biggest news stories of the day - and the best features from our website
Thank you for signing up to TheWeek. You will receive a verification email shortly.
There was a problem. Please refresh the page and try again.
I know we're supposed to think Justice Stephen Breyer's retirement from the Supreme Court and the pending announcement of President Biden's nominee to succeed him is a political earthquake. The 24/7 news cycle has all of us primed to leap at such developments and pronounce each of them a Big Deal.
But this one really isn't.
Yes, it's important. The Supreme Court sits atop one of three coequal branches of the federal government. The institution is incredibly (and perhaps much too) powerful. There are only nine justices. They serve for life. So when steps down or dies, it's undeniably deserving of coverage, attention, and analysis.
Subscribe to The Week
Escape your echo chamber. Get the facts behind the news, plus analysis from multiple perspectives.
SUBSCRIBE & SAVE
Sign up for The Week's Free Newsletters
From our morning news briefing to a weekly Good News Newsletter, get the best of The Week delivered directly to your inbox.
From our morning news briefing to a weekly Good News Newsletter, get the best of The Week delivered directly to your inbox.
Yet the specifics of this particular retirement make it among the least remarkable events of its kind one could imagine.
To begin with, Breyer's departure while a Democrat is president and the Senate is in Democratic hands means that a seat currently held by a liberal jurist will continue to be held by a liberal jurist. It will be a one-for-one swap in terms of ideology, unlike what happened toward the end of the Trump administration, when the liberal Justice Ruth Bader Ginsburg died while still on the bench and was replaced by the conservative Justice Amy Coney Barrett.
This means nothing fundamental will change with Breyer's retirement. Liberals will still be starkly outnumbered (6-3) on the high court. Imagine, by contrast, if Breyer refused to retire, as many progressives (stung by Ginsburg's ill-timed death) feared he would, and he died or was rendered incapacitated in 2023 or 2024, after the GOP had taken majority control of the Senate, as some polls predict they will do.
In that case, it's likely we would have seen Senate GOP leader Mitch McConnell (Ky.) block any new Biden pick. The court would shrink to eight justices, as it did at the end of former President Barack Obama's second term, in anticipation of Biden losing in 2024 and a Republican president and Senate majority getting the chance to appoint another conservative in Breyer's place. The end result could have been a court with just two liberals.
Now that would have been a political earthquake. But it's not what we're facing now.
We also know Biden won't be nominating a progressive legal lion for the seat. The Democrats hold the Senate so narrowly that putting up someone ideologically bold could provoke defections that would sink the nomination.
Now, this doesn't mean Biden will need to tap a milquetoast moderate. In the hours following the first stories about Breyer's pending retirement, some progressive troublemakers on Twitter suggested this would be the case, given the decisive roles West Virginia Sen. Joe Manchin and Arizona Sen. Kysten Sinema, both Democratic centrists, have played in scuttling progressive priorities in Congress over the past few months. But this is nonsense. Manchin and Sinema have thus far voted for every single Biden nomination to the judiciary, and we have every reason to assume that will also be true for his nominee to the Supreme Court — provided Biden draws from the liberal mainstream for his choice.
Some appear to think the real news value in Biden's upcoming pick is the likelihood that he'll nominate the first Black woman to serve on the court. I'm certainly not bothered by the prospect — and think the few conservative trolls who are trying to make a stink about Biden's promise to appoint a Black woman are being ridiculous. Lyndon Johnson appointed Thurgood Marshall, the first Black man on the bench. Ronald Reagan vowed to appoint the first woman to the court and fulfilled the promise when he nominated Sandra Day O'Connor. Obama picked Sonia Sotomayor, the first Hispanic justice, and a woman no less, which managed to tickle the intersectional sweet spot for progressives. Nothing could be more normal than for Biden to aspire to do something similar for another demographic sub-group.
But precisely because it's so normal and expected, it's also not an especially big deal. I'll admit that I respond in this muted way because I'm an incorrigible liberal (and not a progressive). Many of those further to my left (as well as lots of data-driven analysts) love to think about politics in a categorical-demographic way, dividing the population into different combinations of groups. Me, I care far more about the quality of an individual jurist's mind, regardless of his or her identity.
Ketanji Brown Jackson, Leondra Kruger, and J. Michelle Childs all sound like wonderful choices in this regard. But the symbolism of placing a person from this specific group on the court? Whatever.
I'm sure we'll soon see the first openly gay justice, and then the first transgender justice, and the first Muslim justice, and then each of those across different racial and ethnic categories, and so on, with each first checking off another box in the intersectional cross-tabs. That's the way it now goes in multicultural American democracy. Biden is simply playing a part in an endlessly unfolding process.
The one remaining scenario which might make this situation interesting is the right throwing a fit about Biden's nominee, which is possible but unlikely. This is the case not only because such convulsions are more common on the left in response to conservative nominees — from Robert Bork to Thomas to Brett Kavanaugh — than they are in the reverse ideological direction. It's also especially likely that the right will hold its fire in this case because at this point it's operating from a position of such strength on the high court. Conservatives have and are all but guaranteed to keep their 6-3 majority for the time being. That's a supremely easy position from which to display magnanimity.
Which means we appear to be at the start of one of the most routine processes in our politics. Yes, Stephen Breyer's retirement is news, as will be the work of picking and confirming his successor. But none of it amounts to a political watershed or upheaval. It's just business as usual. And we should be grateful at least some aspects of our politics still unfold smoothly and without inspiring thoughts of the imminent end of American democracy.
CORRECTION: A previous version of this post misstated the identity of the first Black Supreme Court justice. It has been corrected. We regret the error.
Continue reading for free
We hope you're enjoying The Week's refreshingly open-minded journalism.
Subscribed to The Week? Register your account with the same email as your subscription.
Sign up to our 10 Things You Need to Know Today newsletter
A free daily digest of the biggest news stories of the day - and the best features from our website
Damon Linker is a senior correspondent at TheWeek.com. He is also a former contributing editor at The New Republic and the author of The Theocons and The Religious Test.