Where in the world is Yevgeny Prigozhin?
...and where does he go from here?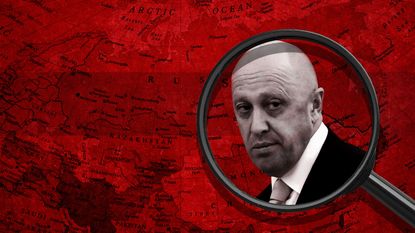 (Image credit: Illustrated / Gettyimages)
Sign up to our 10 Things You Need to Know Today newsletter
A free daily digest of the biggest news stories of the day - and the best features from our website
Thank you for signing up to TheWeek. You will receive a verification email shortly.
There was a problem. Please refresh the page and try again.
For a brief moment last month, Yevgeny Prigozhin appeared poised to become one of the most important, powerful people on Earth. After months of dispeptic saber-rattling toward the Kremlin over Russia's ongoing invasion of Ukraine, the man once considered part of Russian Federation President Vladimir Putin's inner circle — dubbed "Putin's Chef" after landing a lucrative government catering contract in the early 2000s — had set his formidable Wagner Group of Russian mercenaries on the march toward Moscow. By all indications, Prigozhin seemed intent on not only deposing members of Putin's cabinet, but perhaps even the president himself, with the aim of replacing him.
One day later, Prigozhin shocked the world by announcing an end to his nascent coup before his Wagner columns had even reached Moscow. In a lengthy and at times contradictory statement, Prigozhin insisted that his goal had never been to "overthrow the current regime" and that his decision to abort his mutinous advance on the Kremlin was simply to "avoid spilling the blood of Russian soldiers." Shortly thereafter, Prigozhin appeared to accept a Kremlin offer to exile himself in neighboring Belarus, seemingly bringing his short-lived aspirations to an ignominious end. In the weeks since, however, that "end" has become a bit more open-ended than previously believed; Prigozhin's future — and even his current whereabouts — are not as final as they once seemed.
What are the commentators saying?
"The normally voluble Prigozhin's almost complete silence" in the weeks since the aborted coup has "prompted speculation about his whereabouts," the Times UK said, citing conflicting reports that the Wagner boss is "in Belarus, St Petersburg, behind bars or even dead."
Subscribe to The Week
Escape your echo chamber. Get the facts behind the news, plus analysis from multiple perspectives.
SUBSCRIBE & SAVE
Sign up for The Week's Free Newsletters
From our morning news briefing to a weekly Good News Newsletter, get the best of The Week delivered directly to your inbox.
From our morning news briefing to a weekly Good News Newsletter, get the best of The Week delivered directly to your inbox.
"He's in St Petersburg. He is not on the territory of Belarus," Belarusian President Alexander Lukashenko said last week, adding that "maybe he left for Moscow." Lukashenko's suggestion that Prigozhin was not adhering to the terms of his amnesty-in-exile was followed almost immediately by a Russian state television broadcast of footage seemingly designed to discredit the Wagner boss, including shots of Prigozhin in various costumes, and stockpiles of firearms and gold purportedly filmed during a raid on one of his properties. That footage, in turn, was followed by "reports that some of [Prigozhin's] money and possessions were returned to him," CNN said. "It adds another layer to the mystery as to why Putin has, so far, let Prigozhin remain free even as he fails to abide by the Lukashenko deal."
Prigozhin's whereabouts and status vis-a-vis the Kremlin were further complicated this week, after Russian government spokesperson Dmitry Peskov claimed that Prigozhin had been among a group of military commanders who met personally with Putin nearly a week after the Wagner rebellion evaporated. "The president gave an assessment of the company's actions on the front," Peskov said, adding that Putin also "gave assessment" to the mutiny itself.
"Putin listened to the commanders' explanations and suggested variants of their future employment and their future use in combat," Peskov said.
What comes next?
For now, at least, it seems that Prigozhin is safe from any terminal retribution from the Russian government. In addition to affirming that the Wagner boss was seemingly flouting his exile conditions, Lukashenko also "assured reporters that Putin isn't 'malicious and vindictive' enough to have Prigozhin 'wiped out,'" CNN said, noting that he used language similar to that which "Putin famously used about Chechen terrorists."
The Guardian seemed to agree, citing a "former senior Russian defense official" who told the outlet that "it does not look like Prigozhin fears for his life. He does not act like a man on the run." Conversely, CBS speculates "it could suggest the threat posed by Prigozhin has not yet been fully defused," and that the Kremlin may be waiting to take more definitive action against its onetime ally "until it can figure out what to do with troops who may still be loyal to him." To that end, "the Kremlin has cracked down on Wagner sympathisers in the Russian army after the militia's failure, reportedly detaining a senior Russian general, Sergei Surovikin," the Guardian reported. NBC News had previously reported that Surovikin may have had advance knowledge of Prigozhin's plans.
For its part, the Kremlin has insisted it not only isn't tracking Prigozhin's whereabouts, but that "we have neither the ability nor the desire to do so." Taken at face value, that seems unlikely, nor has it stopped the Russian government from taking some action against Prigozhin's personal fortune, if not the man himself. According to CNN, "the Kremlin currently appears to be dissecting his empire, putting control of the most valuable enterprises into more 'reliable' hands."