Tokyo's 'grand human opera': a tonic for a weary world
Despite widespread ambivalence and fear, the Olympic Games managed to bring us together and lift our spirits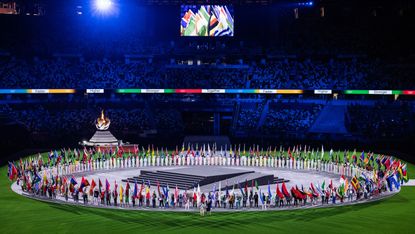 (Image credit: Leon Neal/Getty Images)
Postponed for a year and then playing to empty stadiums: this was in many ways a downbeat Olympics, said Ben Bloom in The Daily Telegraph. But it was a bumper one where Team GB was concerned. Its haul of 65 medals – equalling its tally at the 2012 London Games and just two short of the 67 won in Rio in 2016 – far exceeded expectations. In the final week, the medals had kept on coming: there was a gold apiece for husband-and-wife Laura and Jason Kenny, the "golden couple" of British cycling (with his victory in the keirin event, Jason became Britain's most decorated Olympian ever, with seven gold medals to his name). There were golds in both the women and men's modern pentathlon. And Tom Daley won his second medal of the games with a bronze in the 10-metre platform.
Yet for all its achievements, Team GB's performance in Tokyo did not quite measure up to its showings at other recent Games, said James Gheerbrant in The Times. For one thing, the team won noticeably fewer golds – 22, compared with 29 in London and 27 in Rio. And its successes were less concentrated in the two sports that have "powered Great Britain's Olympic revolution": rowing and track cycling. By their high standards, Britain's rowers had a "disastrous" Olympics, claiming just a silver and a bronze. And though the cyclists did far better, there was a shift away from the velodrome towards ancillary events – notably BMX, which yielded four medals. In short, this was an Olympics in which Britain underperformed in elite, "lavishly funded" sports, but triumphed in more "relatable, accessible" ones.
And nowhere more so than in boxing, said Rick Broadbent in The Times. Here, the team won six medals – its best showing in the modern era. Its two golds came on the final weekend. Galal Yafai, who six years ago was shifting boxes in a Land Rover factory, won the men's flyweight division. And Lauren Price won the women's middleweight. Price is a compelling figure, said Jim White in The Daily Telegraph. She was brought up in the Welsh valleys by her grandparents, after her parents had decided they couldn't cope with her. When she was still a small girl her grandfather (who died of dementia last year) introduced her to kickboxing; she later took up football (while working part-time as a cab driver) and won 52 caps for Wales, before switching to boxing. When her victory over Li Qian of China was declared, she had a "little look up" to her late grandfather. "If it wasn't for him and my nan," she said, "I wouldn't have achieved anything." It was one of several remarkable Team GB victories, said Bloom in The Telegraph. No wonder the team's chef de mission, Mark England, dubbed their overall performance "the miracle of Tokyo".
Subscribe to The Week
Escape your echo chamber. Get the facts behind the news, plus analysis from multiple perspectives.
SUBSCRIBE & SAVE
Sign up for The Week's Free Newsletters
From our morning news briefing to a weekly Good News Newsletter, get the best of The Week delivered directly to your inbox.
From our morning news briefing to a weekly Good News Newsletter, get the best of The Week delivered directly to your inbox.
From Chelsie Giles in judo to Lauren Price in boxing, we take a look at every medal won by Team GB at the Tokyo 2020 Olympic Games...
1. Chelsie Giles: bronze
Judo: women's -52kg
Chelsie Giles' bronze in the women's -52kg judo repechage was Team GB's first medal in Tokyo. The 24-year-old from Coventry beat Switzerland's Fabienne Kocher by ippon and her success marks an "extraordinary achievement from someone who only took up the sport a decade ago", The Times reports. "It feels very special to do it in Japan," Giles said. "It's an amazing arena and the atmosphere was amazing. To do it where Japan started the sport, it makes it extra special."
2. Bradly Sinden: silver
Taekwondo: men's -68kg
A few hours after Giles' bronze on Sunday, Bradly Sinden claimed silver in the men's -68kg taekwondo. Sinden, the 2019 world champion, was beaten in a dramatic final by Uzbekistan qualifier Ulugbek Rashitov. "It was my gold medal to give away and it's a hard one to take," he said. "I'll reflect on this and be proud of what I've achieved in these last five years, from having no ranking points to becoming world champion and winning an Olympic silver. You'll see me again in Paris." Despite his disappointment at losing the final, Sinden can reflect on a "fine Olympics debut that continues his rapid rise in the sport," the BBC reports.
3. Alex Yee: silver
Men's triathlon
Alex Yee has taken the "triathlon baton" from the Brownlee brothers with silver in Tokyo and "marked the end of one of Great Britain's most powerful Olympic dynasties", The Independent reports. The 23-year-old said: "I still feel like a normal boy from south east London. I hope I can serve as inspiration to people to show this is possible. I'm not anything special, I just really enjoy sport and have been really lucky."
4. Adam Peaty: gold
Swimming: men's 100m breaststroke
Team GB's first gold medal of Tokyo 2020 came from a likely source - swimming sensation Adam Peaty. The "hunk in the trunks" defended his Olympic title in the men's 100m breaststroke on Monday to become a "British sporting phenomenon who has now conquered the world of swimming", the Daily Mail says. Peaty, who is unbeaten since 2014 in the 100m breaststroke, said: "Hopefully, this is a catalyst for not only Team GB but also the people back home to go to another gear, to say: 'We've been through a tough time, there's been a lot of complaining, a lot of excuses, a lot of negative things, but now we've got to switch our mindset.'"
Pool party: a golden 'new era' for British swimming
5. Tom Pidcock: gold
Men's mountain bike cross-country
Tom Pidcock stormed to victory in the men's mountain bike cross-country to earn Team GB their third gold on "magic Monday". The 21-year-old from Leeds "could have been forgiven for thinking his Tokyo dream was over in May when he sustained a broken collarbone from being hit by a car while out on a training ride", The Guardian said. However, he joined the GB "gold rush" with a "dominant ride" in Izu. Pidcock said: "It's been such a hard time coming here from crashing and breaking my collarbone [in May] and that's just unbelievable."
6. Tom Daley and Matty Lee: gold
Diving: men's synchronised 10m platform
Tom Daley and Matty Lee produced the performance of a lifetime to claim Olympic gold in sensational fashion at the Tokyo Aquatics Centre. In the men's synchronised 10m platform the British diving duo scored 471.81 to beat Chinese pair Cao Yuan and Chen Aisen by just 1.23 points. Lee celebrates gold in his games debut but for Daley it marks the culmination of a remarkable career. A bronze medallist at London 2012 and again in Rio five years ago, he now has a gold to his name after making his Olympic debut aged just 14 at Beijing 2008. "It's kind of unbelievable," Daley said. "I've dreamt, as has Matty, since I started diving 20 years ago for this moment of becoming an Olympic champion."
Tom Daley: the perfect Hollywood ending for Team GB's golden boy
7. Lauren Williams: silver
Taekwondo: women's -67kg
Lauren Williams added to the day three medal rush with a silver in the women's -67kg taekwondo. The 22-year-old was leading the gold medal contest by three points with ten seconds to go but ultimately lost 25-22 to Croatia's Matea Jelic. She said: "I'm very happy with how I performed all day, it's gutting in the last ten [seconds]. But an Olympic silver medal, it's not bad is it?" It was Team GB's second taekwondo medal following Bradly Sinden's silver on Sunday.
8. Georgia Taylor-Brown: silver
Women's triathlon
Georgia Taylor-Brown recovered from a flat tyre to claim a remarkable silver medal in the women's triathlon. Her medal comes on her Olympic debut and just 12 weeks after being injured and left on crutches in the build-up to the Games. "As a kid I always wanted one of these medals," she told Sky News. "I just wanted to be an Olympian. But then you think 'that's a dream I had as a 10-year-old. I'm 27, is it ever going to become a reality?' And yeah this morning it did."
9. Tom Dean: gold
Swimming: men's 200m freestyle
There were "wild celebrations" in the Dean household in Maidenhead as Team GB made history with their first swimming one-two in 113 years, the Daily Mail reports. Tom Dean won gold in the men's 200m freestyle and team-mate Duncan Scott secured silver. For 21-year-old Dean it was a remarkable feat having twice contracted Covid-19 in the past year. "It's amazing, a dream come true to wear an Olympic gold medal around my neck and to go one-two with another Brit on the podium," Dean said. "I had six or seven weeks out during an Olympic year which is almost unheard of. When I was sitting in my flat in isolation, an Olympic gold seemed a million miles off. But my coach [Dave McNulty] brought me round and it's all come together."
10. Duncan Scott: silver
Swimming: men's 200m freestyle
After his second-place finish in the men's 200m freestyle, Duncan Scott's Olympic medal haul now consists of three silvers, adding this latest individual honour to his two second-place relay finishes at Rio 2016. "The best possible outcome is to go one-two, we've delivered on that, there was a PB as well in the final so I can't complain at all," said the 24-year-old. "Coming out, there are plenty of things which I could have done better which I'll take a look at and go over but I'm really happy with that."
11. Bianca Walkden: bronze
Women's taekwondo +67kg
After an agonising defeat in the semi-final Bianca Walkden recovered to beat Poland's Aleksandra Kowalczuk 7-3 in the bronze-medal match of the women's taekwondo +67kg. The 29-year-old landed a trunk shot in the final round and comfortably held off her opponent to seal victory, the BBC reports. Walkden's medal was Team GB's third in the taekwondo at Tokyo 2020. "I'll be proud when I get a gold, it's only three years away," said a disappointed Walkden. "I'm not that far off, I'm a three-time world champion, three-time European champion, I'm world number one and I've got two Olympic medals, anyone else would die for that and I need to remember that."
12. Jennifer Gadirova, Jessica Gadirova, Alice Kinsella and Amelie Morgan: bronze
Women's artistic gymnastics team event
Great Britain's women's team last won a medal in the Olympic team gymnastics event at the 1928 Games in the Netherlands, the BBC reports. But that all changed on Tuesday as Team GB secured a shock bronze in Tokyo. The "awesome foursome" - Alice Kinsella, Amelie Morgan and twins Jennifer and Jessica Gadirova - scored 164.096 points as they finished third behind the Russian Olympic Committee (gold) and Team USA (silver). Morgan said: "It's absolutely incredible, I think we're all quite speechless right now. It seems so unreal that we've made history and got a medal, we can't quite believe it."
13. Charlotte Dujardin, Carl Hester and Charlotte Fry: bronze
Team dressage
British equestrians Charlotte Dujardin, Carl Hester and Charlotte Fry claimed bronze in the team dressage. "Any medal is a dream come true for any athlete," Hester said. "We all had young horses – it is a dream come true that they all came together and performed here." Olympic debutant Fry added: "I'm pretty speechless but very, very proud. I think it's pretty surreal that I'm stood here in between the dressage king and queen."
14. Jack Beaumont, Angus Groom, Tom Barras and Harry Leask: silver
Rowing: men's quadruple sculls
Britain won a men's quadruple sculls medal for the first time in Olympic history after coming home for silver in Tokyo. Jack Beaumont, Angus Groom, Tom Barras and Harry Leask held their nerve to make history on the Sea Forest Waterway, stopping the clock in 5:33.75 in one of the most dramatic races of the meet. Gold went to the Netherlands while Australia won bronze. Beaumont, 27, said: "I am so happy. It's the first Olympic medal for our boat class in this country and we're standing on the shoulders on loads of team-mates before us. They helped us get here and it's another step on our way to getting the gold. British men's sculling can win medals now – we're not in the background, we can do it."
15. Duncan Scott, Matthew Richards, James Guy and Tom Dean: gold
Swimming: men's 4x200m freestyle relay
British Olympic swimming history continues to be made at the Tokyo Aquatics Centre as the men's 4x200m freestyle relay team claimed a brilliant gold medal. It means Team GB have won three swimming golds at a single Games for the first time since 1908 – also the last time a British quartet climbed the top step of the 4x200m freestyle relay podium. Finishing ahead of the Russian Olympic Committee and Australia, the British quartet - Tom Dean, James Guy, Matthew Richards and Duncan Scott - were within 0.03 seconds of the world record. Guy, 25, from Bury, said: "As a kid, winning an Olympic gold medal was my absolute dream and to do it after 25 years is pretty emotional. With these lads here, we're the best freestylers in the world. Michael Phelps and Ryan Lochte won in Rio, now we're the Olympic champions and that's a dream come true."
Pool party: a golden 'new era' for British swimming
16. Charlotte Dujardin: bronze
Dressage Individual Grand Prix Freestyle
Charlotte Dujardin won another bronze - her sixth Olympic medal - in the individual dressage final. After three golds, one silver and two bronze medals from three Olympic appearances, Dujardin said: "I can't believe it. I'm incredibly proud and a bit speechless. I just don't know what to feel."
Bring on Paris: 'so much more to come' from Charlotte Dujardin and Gio
17. Matthew Coward-Holley: bronze
Men's trap shooting
It's "phenomenal" said Matthew Coward-Holley after he won bronze in the men's trap shooting final. The 26-year-old from Chelmsford broke his back twice as a teenager playing rugby, but is now celebrating a place on the Olympic podium. "To come away with a medal, to be European and world champion, and now Olympic bronze medallist is a little bit surreal," he said. "We all come here fighting for gold but, at the end of the day, it's the Olympics and any medal is phenomenal. It still hasn't sunk in yet, I think it's going to take a while to comprehend that medal hanging around my neck." Czech Republic scored a one-two with Jiri Liptak taking gold and David Kostelecky silver.
18. Mallory Franklin: silver
Women's canoe slalom C1
British paddler Mallory Franklin just missed out on a gold after finishing second behind Australia's Jessica Fox in the women's canoe slalom C1 final. Franklin was leading the field with one competitor to go and it was world No.1 Fox who took the gold with the last run of the inaugural women's C1 event at the Olympic Games. Franklin, 27, from Windsor, said: "It's really cool to have the medal and I think it can mean so much for people. I hope that people see women's C1 as an event that is really high-class with some amazing paddling out there."
19. Josh Bugajski, Jacob Dawson, Tom George, Mohamed Sbihi, Charles Elwes, Oliver Wynne-Griffith, James Rudkin, Tom Ford and Henry Fieldman: bronze
Rowing: men's eight
Team GB's men's eight finished the regatta off on a high as they claimed bronze in the final rowing race of Tokyo 2020. Britain's rowers were left with several near-misses on the water with six fourth-placed finishes in total, including Vicky Thornley in the women's single sculls earlier on day seven. However, the men's eight finished behind New Zealand and Germany for a second medal of the meet, with the young crew of Josh Bugajski, Jacob Dawson, Tom George, Mohamed Sbihi, Charles Elwes, Oliver Wynne-Griffith, James Rudkin, Tom Ford and cox Henry Fieldman taking their place on the podium. Sbihi, who had been the flag bearer for Team GB at the opening ceremony, said: "We are a talented young crew. I feel like this week we haven't been able to show ourselves properly, for one reason or another, and part of learning how to win is extracting a performance out of yourself. I feel like we did that today. We put ourselves in a position to challenge for the right medal, and on the risk of that you might end up losing a medal."
20. Luke Greenbank: bronze
Swimming: men's 200m backstroke
Luke Greenbank became the first British athlete to win a men's 200m backstroke Olympic medal. The 23-year-old from Cockermouth stopped the clock in 1:54.72 to take the third and final spot on the podium, just 1.45 seconds behind Russian Olympic Federation's Evgeny Rylov, who won in an Olympic record. Greenbank said: "It's amazing, a dream come true. I'm so happy, over the moon and I'm lost for words. My first memory of swimming was watching the Beijing 2008 Olympics and it's always been a long ambition of mine. To come away with an individual medal, it's absolutely amazing."
21. Duncan Scott: silver
Swimming: men's 200m individual medley
Duncan Scott shattered his personal best to win his third medal of the Tokyo Olympics with silver in the men's 200m individual medley. Scott finished in 1:55.28 at the Tokyo Aquatics Centre, beating the 1:55.90 he previously swam to improve upon his own British record and complete a medal hat-trick. The 24-year-old from Glasgow said: "I was happy with that, that's the first international medal I've won in that event so I'm really happy with that. It's a big PB again, I've taken over a-second-and-a-half off the time this year. I've got to hold my head up high with that."
22. Kye Whyte: silver
Men's BMX racing
Kye Whyte won Team GB's first Olympic medal in BMX racing with silver in the men's final. He finished just 0.114 seconds behind Dutch rider Niek Kimmann to take the silver on his games debut. The 21-year-old from Peckham said: "He [Kimmann] was the better man on the day. I had a flying start but I overjumped the second jump. I would have gone to war with him if we'd both landed smooth but it wasn't to be. I was making continuous mistakes but it's a learning curve, it was only my first Olympics. If there was ten more yards, maybe it would have been a gold, I'll accept the silver though. I was telling myself, 'I'm going to get a medal'."
23. Bethany Shriever: gold
Women's BMX racing
There was more drama on the BMX track in Tokyo as Bethany Shriever struck gold for Team GB in the women's race. Shriever went unbeaten through her three semi-final runs and surged out the start gate to open up a lead on her rivals in the medal event. While Colombia's Marian Pajon came charging round the final corner, former world junior champion Shriever crossed the line just 0.090 seconds ahead. The 22-year-old from Finchingfield in Essex said: "Honestly, I'm in shock. To even be here is an achievement in itself. To make a final is another achievement – to come away with a medal, let alone a gold medal, I'm so over the moon. I owe a lot of it to everyone. It just means so much, I'm so grateful for the support, for everyone waking up at home, I'm overwhelmed."
24. Bryony Page: bronze
Women's trampoline
After winning a trampolining silver medal in Rio Bryony Page has backed it up with a bronze at Tokyo 2020. The 30-year-old had topped the leaderboard with two routines to go, but was overtaken by the Chinese duo Zhiu Xueying and Liu Lingling. Page said: "I can't quite believe it still. The day went painfully slow and painfully quick at the same time. I'm extremely happy and relieved, I can't believe I've got a second Olympic medal, it's amazing."
25. Jessica Learmonth, Jonny Brownlee, Georgia Taylor-Brown and Alex Yee: gold
Triathlon: mixed team relay
Alex Yee led home a brilliant performance from Team GB to claim the first Olympic gold medal ever contested in mixed relay triathlon. Yee, the silver medallist in the men's triathlon, was put into the perfect position by teammates Jess Learmonth, Jonny Brownlee and Georgia Taylor-Brown, who also won silver in the women's triathlon at Odaiba Marine Park. With this gold in his farewell games, Brownlee completes the full set of Olympic medals after a bronze in London and silver in Rio. "The Olympics? I've completed it," said 31-year-old Brownlee. "It feels absolutely amazing. It's my third Olympics and I finally walk away with gold. We knew coming into this race there was a lot of pressure on us, we all had to race very well and do everything right and that's what we did."
26. Adam Peaty, James Guy, Anna Hopkin and Kathleen Dawson: gold
Swimming: mixed 4x100m medley relay
Team GB ensured their place in the history books as they won the inaugural mixed 4x100m medley relay at an Olympic Games with a memorable world record swim at the Tokyo Aquatics Centre. The quartet of Kathleen Dawson, Adam Peaty, James Guy and Anna Hopkin delivered a dominant display to smash the world record by 0.83s in a time of 3:37.58, ahead of China and Australia. It continued a remarkable competition for British swimmers, who now have four golds in their cabinet – the most for Team GB at a single Olympics since 1908. Peaty, who joined compatriot Tom Dean as the first male British swimmer to win double gold at a games since 1908, said: "We're the champions, let's go and enjoy it. We've got champions who believe we can win and who believe we can break world records. If you've got belief, you can build everything around that."
27. Emma Wilson: bronze
Women's Windsurfing RS:X
Emma Wilson claimed Team GB's first sailing medal of Tokyo 2020 with a brilliant windsurfing bronze at Enoshima Bay. Her bronze is Britain's first women's windsurfing medal since Bryony Shaw claimed bronze in Beijing 13 years ago. Wilson, 22, from Christchurch, Dorset, said: "I've come fourth so many times it means so much to finally get on the podium and to do it at the Olympics is great. This medal is not just for me but for everyone else. Of course you want to win a gold medal but I've many more years to come and I hope to be back. I just want to enjoy this moment, not many people get a medal at the Olympics and I need to be so grateful."
28. Karriss Artingstall: bronze
Boxing: women's featherweight
Karriss Artingstall collected Team GB's first confirmed boxing medal of Tokyo 2020 with bronze in the women's featherweight division. The 26-year-old lost to Japan's Sena Irie in a tight semi-final but takes home Team GB's 28th medal of the games. Artingstall, a gunner in the British Army, said: "I have been on the GB programme for two-and-a-half years and I am a world and Olympic medallist. Come Paris [2024], I will be taking that title. This games has shown I can mix it with the top girls and I have that belief."
29. Charlotte Worthington: gold
Women's BMX Freestyle Park
Former chef Charlotte Worthington cooked up another golden recipe for Team GB's BMX stars. After Bethany Shriever's gold in the BMX Racing, Worthington won the first BMX freestyle park competition to ever take place at the Olympic Games. An error on her first run left her needing to produce something spectacular - and how she did, landing a gravity defying 360-degree backflip that has never been landed by a woman in competition. It meant she scored 97.50 out of a possible 100 to edge American hot favourite Hannah Roberts, who had scored 96.10 on her first run, into silver. Switzerland's Nikia Ducarroz completed the podium. Worthington, 25, from Manchester said: "It's kinda unreal, I've been dreaming about this for four years, and it still feels like I'm dreaming four years ago, I'm still waiting to wake up. This is a lot of hard work paying off. But the hard work has mainly been on myself. Everyone at home, I couldn't have done this without you."
30. Declan Brooks: bronze
Men's BMX Freestyle Park
Declan Brooks produced a brilliant performance to win BMX freestyle park bronze just two months after being left unconscious by a horror crash that put his Olympic dreams in doubt. Less than an hour after team-mate Charlotte Worthington had won the women's title, Brooks added a fourth medal to Britain's BMX haul - following Bethany Shriever and Kye Whyte's gold and silver in BMX racing on Friday. Brooks, 25, from Portsmouth, said: "I've just cried for the past couple of minutes. It's an unbelievable journey I've had on the way here, I'm just so stoked to win a medal. I don't think it's going to sink in today. I just hope it [BMX] gets the coverage it deserves. I'm sure everyone at home is watching as well, to my family – thank you so much for supporting me over the years, it's been an absolute journey."
31. Luke Greenbank, Adam Peaty, James Guy and Duncan Scott: silver
Swimming: 4x100m medley relay
Team GB's swimmers closed out their best-ever Olympics with 4x100m medley relay silver as Duncan Scott won a record-breaking fourth medal at Tokyo 2020. The team of Luke Greenbank, Adam Peaty, James Guy and Scott broke the European record on their way to silver, with only the USA, in a world record, in front of them. It caps a spectacular games at the Tokyo Aquatics Centre for the GB swimmers, who will leave with four gold medals and eight medals in all. That tops the previous best return from 1908, matching the four golds won in London, but topping the seven medals from those Games. Scott, who brought the team home, becomes the first athlete in any sport to ever win four medals at a single games for Team GB. He won gold in the 4x200m freestyle relay, as well as three further silver medals, to take his total medal haul to seven having also won three silvers at Rio 2016. Scott, 24, from Glasgow, said: "I'm very fortunate to be part of some excellent relay teams, this being one of them. Initially, we were very disappointed but since 2015, when we first started coming together, we've got back-to-back Olympic silvers in this event and we'd have taken that all day."
32. Max Whitlock: gold
Artistic gymnastics: men's pommel horse
Max Whitlock defended his Olympic men's pommel horse title with a nerveless display in Tokyo. He was the first of eight to compete in the final and posted a superb score of 15.583 to set the standard. Chinese Taipei's Lee Chih Kai took silver with 15.400 while Japan's Kazuma Kaya claimed bronze. The 28-year-old from Hemel Hempstead now has six medals from three games - only cyclists Bradley Wiggins, Chris Hoy and Jason Kenny can lay claim to more than Whitlock's haul. "I feel absolutely lost for words, I can't even describe the feeling," he said. "I feel completely overwhelmed and it feels very surreal. Team GB have been doing absolutely incredibly, the gold medals have been flowing in and I just wanted to do the same thing. Coming out here and getting my own, I feel very proud."
33. Tom McEwen, Laura Collett and Oliver Townend: gold
Equestrian: eventing
Team GB claimed their first eventing team title in 49 years as Oliver Townend, Laura Collett and Tom McEwen struck equestrian gold in Tokyo. British riders were perennial silver medallists in the competition, coming second in Los Angeles, Seoul, Sydney, Athens and London, plus claiming bronze in Beijing. But after four days of competition, across dressage, cross country and jumping disciplines, they brilliantly held off the challenge of Australia and France in silver and bronze for their first title since 1972. Riding Ballaghmor Class, 39-year-old Townend said: "There will be a big celebration and I don't think it will be with a cup of tea and a biscuit."
34. Emily Campbell: silver
Weightlifting: women's +87kg
Emily Campbell became the first British female weightlifter to win an Olympic medal. In the women's +87kg weightlifting category 27-year-old Campbell took the silver medal with a total of 283kg while China's Li Wenwen won gold with a new Olympic record of 320kg. "You want to perform your best but to put it out on this stage, I am thrilled," Campbell told the BBC. "I said to the coaches 'what's just happened?' That clean wasn't a perfect clean, I had to fight to get under it. Once I get cleaned I know I am going to jerk it. I am lost for words right now. Thanks for believing in me. You can achieve anything you want to achieve. I picked up a barbell five years ago for the first time and now I am an Olympic silver medallist."
35. Tom McEwen: silver
Equestrian: individual eventing
Hours after helping Team GB win gold in the team eventing final Tom McEwen became a duel medallist with a silver in individual eventing. The 30-year-old from Minchinhampton said: "It's not really hit me yet, it's been a super special experience. I loved the pressure this week, I've loved being in this team and we've had to perform."
36. Dylan Fletcher and Stuart Bithell: gold
Sailing: men's skiff 49er
Dylan Fletcher and Stuart Bithell snatched sailing gold by just centimetres in one of the most dramatic Olympic regatta races of all time. The British 49er crew held off their German rivals by just fractions in a drag race to the finish line. New Zealand's defending champions Peter Burling and Blair Tuke were leading the regatta heading into the final double points race. A complex formula of results meant the British crew had to finish two places ahead of the six-time world champions to win, with the Kiwis' third place meaning they settled for silver. Fletcher, 33, from Market Harborough, said: "I dreamt this would happen. It was last week a few days before racing. I was like, 'don't engage, don't tell anyone that', but it was amazing to feel that dream come true." Bithell, 34, from Rochdale, added: "Dreams come true kids. I've certainly never seen a race this close in the Olympics, not in the 49er class. Dylan talks about it being a long road since Rio but for me it's been nine years. This is my last Olympics, almost certainly. As you can imagine it's so nice to come away with the gold, it's been the dream since when I was a little boy."
37. Giles Scott: gold
Sailing: men's Finn
Giles Scott defended his Olympic Finn sailing title in a thrilling race at Enoshima Harbour. Scott had won six races out of ten in the qualifying regatta and needed to finish in the top five of the medal race to secure gold. He managed to inch himself through the fleet, crossing the line in fourth by a fraction to follow up his Olympic gold medal from Rio 2016. Scott, 34, from Huntingdon, said: "I made it by the skin of my teeth, it was properly to the wire, it was really tight. I tried to stay relaxed but I've never been involved in a boat race as close as that. It's been a funny old year for everyone, I'm just pretty stoked. That's the greatest pressure of my career. It climbed throughout the race - that was full on."
38. John Gimson and Anna Burnet: silver
Sailing: mixed multihull Nacra 17
Team GB's "super Tuesday" in the sailing continued with John Gimson and Anna Burnet winning silver in the mixed multihull Nacra 17 class. Italy's Ruggero Tita and Caterina Banti took the gold while Germany's Paul Kohlhoff and Alica Stuhlemmer finished with the bronze. Burnet, 28, from Shandon, said: "It's amazing. The team's had such an incredible day. Seeing the 49er boys win gold before we went out, John found it a bit stressful I think with all of the emotion but I found it hugely inspiring and I'm so happy we're part of this team, which is performing so well." Gimson, 38, from Congleton, said: "It's been worth every minute but most importantly I've done it for 20 years to get here. An unbelievable amount of people have helped me along the way and just for them, to say thank you, I'm glad we did it."
39. Jack Laugher: bronze
Diving: men's 3m springboard
Jack Laugher claimed the third Olympic medal of his career after an enthralling 3m springboard diving competition in Tokyo – completing his set with a hard-fought bronze. Laugher had already won silver in the event in Rio five years ago, adding to his 2016 gold in the 3m synchro with Chris Mears. The 26-year-old from Harrogate said: "This means everything to me, it's been the worst two years of my life. After 2019 World Championships and failing to make myself a world champion, embarrassing myself with my final dive and the mistakes and failure I had there, it crushed me, it really crushed me. I wanted to quit this year, quite a few times. It has been awful. I've hated it. But we have worked really hard. My team around me has been the best ever, I can't thank them enough. I feel like today is redemption for what has been just such a bad couple of years."
40. Katie Archibald, Neah Evans, Laura Kenny and Josie Knight: silver
Cycling track: women's team pursuit
Team GB's women's team pursuit squad broke the world record but Olympic gold proved narrowly out of reach later in the day after winning silver at the Izu Velodrome. Laura Kenny, Katie Archibald, Neah Evans and Josie Knight set a new world best in the first round to book their place in the gold-medal match against Germany. However the Germans lowered that mark within a matter of minutes, and then produced a stunning time in the final to win in 4:04.242. Archibald, 27, from Milngavie, said: "We are proud, the pandemic may have taken away our race opportunities but we never lost our job as team pursuiters. We've been supported by British Cycling, supported by UK Sport, supported by The National Lottery players all through the pandemic, and we've pulled it through to a silver medal, second best in the world. We've got three years [until Paris 2024] to try again."
41. Jason Kenny, Ryan Owens and Jack Carlin: silver
Cycling track: men's team sprint
Less than 20 minutes after the women's team pursuit the Team GB male cyclists Jason Kenny, Ryan Owens and Jack Carlin also won a silver in the team sprint behind the Netherlands. Carlin, 24, from Paisley, said: "We came for more but I think we can be proud of ourselves. We broke the Olympic record at one point, the Dutch again took it off us. We are happy, we just want more."
42. Pat McCormack: silver
Boxing: men's welterweight
Pat McCormack's quest for boxing gold came up just short but he still leaves Tokyo with a medal after securing silver in the men's welterweight division. Facing Cuba's Roniel Iglesias in the gold medal bout, McCormack lost the decision on all five judges' scorecards. The 26-year-old from Washington, Tyne and Wear, said: "I was just up against a top fighter from Cuba, he's a double Olympic champion now. I thought I took the first round and he edged the second two, so I've got no complaints – I lost to a very, very good fighter. It is what it is. I'm proud to be part of the team. We've broke all the records from the last squads, with more medals. We'll go down in history as one of the best GB teams ever. I've got an Olympic silver medal, so it's a good platform to turn professional on and I'm ready for the pros. I've fought a lot of good Olympians."
43. Keely Hodgkinson: silver
Athletics: women's 800m
Teenager Keely Hodgkinson took a stunning silver to win Team GB's first women's 800m medal since 2004 and break Kelly Holmes's British record. The 19-year-old unleashed her potent kick finish to come from fourth to second and finish in 1:55.88. She came home 0.67 behind USA's Athing Mu, also 19, who won in a national record of 1:55.21. Hodgkinson delivered Team GB their first medal on the fifth day of the athletics programme at the Olympic Stadium. The 19-year-old from Wigan said: "That was such a good race from every single person in that race, it was so open and I wanted to leave it all out there. It's going to take a couple of days to sink in but I'm so happy. I'm pretty speechless right now. Kelly Holmes is a legend, she's going to be a legend for British Athletics for a long time. I've looked up to her, I spoke to her over the past couple of days and she's a lovely person, I just have no words for that. If the Olympics were last year, I wouldn't be here. It's definitely given me a chance to grow and compete with these girls."
44. Sky Brown: bronze
Women's skateboarding park
Sky Brown became Team GB's youngest Olympic medallist of all time with bronze in the skateboarding. Aged 13 years and 28 days, Brown finished behind Japan's Sakura Yosozumi and Kokona Hiraki, the latter just 12 years old. "I'm so stoked," she said. "I can't believe it, it's unbelievable. I'm so happy to be on the podium with these guys, it's insane. The medal feels unreal, it's like a dream. I can't wait to show the medal to my family and friends. I really hope I inspire some girls. I feel like people think I'm too young and I can't do it but, if you believe in yourself, you can do anything. I believed in myself and I'm here."
Sky Brown: 'I'm so stoked - I really hope I inspire some girls'
45. Frazer Clarke: bronze
Boxing: men's super-heavyweight
Frazer Clarke picked up Team GB's second boxing bronze medal of Tokyo 2020 after a semi-final defeat to Uzbekistan's Bakhodir Jalolov. The super-heavyweight bout was stopped in the third round after a nasty cut above Clarke's right eye opened up, leaving him unable to continue. The 29-year-old from Burton said: "It's not the fairy-tale that I wanted but I'm proud of myself, it's a great effort. The last six months of my life, I've made more sacrifices than I have done over the past 18 years when it comes to boxing. To get in there with one of the best, it's a pleasure and an honour for me. I'm proud of myself and the whole team. I'm healthy, my family is healthy, I made the Olympic Games - I couldn't ask for anything more. I wanted the Olympic final but my picture is on the wall in Sheffield, I've done myself proud and my town proud."
46. Ben Whittaker: silver
Boxing: men's light heavyweight
Ben Whittaker won silver in the men's light heavyweight final after being beaten on a split decision by Cuba's Arlen Lopez. The British boxer lost the first round 10-9 on all five judges' scorecards, while one judge awarded him the second after an improved round. But that still left him with too much to do and Lopez eased through the third to win gold. Whittaker, 24, from Darlaston, said: "No boxer wants to receive a silver medal, every boxer wants gold and I am one of those. When I look back in a few years, it will probably be a great achievement but right now I don't feel like it. I feel like the right man won. He was a lot better than I thought, he is a two-time gold medallist for a reason."
47. Hannah Mills and Eilidh McIntyre: gold
Sailing: women's 470
Hannah Mills and Eilidh McIntyre secured Team GB's third sailing gold medal of Tokyo 2020. Competing in the women's 470 class, the duo finished ahead of silver medallists Poland and France in bronze. Mills becomes the most successful female sailor in Olympic history after gold in Tokyo, gold in Rio and silver in London. The 33-year-old from Cardiff said: "It's been one of the hardest weeks of my life. I'm sure for Eilidh as well, just every day, not being able to eat, just nerves building up, the emotion of just we've done it. It's over. We've done what we came here to do and it's amazing." For McIntyre she follows in the footsteps of her father, Mike, who won sailing gold in the star class at Seoul 1988. The 27-year-old from Hayling Island said: "I can't believe that this has happened. I've dreamt about it my entire life. To my dad, thank you for everything. Thank you for being my inspiration, for being at the end of the phone whenever I wanted to talk. I want to thank my whole family and my poor mum… she's had to live through the stress of this twice!"
48. Ben Maher: gold
Equestrian: individual show jumping
Ben Maher followed in the footsteps of Nick Skelton by taking individual show jumping gold in a dramatic six-rider jump-off at Tokyo 2020. Maher and horse Explosion W went round in 37.85secs to take the title ahead of Sweden's Peder Fredricson by just 0.17s. His gold is Team GB's fifth equestrian medal in Tokyo, equalling their best-ever haul from London 2012 - where Maher became an Olympic champion for the first time. The 38-year-old from Elsenham in Essex said: "It doesn't seem real. I think it will sink in tonight or tomorrow morning, let's just say there has been a lot of pressure in the last couple of weeks. I am biased but I believe I am on the best horse, he is an incredible horse. I am relieved it is done and I am very happy right now."
49. Liam Heath: bronze
Canoe sprint: men's K-1 200m
Liam Heath claimed a record fourth canoe sprint medal from his third Olympic Games with K1 200m bronze in Tokyo. Heath held off Hungary's Kolos Csizmadia, who beat him in the heats and semi-finals, by 0.125s to reach the podium. Heath, Team GB's most successful paddler of all time, also won K1 200m gold at Rio 2016, K2 200m silver at London 2012 and K2 200m bronze in 2016. The 36-year-old from Guildford said: "You don't know where you've placed, you've done your best and pushed it as hard as you can do. If you can say that, getting off the water is a decent effort. To win a medal at a third games, it's hard to put it into words. It's what you're working towards, just to be at your best for these events. It's not gold but I'm happy with my performance."
50. Matt Walls: gold
Cycling track: men's omnium
Matt Walls scored 153 points across four different disciplines to beat New Zealand's Campbell Walsh for Team GB's first gold in the Izu Velodrome. In the men's omnium Walls led from the start with victory in the scratch race and he stayed consistent from there, finishing third in the tempo race and second in the elimination race. In the final points race, he was put under pressure from a charging Elia Viviani but Walls' proactive approach paid off, keeping a close eye on the Italian and eventually winning comfortably. The 23-year-old from Oldham said: "Coming in here, everything was a bit of an unknown. The last track race I did was the European Championships last year, which is a long way away. I came in knowing I was in good shape. I didn't know how it would translate to the track or my tactics from the track, it's been a long time since I have raced."
51. Holly Bradshaw: bronze
Athletics: women's pole vault
Holly Bradshaw delivered Team GB's first pole vault medal in Olympic history with a brilliant bronze in Tokyo. It's a memorable moment for Bradshaw, who was sixth at London 2012 before finishing fifth five years ago in Rio. The 29-year-old from Preston said: "This is what I've worked for through my whole career. I've had so many ups and downs, it's something that I've wanted so bad and it's finally happened. It's not sunk in. I'm almost emotionless because I don't know what emotion it is I'm feeling, it's relief, pure enjoyment and excitement. I'm proud of myself for sticking with it. I knew I could get it one day, I just can't express how grateful I am to be involved in this sport and finally get an Olympic medal."
52. Team GB women's hockey: bronze
Women's hockey
Team GB beat India in a 4-3 thriller to claim Olympic bronze and keep their proud place on the women's hockey podium. Goals from Ellie Rayer, Sarah Robertson, Hollie Pearne-Webb and Grace Balsdon held off a spirited India comeback. Team GB have now won women's hockey medals in the past three Olympic Games, with this latest honour adding to bronze at London 2012 and gold at Rio 2016. Captain Pearne-Webb, 30, from Belper, said: "I'm incredibly proud of this squad. It's been a tough five years. Really, really tough. We're all still here because we all had that little bit of belief deep, deep down. There have been times over the years where we've doubted if we could achieve this, I'm just so pleased and proud of everyone that we have. Olympic bronze, even just a few months ago, was in our wildest dreams. I'm so proud of all the girls, the whole squad, the whole support staff that have been involved."
53. Laura Kenny and Katie Archibald: gold
Cycling track: women's madison
Laura Kenny became Team GB's first female Olympian to win gold at three separate Games, as she and Katie Archibald showed complete dominance to triumph in the first-ever women's Olympic Madison. Kenny already had back-to-back omnium and team pursuit golds from London and Rio, as well as a team pursuit silver alongside Archibald earlier at Tokyo 2020. She added medal number six and Olympic title number five in style at the Izu Velodrome. The 29-year-old from Cheshunt said: "It's unbelievable. I'm just so glad. I've never wanted to win a race so badly in all my life." It was also Archibald's second Olympic gold and third medal in total. The 27-year-old from Milngavie said: "I've never wanted something so much and I've never been so nervous."
54. Jack Carlin: bronze
Cycling track: men's individual sprint
Jack Carlin won Team GB's fifth medal of the track cycling programme at Tokyo 2020 as he battled to bronze in the men's sprint. It means Carlin is now a double Olympic medallist after being part of the men's team sprint squad that took silver in Tokyo. The 24-year-old from Paisley said: "It was a tough day today, I didn't have the same in the legs as I did yesterday but I gave it my all and managed to come away with something. I got 20th at the Worlds last year and I said to myself that I'd never be in that place again. We focused a lot on the individual event in this extra year and it paid off."
55. Kate French: gold
Women's modern pentathlon
Kate French stormed to modern pentathlon gold with a phenomenal all-round performance in Tokyo. French started the decisive laser-run in fifth position, 15 seconds back following the swimming, fencing and show jumping disciplines. But a brilliant first pistol shoot helped her close the gap and by the end of the first of four 800m laps, she was in the lead and went on to win by 16 seconds. French, 30, from Meopham, Kent, said: "I don't know what just happened, I can't really believe it right now. I knew I had to focus, I knew I could do it if I just focussed on my shooting and ran as hard as I could. The team were in the stadium supporting, I could hear them in the crowd and everyone back home, I can't thank them enough for their support."
56. Laura Muir: silver
Athletics: women's 1,500m
Laura Muir secured a brilliant silver as she finally cracked the big stage podium with a British record performance in Tokyo. Muir has been threatening this graduation for the last six years, finishing fifth, fourth and fifth over 1,500m at the last three World Championships and seventh at the Rio Games five years ago. Muir, 28, from Milnathort, said: "I don't know what to say - I've worked so hard for so long. I've been fourth, fifth twice, sixth and seventh every year since 2015 and with everything last year being postponed and not knowing what was going on - I got a silver."
57. Asha Philip, Imani-Lara Lansiquot, Dina Asher-Smith and Daryll Neita: bronze
Athletics: women's 4x100m relay
Team GB claimed women's 4x100m Olympic bronze for the seventh time in their history. Asha Philip, Imani-Lara Lansiquot, Dina Asher-Smith and Daryll Neita set a 41.55secs British record in qualifying and while their handovers were not as slick, they had the speed to hold off their rivals. Jamaica and the USA streaked clear for first and second, the gold medallists running the second fastest 4x100m relay of all-time. Philip, Asher-Smith and Neita were all part of the team that won bronze in the event in Rio and they follow in the footsteps of the third-placed British quartets from 1932, 1952, 1964, 1980 and 1984. Neita, 24, from Camberwell, said: "For me, it was just doing the best for the team, waiting for Dina to come to me and having that confidence. I crossed the line with the team to get a bronze in 2016 and I knew we could do that again. I'm super proud of us, we've worked so hard and there's no limits for us."
58. Chijindu Ujah, Zharnel Hughes, Richard Kilty and Nethaneel Mitchell-Blake: silver
Athletics: men's 4x100m relay
Seventeen years after Team GB won Olympic men's 4x100m gold by a hundredth of a second in Athens, they were just pipped to gold by the same margin in Tokyo. Chijindu Ujah, Zharnel Hughes, Richard Kilty and Nethaneel Mitchell-Blake banked Great Britain's third athletics medal in the space of an hour on day 14, following Laura Muir's 1,500m silver and women's 4x100m bronze. Italy powered to their first-ever Olympic sprint relay title in a time of 37.50secs with Team GB's quartet clocking 37.51secs and Canada completing the podium. The British team, whose time was a season's best, were leading coming into the home straight but Mitchell-Blake was chased down by Filippo Tortu in the final stride. Kilty, 31, from Stockton-on-Tees, said: "We're Olympic silver medallists. In Rio, we finished fifth and so we wanted a medal, we went to win it but we were unlucky. This is unity and a team and we're in this together and we absolutely pulled it out as a quartet to win this medal. And in 20 years' time we will look at this as one of the best moments of our lives."
59. Galal Yafai: gold
Boxing: men's flyweight
Galal Yafai fulfilled his lifelong dream and became Olympic champion as he brilliantly won Team GB's first boxing gold of Tokyo 2020. Facing Carlo Paalam of the Philippines in the men's flyweight final, Yafai - who was eliminated at the round of 16 stage at Rio 2016 - boxed his trademark aggressive style and earned a split decision victory on the scorecards (4-1). Yafai is part of something of a boxing dynasty, with older brothers Kal and Gamal both having won titles at professional level, but the younger sibling now has bragging rights with his shiny new Olympic gold medal. The 28-year-old from Birmingham said: "Being Olympic champion is something I've always wanted to do. I'm Olympic champion now and I'm over the moon. I've worked hard, I took up boxing and thank god it worked out for me. Everyone back in Birmingham, the support I've had has been ridiculous, I just want to say a big thanks to everyone who has supported me. It's overwhelming, I'm just so grateful for everyone to show me that love."
60. Tom Daley: bronze
Diving: men's 10m platform
Tom Daley added individual 10m platform bronze to the synchronised gold he won alongside Matty Lee in Tokyo to become the first Team GB diver to win four Olympic medals. He matched his London 2012 result with six excellent dives but was beaten by record-breaking performances from China's Cao Yuan and Jian Yang. The 27-year-old from Plymouth said: "I am so happy that this Olympics has gone the way it has. I feel like a different athlete, I feel like I've been through so many different things over the years. At the end of May, I didn't even know if I was going to make it to these games. I tore my meniscus and had knee surgery, I always dreamed I'd be fit enough to come back and dive at these Olympics. If someone had told me I was going to win a gold and a bronze, I probably would have laughed in their face. I owe this medal to so many people. I'm standing on the podium but there are so many people behind the medal. I'm extremely happy to come away with another Olympic medal."
61. Matt Walls and Ethan Hayter: silver
Cycling track: men's Madison
Matt Walls and Ethan Hayter produced a stirring late surge for Madison silver as Team GB's velodrome medal tally swelled to six. The pair laid the foundation for a podium place by finishing in the top three in five of the first six sprints, including maximum points in the third. It was a second medal for Walls, who won omnium gold, with Hayter having taken part in the team pursuit. Walls, 23, from Oldham, said: "There was definitely some points in there we could have improved on but to say we haven't rode together and we haven't raced a Madison in a long time, there was obviously going to be some mistakes but we rode well and feeling good. We came away with a silver in the end so I'm pretty happy with it." Hayter, 22, from south London, added: "We were a lot closer to winning than I thought we would be. Matt thoroughly deserves the two medals he's got. He's had coronavirus and a bit of a tough time. It's amazing. It's an Olympic medal!"
62. Joe Choong: gold
Men's modern pentathlon
Joe Choong followed the lead of women's winner Kate French as he claimed men's modern pentathlon gold with a gun-to-tape victory in Tokyo. Choong led the field from the fencing ranking round and then kept his rivals at bay through the swim, bonus fencing round and ride, meaning he started the laser run with a 12-second advantage. Out of the shooting range and into the final 800m, he was stride for stride with Egypt's Ahmed Elgendy but finally sprung away in the last 200m, crossing the line five seconds ahead. No nation in Olympic history had ever won medals in both the men's and women's competition in the same Games. Now French and Choong have rewritten history with double gold. The 26-year-old from Orpington said: "I'm in shock. I was five when watching Sydney [2000], then Kelly Holmes in Athens. I've always said I've wanted to be the best in the world at something. This is a dream come true. Kate and I always seem to match each other's results so I was feeling the pressure to keep up with her."
63. Josh Kerr: bronze
Athletics: men's 1,500m
Josh Kerr won Team GB's first men's 1500m Olympic medal for 33 years as he smashed his personal best to take a brilliant bronze in an electrifying race at the Tokyo Olympic Stadium. Team GB have plenty of history in the event, with their five golds more than any other nation and five of the nine podium places during the Olympic Games of the 1980s taken by Brits. It has been a long wait since those heady days of Coe, Ovett, Cram and Elliott but Scotsman Kerr joined their legion as he crossed the line third behind Jakob Ingebrigtsen, who clocked an Olympic record time, and Timothy Cheruiyot. Kerr, 23, from Edinburgh, said: "I'm blown away. I'm so pleased I can give back to all those people who were able to sacrifice for me. When the first [athletics] medal came back to our Team GB camp through Keely [Hodgkinson] there was a sense of enjoyment through someone else. I had to take that away and think, 'I want to create that for myself.'"
64. Jason Kenny: gold
Cycling track: men's keirin
Jason Kenny became Team GB's most successful Olympian of all time with the seventh, and arguably best, gold medal of his glittering career. Kenny - who was level with Chris Hoy on six golds and Bradley Wiggins on eight medals - defended his keirin title in a stunning race at the Izu Velodrome to become the first Team GB athlete to win nine Olympic medals. The 33-year-old from Bolton said: "Seven gold medals is really special, when you look back on the ones you have already got it seems pretty easy. Then when you try and get more, you remember how hard it is. It is easy to forget the hard work that goes into it. I have been racing every race like it is my last, just trying to survive really. I think because I ran every race like it was a final, when I got to the final I was pretty well rehearsed. Once we rolled up in the final, for me it was carry on doing what we have been doing."
65. Lauren Price: gold
Boxing: women's middleweight
Lauren Price finished off a magnificent Olympic Games for Team GB with a 22nd gold to cement fourth place in the medal table. The Welsh boxer was the final Team GB athlete to compete at Tokyo 2020 and she put on a clinic in the boxing ring, outclassing Li Qian to win the middleweight crown with a unanimous decision. She joins Galal Yafai in winning gold at Tokyo 2020 with the boxing team winning six medals in all at these games, the sport's largest haul in 101 years. Price also becomes the second female boxer to strike gold for Team GB, following in the footsteps of Nicola Adams, champion at London 2012 and Rio 2016. Price, 27, from Ystrad Mynach, said: "I can't really put this into words - it's a dream come true. I still can't believe it, I've got to pinch myself but it just goes to show, if you dream and work hard enough, you can achieve anything. I'm over the moon, a huge thank you to everyone who supported me on this journey, from starting off at eight years of age, to everyone back at home who has shown me so much support. It means the world and it's got me through."

Continue reading for free
We hope you're enjoying The Week's refreshingly open-minded journalism.
Subscribed to The Week? Register your account with the same email as your subscription.