Syria 'planning a new chemical attack', US claims
White House warns President Bashar al-Assad he will 'pay a heavy price' if strike goes ahead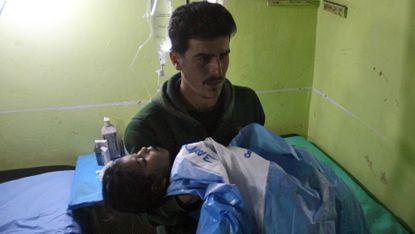 (Image credit: Omar Haj Kadour/Stringer)
Washington claims Syria is carrying out "potential preparations" to launch a new chemical attack and warned President Bashar al-Assad he faces a "heavy price" if he goes through with the plan.
"The United States is in Syria to eliminate the Islamic State of Iraq and Syria," a statement from the White House said. "If, however, Mr Assad conducts another mass murder attack using chemical weapons, he and his military will pay a heavy price."
The message "appeared designed to set the stage for another possible military strike by Mr. Trump", the New York Times says.
Subscribe to The Week
Escape your echo chamber. Get the facts behind the news, plus analysis from multiple perspectives.
SUBSCRIBE & SAVE
Sign up for The Week's Free Newsletters
From our morning news briefing to a weekly Good News Newsletter, get the best of The Week delivered directly to your inbox.
From our morning news briefing to a weekly Good News Newsletter, get the best of The Week delivered directly to your inbox.
UK Defence Secretary Sir Michael Fallon said Britain would back future military action should Syria use chemical weapons, as it had backed US missile strikes in April.
"As always in war, the military action you use must be justified, it must be legal, it must proportionate, it must be necessary. In the last case, it was ... If the Americans take similar action again, I want to be very clear, we will support it," he told BBC Radio 4's Today programme:
He added the US had not shared any specific evidence about the regime preparations, but said he expected to discuss the situation with US Defense Secretary General James Mattis at a Nato meeting later this week.
The warning comes amid escalating tensions between the US, Russia and Syria, after Moscow said it would consider US-led coalition aircraft as targets after an American plane shot down a Syrian jet on 18 June.
Assad is accused of being behind a chemical attack in April which claimed the lives of more than 80 Syrians. The US fired 59 Tomahawk missiles at the air base from which the attack was believed to have been launched in retaliation.
Damascus airport explosion 'was Israeli strike on Hezbollah'
27 April
A huge explosion near Damascus airport this morning was an Israeli strike on an arms depot operated by the Lebanese Hezbollah group, it has been claimed.
According to the UK-based Syrian Observatory for Human Rights, the blast was "huge" and could be heard in Damascus city, some 15 miles away.
Syrian opposition activists posted videos online showing a massive fire burning in the pre-dawn dark, while witnesses told Al Jazeera they saw a total of five strikes near the Damascus airport road.
Al Jazeera says it has been told by Syrian opposition sources that a Hezbollah arms depot was the target.
The Guardian reports that an Israeli minister appeared to confirm his country was behind the raid.
Intelligence minister Yisrael Katz said: "I can confirm that the incident in Syria completely conforms to Israel's policy, [which is] to act so as to prevent the smuggling of advanced weapons from Syria to Hezbollah in Lebanon by Iran.
"Naturally, I don't want to elaborate on this. The Prime Minister has said that whenever we receive intelligence that indicated an intention to transfer advanced weapons to Hezbollah, we will act."
Al Jazeera Middle East correspondent Hashem Ahelbarra said there had been no official comment from the Syrian government, but "we do understand that the Israelis have been carrying out air strikes in the past. The last one was in January targeting the Mezze military base.
"In 2015 they also launched attacks near the capital Damascus and in the Golan Heights, killing two prominent Hezbollah commanders, including Jihad Mughniya who is the son of the top military commander of Hezbollah Imad Mughniya who was also killed in Damascus in 2008."
Hezbollah, proscribed as a terror group by the US and Israel, is a Shia Islamist militant group based in Lebanon. It has been fighting in Syria as an ally of Bashar al-Assad's government for several years, says the BBC.
Damascus has remained relatively insulated from Syria's six-year civil war, the BBC says, although fighting between the Syrian military and rebels has erupted nearby in recent months.
US imposes sanctions on Syrian chemists over 'sarin' attack
25 April
Economic ban targets agency blamed for making deadly gas reportedly dropped on Khan Sheikhoun
Syrian government employees believed to be involved with a suspected sarin gas attack on civilians have been targeted in the US Treasury's largest ever spate of economic sanctions.
Restrictions have been placed on 271 people employed by the Syrian Scientific Studies and Research Center, which Washington accuses of producing the nerve agent dropped on the rebel-held town of Khan Sheikhoun on 4 April, killing at least 86 people. They can no longer carry out any financial activity with US citizens or companies and any US assets they hold are now frozen
The announcement "more than doubles" the number of Syrians and entities subject to US economic barriers, says the New York Times.
Those singled out for sanctions are well-educated senior officials who might have financial interests abroad, including in the US.
Treasury Secretary Steven Mnuchin said they hoped it would send a "strong message" to the Syrian regime.
"We take Syria's disregard for innocent human life very seriously and will relentlessly pursue and shut down the financial networks of all individuals involved with the production of chemical weapons used to commit these atrocities," he said.
Syrian President Bashar al-Assad denies using chemical weapons and "has accused the West of making up events in Khan Sheikhoun" as a pretence for US missile strikes on the airfield where his bomber planes are based, the BBC reports.
As of last month, the conflict in Syria has now lasted longer than World War II and has claimed the lives of at least 400,000 people.
The UN estimates that around half of Syria's 22 million residents have been displaced, with five million now living in neighbouring states such as Turkey and Jordan and another 1.3m having sought refuge in Europe.
Chemical weapon used in Syria attack confirmed as sarin gas
20 April
Tests have confirmed the chemical weapon sarin was used in the 4 April attack in Syria that killed at least 87 people.
The Organisation for the Prohibition of Chemical Weapons (OPCW) says samples from ten victims analysed at four laboratories provided "incontrovertible" results showing sarin, or a similar substance, was used.
At least 20 children were among the victims of the chemical attack on the rebel-held town of Khan Sheikhoun in Idlib province. Footage taken afterwards showed civilians foaming at the mouth and choking.
The attack has been widely attributed to Syrian President Bashar al-Assad's regime, with ally Russia one of few dissenting international voices.
The Syrian military denied using chemical weapons, and Russia's explanation that a Syrian air strike hit a rebel depot of chemical weapons has been widely rejected.
In retaliation, the US immediately launched its first air strike on Syria since the civil war began, firing 59 missiles at a government airbase it said had been used for attacks on civilians.
The samples tested by the OPCW were taken from three victims who had died and seven who survived.
The OPCW said it has a fact-finding mission ready to deploy to the town to carry out further analysis, if the security situation changes to make the trip possible.
According to Agence France-Presse (AFP), the OPCW will vote today on a "controversial" Russian-Iranian request to set up a new team to look into the attack, even though an OPCW investigation is currently underway.
This is an attempt to "sideline" the OPCW mission, and has "raised hackles" at the body's executive council, says AFP.
Following the attack, the UN Security Council considered a resolution condemning Assad and ordering him to allow the OPCW to investigate on the ground. The resolution was supported by the vast majority of Security Council members but vetoed by Russia.
Syria: G7 rejects Boris Johnson's calls for sanctions on Russia
11 April
Boris Johnson's call for tougher punitive measures against Russia has been roundly rejected by a meeting of G7 nations.
The Foreign Secretary had urged for sanctions on Russian officials in the wake of the chemical attack in Syria reportedly led by the Kremlin-backed Syrian government.
But the G7, which includes the US, France, Germany, Italy, Canada and Japan, as well as the UK, says there must be an investigation into the chemical weapons attack before new measures could be adopted.
Italy's foreign minister Angelino Alfano said the West "must not push Russia into a corner". Instead, diplomatic efforts should focus on encouraging Russia to use its "leverage" over Assad.
"We think the Russians have the leverage that is needed to put pressure on Assad and to get him to observe the commitments with regard to the ceasefire," said Alfano.
The UK and US believe that last week's chemical weapons attack opened a critical "window of opportunity" for Moscow to call time on its support for Assad and re-embrace the West.
Johnson had argued that targeted sanctions, aimed at individual military commanders, would be the most effective strategy to persuade Putin to cut ties with the Syrian regime, but these proposals were "sidelined", says the BBC.
The Anglo-American plan to turn up the heat on Putin failed to convince the other G7 nations and regional representatives.
Johnson maintained that his proposals "had a wide degree of acceptance" with the caveat that no action be taken until after the investigation was complete. "You've got to do these things in the proper, legal way," he told Sky News.
The G7's rejection of sterner measures means that US Secretary of State Rex Tillerson will embark on his postponed visit to Moscow tonight with "a hugely weakened hand," says the Daily Telegraph.
Syria: Will Russia retaliate against Trump for US air strike?
10 April
Last week saw a watershed moment of the Syrian war, when the US launched an air strike on Syria as punishment for President's Bashar al-Assad alleged use of chemical weapons against civilians.
Donald Trump may now have angered his Russian counterpart Vladimir Putin, a man the US President has gone lengths to defend and praise during both his election campaign and his tenure in the White House.
As a result, all eyes have now turned toward both Russia and Iran - Assad's closest allies - to try to predict the next move. But experts are divided as to what will happen.
What do the papers say?
Many sources agree that Trump's decision to bomb Syria has escalated tensions inside the already-fraught relationships between the countries in the war.
The Daily Telegraph reports that Russia and Iran have "threatened military retaliation" against the US, saying Trump crossed "red lines" with the move.
Metro adds that Assad told Iranian President Hassan Rouhani that Friday's strike was a "blatant violation" of Syrian sovereignty, a claim corroborated by Syrian state media.
In a joint statement, the alliance supporting the Syrian regime - which includes Russia, Iran and Lebanese militant group Hezbollah - warned: "From now on we will respond with force to any aggressor... and America knows our ability to respond well."
As a staunch ally of the US, the UK too has become embroiled. Speaking exclusively to the Sun, foreign secretary Boris Johnson claimed Trump had "delivered a clear and united message from the west".
The Daily Mail adds that Johnson will "lead calls for Russia to face 'complete international ostracisation' unless Vladimir Putin removes his support for the Syrian regime".
In response, the Russian embassy in London published a Twitter poll asking whether UK and US attempts to deliver an ultimatum would lead to "a war of clowns, a war of muses, a conventional war, or a mix of the above".
However, despite the intensifying war of words, The Times believes the pro-Assad alliance has limited scope for effective retaliation and that Moscow would want to avoid the risk of any additional sanctions before next year's presidential elections.
Syria: Trump's airstrikes win guarded praise
7 April
Military response was 'just', but concerns remain about unpredictable US foreign policy
The international community has responded with cautious enthusiasm to President Donald Trump's unexpected decision to order US airstrikes against a government military facility in Syria.
In the early hours of Friday morning, US Tomahawk missiles rained down on the Syrian government airbase believed to be responsible for a chemical attack that killed more than 75 people on Tuesday.
With the exception of Russian and Syrian state media, "leaders from around the world solemnly praised the act as a measured and fair response," Fox News reports.
A Downing Street spokesperson said the UK government "fully supports" Trump's decision to escalate the US response to Assad's regime.
Australian Prime Minister Malcolm Turnbull, with whom Trump had a reportedly stormy phone call earlier this year, called the airstrikes "swift and just".
The Turkish government went even further, urging the US to step up the intervention. "The Assad regime's barbarism must immediately be stopped," deputy prime minister Numan Kurtulmus said.
Among those welcoming the move were some of Trump's detractors, although their praise came with reservations.
Liberal Democrat leader Tim Farron, who previously criticised Theresa May for offering Trump a state visit, said the party "will not condemn" the US airstrikes or the "intention behind them".
"However, we disagree with the way in which he conducted it – unilaterally, without allies, outside of a wider strategy," Farron said.
Regardless of the purity of his intentions, Trump's sudden volte-face on Assad hardly inspires confidence, says The Guardian's David Shariatmadari.
"Major strategic decisions should not be made like this," he writes. The idea of the unpredictable and image-conscious president directing an intervention in Syria is "frankly terrifying".
Donald Trump launches US air strike in Syria
07 April
The US has attacked a Syrian airbase in response to the chemical weapons strike on the rebel-held city of Idlib on Tuesday, which killed 86 people.
US Navy destroyers in the eastern Mediterranean Sea fired 59 Tomahawk cruise missiles at the Shayrat airbase, which the US says was used to launch Tuesday's attack, the Pentagon confirmed this morning.
In a televised address, Donald Trump said the missile strike was in the "vital national security interest" of the US.
He added it was a direct response to this week's chemical weapons attack, which he blamed on "Syrian dictator" Bashar al-Assad.
"Assad choked out the lives of innocent men, women and children. It was a slow and brutal death for so many. Even beautiful babies were cruelly murdered in this very barbaric attack," Trump said.
The US President called on "all civilised nations" to join the country in "seeking to end the slaughter and bloodshed in Syria, and also to end terrorism of all kinds and all types".
Pentagon spokesman Captain Jeff Davis said the US used a hotline set up to minimise the risk of aerial combat between American and Russian warplanes to alert the Kremlin prior to the missile strike.
"The Russians are sure to have routed that warning to Assad, raising immediate questions about what the strike will have accomplished, and also signalling that the US does not seek escalation," The Guardian says.
The Americans also took "extraordinary precautions" to avoid hitting Russians who were at the facility, say US officials.
"Their presence at a base linked to chemical weapons raises questions about how much the Kremlin knew of Assad's plans to use them," The Times reports.
US Secretary of State Rex Tillerson described the missile strike as a "proportionate" response to the use of chemical weapons, telling reporters the country had a "high degree of confidence" that sarin gas was used.
It comes the day after Tillerson "signalled a sudden shift in policy by the Trump administration, saying that Bashar al-Assad should have no role in a future Syria", the BBC says.
Syria: What happens next after 'chemical attack' and will Trump get involved?
6 April
Images of the dead and wounded following an apparent chemical weapons attack against civilians in Syria have been met with horror and outrage from the international community.
UN observers believe the strike was launched by President Bashar al-Assad's regime and are set to vote on a resolution that will demand an investigation.
But not everyone thinks it will make a difference.
We've been here before, says the BBC's Jonathan Marcus. There was a similar cry in 2013, when Syrian forces first used chemical weapons, including the nerve agent sarin. But "when push came to shove", Marcus says, the tough talk proved to be just that.
The fact that the world is once again witnessing the use of chemical weapons in the conflict simply highlights "just how little progress has been made," he adds.
The expressions of shock and disgust from world leaders also ring hollow to The Guardian's Jonathan Freedland.
"For six long, bloody years atrocities have continued in Syria - and nothing happens," he writes.
The west has "concluded that it does not have the means or, crucially, the will to stop the agony", he continues, allowing Assad's regime to violate international law with impunity.
A world where the use of illegal chemical weapons against civilians is a "terrifying prospect", but that is where the inaction of Western powers has led us, concludes the journalist.
Tuesday's attack has changed at least one thing - Donald Trump's ambivalence towards Assad appears to be a thing of the past.
The US President told reporters the attack was an "affront to humanity" and had made him change his mind about Syria.
"I now have responsibility", he said. "It crossed a lot of lines for me."
Trump's comments "marked a change in tone", says The Times, which interprets them as a threat of action, although "there was no immediate sign of a shift in policy".
But while the atrocity "seemed to awaken Trump's sense of moral responsibility", says the Chicago Tribune, it also poses a major headache to his "America First" policy.
At his inauguration in January, Trump promised a platform of pragmatic nationalism - and while Assad's regime may offend US values, it "does not present an immediate threat to America's security or its economic interests", argues the paper.
The White House now faces a difficult choice: demonstrate the "America First" platform on the world stage or embrace a more engaged foreign policy.
Syria: UN calls for emergency talks over 'gas attack'
5 April
The UN has called an emergency meeting following an alleged chemical attack in Syria, said to have killed 100 people, including 20 children.
More than 400 were also injured in the air strike in the rebel-held Idlib province on Tuesday morning, which is believed to have used the nerve agent sarin.
The UK, US and France have proposed a Security Council resolution condemning the attack in the "strongest terms". It will be voted on today.
The resolution also demands that President Bashar al-Assad provides UN investigators with details of the operation and "access to air bases where investigators believe attacks using chemicals may have been launched", Reuters reports.
Witnesses say planes dropped a toxic substance which left locals "choking and fainting", with some filmed "foaming at the mouth", says Sky News.
One rescue worker said: "They were unconscious. They had seizures and when oxygen was administered, they bled from the nose and mouth."
Chemical weapons specialist Dan Kaszeta told the BBC that nerve agents are far more lethal than the chlorine gas used in previous air strikes. If proven, the attack "will represent a grave escalation" of the Assad regime's use of chemical warfare.
Both Syria and its Russian allies have denied responsibility for any chemical attack. Russia's defence ministry claimed a government air strike had hit a "terrorist" warehouse containing toxic chemicals, The Guardian reports.
Foreign Secretary Boris Johnson said the attack appeared to be a "war crime", while US Secretary of State Rex Tillerson called it an act of "brutal, unabashed barbarism".
Assad's forces have repeatedly been accused of using illegal weapons against rebel fighters and civilians.
In 2013, UN inspectors confirmed sarin had been used in an attack near Damascus. The trajectories of the missiles suggested the strike originated from a government military base.
Infographic by www.statista.com for TheWeek.co.uk
Suspected chemical attack kills dozens in Syria
04 April
Nine children are among the dozens of people killed in a suspected chemical attack on the rebel-held Idlib province in Syria.
Planes carrying weaponry laced with chemicals raided the town of Khan Sheikhoun on Tuesday morning and again in the early afternoon, aid workers and activists said.
According to the UK-based Syrian Observatory for Human Rights, the attack caused many people to choke or faint and some had foam coming out of their mouths. Medical sources told the group the symptoms were sign of a gas attack.
If confirmed, says the BBC, it would be one of the deadliest chemical attacks in Syria's civil war.
Idlib province is largely controlled by an alliance of rebel factions and the al-Qaeda-linked jihadist group Hayat Tahrir al-Sham, reports the BBC.
Mohammed Rasoul, who is in charge of a charity ambulance service in the region, said his team found people choking in the street.
"I am speaking to my team and they are doing fine, but the situation over there is very bad and most of those who are suffering are children," he added.
A doctor named Mohammad said more than 200 were wounded and that most of those who were near the centre of the attack are either dead or in intensive care.
AFP reported that a rocket "slammed into a hospital… bringing rubble down on top of medics as they struggled to deal with victims".
Activist groups blamed Syrian President Bashar al-Assad's regime for the attack, but the government denied carrying out air strikes in the area.
Turkey has opened its border crossing at Reyhanli to allow victims through for treatment as few hospitals in Idlib are able to treat the symptoms of chemical attacks due to repeated bombings of medical facilities.
However, there were reports that casualties driven to a different crossing on the Turkish border were experiencing difficulties in entering the country for emergency relief, reports The Guardian.
The attack comes a day after Al-Jazeera reported that "a new military alliance of rebel groups in northern Syria" were aiming to "consolidate military control over Idlib province".
Today's raid "indicated the growing confidence" Assad has thanks to "unflinching support of Moscow and Shia militias backed by Iran, as well as waning support for the opposition by its allies in the region and the new American administration", says the Guardian.
It will also cast doubt on the "signature achievement" of Barack Obama's administration, which negotiated the destruction of Assad's chemical arsenal in 2013, adds the paper.
Syrian peace talks get off to a shaky start
24 January
Syria's peace talks got off to a rocky start yesterday when rebel groups refused to meet President Bashar al-Assad's government and a war of words broke out between the two sides.
Mohammad Alloush, head of the rebel delegation, said he was "ready to go to the ends of the earth" to end six years of bloodshed, which has seen 300,000 people killed and 11 million displaced, but the continued attacks on rebel areas near Damascus meant he could not take part in the first round of direct talks.
A political solution was the rebels' preferred choice, Alloush added, but it was "not the only one".
Bashar Jaafari, the lead government negotiator, labelled the opposition delegation "terrorists" and underscored his commitment to keeping Assad in power.
The Russian and Turkey-brokered talks are the first between armed opposition groups and the regime since war erupted in Syria in 2011. They are taking place in the Kazakh capital of Astana, the first time they have been held outside Geneva.
They are also outside the US and EU sphere of influence. The two-day summit "is a showcase of the new power-brokers in the region, with an increasingly disengaged Washington left sidelined", says the Daily Telegraph.
The summit represents "a test of Moscow's influence in the Middle East", says The Guardian. Russia believes the talks could prove more fruitful than previous efforts, "partly because [former US president] Barack Obama's administration is not involved, but also because the opposition has been weakened by defeat in Aleppo and because Turkey, once a hardline opponent of Assad, has recognised that his departure from office is no longer a precondition for political talks".
Mehmet Simsek, Turkey's deputy prime minister, has said: "We have to be pragmatic, realistic. The facts on the ground have changed dramatically, so Turkey can no longer insist on a settlement without Assad. It is not realistic."
One western diplomat said the fall of Aleppo to government forces in December had "changed everything", robbing the rebels of their last major urban stronghold from which to challenge Assad's rule.
While Donald Trump's new administration declined a late invitation to send any senior diplomats to the summit, analysts believe it is Russian President Vladimir Putin's intention to include Washington in the process, "particularly now there is a president less hostile to the Kremlin", says the Telegraph.

Continue reading for free
We hope you're enjoying The Week's refreshingly open-minded journalism.
Subscribed to The Week? Register your account with the same email as your subscription.