Afghanistan needs interpreters to be brave and stay at home
It is not Britain's 'moral obligation' to give the Army's Afghan war interpreters automatic asylum here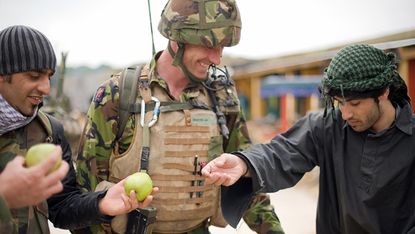 (Image credit: 2009 AFP)
OLIVER CROMWELL came within a whisker of emigrating to Connecticut in 1634, eight years before the English Civil War began in which he was to become the outstanding battlefield commander.
He hated the religious restrictions being placed on his fellow Puritans by Charles I and his bullying Archbishop of Canterbury, William Laud. He also despaired that the king's arbitrary power and the violence that might flow from it seemed unstoppable. Some of his closest friends had already departed.
Instead, he stayed and went on to consign the idea of an English absolute monarchy to the dustbin of history. In choosing to stay and fight tyranny, Cromwell and many others made a decision that still benefits us today.
Subscribe to The Week
Escape your echo chamber. Get the facts behind the news, plus analysis from multiple perspectives.
SUBSCRIBE & SAVE
Sign up for The Week's Free Newsletters
From our morning news briefing to a weekly Good News Newsletter, get the best of The Week delivered directly to your inbox.
From our morning news briefing to a weekly Good News Newsletter, get the best of The Week delivered directly to your inbox.
As the clock ticks towards our military departure from Afghanistan there must be many Afghans praying that not everyone who can leave on the coat-tails of the departing Western armies will do so.
When the British army formally ceased combat operations in Iraq on 30 April 2010, the Labour government resettled in this country – en masse - nearly 900 Iraqi interpreters who had helped our troops on the ground.
David Cameron and his ministers are now under pressure to do the same for 600 or so Afghan interpreters. So far, they have refused - insisting that each case will be considered on its merits.
Ex-military peers have spoken against the government in the House of Lords on the issue. General Sir Michael Jackson, Lord Ashdown and others wrote an open letter to The Times condemning the policy in strong terms. They conclude that those who have stood shoulder to shoulder with our troops in the field should be given immediate and apparently unrestricted asylum in this country, without going through the normal procedures – that it is our "moral obligation" to take them in, and presumably, eventually, their families.
The most effective, and convincing, argument for immigration is that very often it is the best and brightest who leave their impoverished or war-torn homelands to seek a new life in the West. Such people can blossom in a "free" country in a way impossible for them at home. They become "net contributors" to their adopted countries both in economic terms because they work hard, and in terms of respect for the host society, because they understand only too well that the rule of law and civic society are essential underpinnings to both personal freedom and economic opportunity.
This would almost certainly be true of the Afghan interpreters. They have, after all, served alongside British soldiers for more than a decade; 20 of them have been killed in action and many more wounded.
Emma Lazarus, the American poetess, put it most movingly in her sonnet The Great Colossus, later engraved on the base of the Statue of Liberty when it was put up in 1903. The final stanza is the best known:
'Give me your tired, your poor,/ Your huddled masses yearning to breathe free,/The wretched refuse of your teeming shore./Send these, the homeless, tempest-tost to me,/I lift my lamp beside the golden door!'
But there is a problem – immigration is a zero-sum game. The qualities and energies some immigrants bring to their new countries are lost to their old ones.
I am glad I am not in their boots. Clearly, there will be some difficult cases where an offer of asylum here will be the right action. But the Afghan interpreters who have helped our boys are precisely the sort of people who are going to be needed in the future Afghanistan when the Western troops depart. What sort of example does it set to other Afghans as they lobby, in some cases aggressively, for asylum in the West? Wouldn't it be better if most of them stayed?
It is not our national "moral obligation" to accommodate them but rather their "moral obligation" to remain in their own country and stand shoulder to shoulder with their own countrymen. Cromwell did, thank God.

Continue reading for free
We hope you're enjoying The Week's refreshingly open-minded journalism.
Subscribed to The Week? Register your account with the same email as your subscription.