What does Narendra Modi's second term have in store?
Controversial Hindu nationalist Indian PM promises further economic reforms following landslide election victory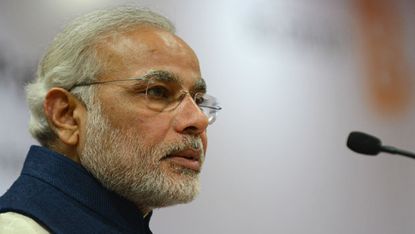 (Image credit: SAM PANTHAKY/AFP/Getty Images)
Narendra Modi was sworn in for a second term as India's prime minister today, after a landslide win in the world's largest election.
More than 900 million people were eligible to take part in the five-week vote, which delivered a "stupendous victory" for his incumbent Bharatiya Janata Party (BJP), Al Jazeera says. The results, announced on 23 May, signalled the country's significant support for his Hindu nationalist agenda.
Modi has served as PM since 2014 and spent his first term attempting to tackle the country's significant unemployment and, controversially, upping the hostile rhetoric between India and its neighbour and rival Pakistan. His ruling BJP party's manifesto for the election was "crafted on the theme of a 'Sankalpit Bharat, Shashakt Bharat', or 'determined India, empowered India'", Delhi-based news site NDTV reports.
Subscribe to The Week
Escape your echo chamber. Get the facts behind the news, plus analysis from multiple perspectives.
SUBSCRIBE & SAVE
Sign up for The Week's Free Newsletters
From our morning news briefing to a weekly Good News Newsletter, get the best of The Week delivered directly to your inbox.
From our morning news briefing to a weekly Good News Newsletter, get the best of The Week delivered directly to your inbox.
But not everyone is happy. CNN says that while "much of the country celebrated the stunning victory of a man who has promised economic reform and development", others, especially minorities and liberals, have "grown increasingly concerned about the impact of the BJP's Hindu nationalist background on the country's secular fabric".
Before Modi assumed office, India's economy was "barely growing" and was "near the bottom of major international rankings, next to its neighbours Pakistan and Bangladesh", says Forbes. Now, Modi promises that his second term will see him build a so-called New India that can "curb corruption, spur economic growth, and advance the interests of the growing 'neo-middle-class' of erstwhile villagers striving to reinvent themselves as middle-class consumers", reports The Atlantic.
So how did Modi first come to power?
Who is Narendra Modi?
Modi was born on 17 September 1950 in a small town in northern Gujarat.
According to the Encyclopaedia Britannica, he joined the right-wing Hindu nationalist Rashtriya Swayamsevak Sangh (RSS) paramilitary organisation in the early 1970s and "rose steadily" through its hierarchy. At the same time, Modi also studied political science at Gujarat University, completing a master's degree in 1983.
He defected to the more moderate BJP in 1987, and was made the general secretary of its Gujarat branch the following year.
In 2001, Modi was appointed the chief minister of Gujarat, cementing his place as a significant power in Indian politics.
But his first few years in this office were plagued by a poor public image. The BBC reports that as chief minister, Modi was accused of "doing little to stop the 2002 religious riots when more than 1,000 people, mostly Muslims, were killed", drawing international condemnation.
However, he was later given credit for the rapid growth of the state's economy, and his overwhelming majorities in local election victories saw him launch a bid to become PM. He subsequently won the 2014 election, forming the first absolute majority government in India since 1984.
What has his premiership been like?
Polarising, to say the least.
To some, the reign of Modi has been a total failure. During his 2014 campaign, Modi "promised jobs, development, and growth" as "hopeful Indians handed the BJP... a mandate for reform", reports The National Interest. But despite favourable conditions that "should have helped him make good on promises", these pledges remain largely unfulfilled, forcing the BJP to become "increasingly populist and nativist" in recent years as the party's reputation for promoting economic opportunity wanes, the news site continues.
Sky News adds that sectarian violence and unemployment have risen considerably since Modi took over.
But to others, the picture is more nuanced. The BBC says Modi is "loved and loathed in equal measure", but notes that his government has launched a "number of nationwide programmes to build smart cities, cleanliness and bridge the digital divide", and "promises to cut red tape and aims to turn the country into a global manufacturing hub".
Sheer luck has also had a part to play in his successes. "Inflation has been tamed and the fiscal deficit contained" as a result of cheap commodity prices, particularly oil, rather than governmental policies, according to the broadcaster.
Nevertheless, questions remain over a stubbornly sluggish economy and, in particular, what The Atlantic calls "two spectacular self-inflicted crises" - a surprise demonetisation programme that the government said was designed to root out corruption, and a "bungled roll-out of a nationwide goods-and-services tax".
Despite a lukewarm economic performance, he has developed an enormous supporter base through the use of strong, often controversial, Hindu nationalist rhetoric.
The Daily Mail reports that during his five years as prime minister, Modi has "pushed to promote this secular nation of 1.3 billion people and nine major religions - including about 170 million Muslims - as a distinctly Hindu state", a stance that has "emboldened Hindu hardliners".
In March this year, Modi secretly appointed a panel of scholars with the express aim to "use evidence such as archaeological finds and DNA to prove that today's Hindus are directly descended from the land's first inhabitants many thousands of years ago, and make the case that ancient Hindu scriptures are fact not myth". This move, according to Reuters, has triggered fears among members of the country's Muslim minority that the government wants to make them second-class citizens.
Meanwhile, Modi's legacy on the international stage will probably be shaped by his oversight of India's dramatically deteriorating diplomatic relationship with Pakistan.
Sky News says that among Hindu nationalists, it is "important for [Modi] to demonstrate that he is defending his country from attacks by a militant group based in Pakistan that is opposed to Indian control in Kashmir". His recent claims that India would "isolate" Pakistan on the world stage has boosted his polling figures substantially, the news site notes.
What happens now?
Modi appears - from a political perspective - to be all but unstoppable. The Atlantic says the BJP has secured a "new electoral mandate even more impressive than the last", which amounts to "a testament to Modi's unmatched political prowess".
But the Financial Times reports that questions will remain over the economy, and "particular attention will be paid to the finance ministry at a time when India's economic growth has slowed sharply".
The paper adds that Modi is also "increasingly interested in deepening integration with the Bay of Bengal region", especially given "further inroads of the BJP into India's eastern region and China's growing presence".
The Atlantic suggests that Modi may attempt to reclassify parts of the country as urban areas in a similar fashion to China, a move that it says would "completely shift the statutory responsibilities of local governments".
"Urban governments must do the important work of funding fire departments, building sewage lines, and drafting building standards," the news site says. "India's current policy of closing its eyes to emerging cities is helping to ensure that its cities are filthier, more chaotic, and less economically productive than they would be otherwise."
But to others, the economic and infrastructural issues must take a back seat while larger social problems are tackled - particularly that of growing animosity between the Hindu and Muslim communities in India. Al Jazeera accuses the BJP and its supporters of "undoubtedly propagating an aggressive and grotesque brand of nationalism designed to consolidate a fragmented Hindu identity by othering and demonising minorities".
CNN says that attacks under the name of so-called "cow protection" have risen since Modi came to power, adding that between May 2015 and December 2018, 44 people suspected of killing or transporting cows for slaughter, or even just eating beef, were killed in vigilante attacks. Thirty-six of these victims were Muslims.
Human Rights Watch complains that many of the murders have gone unpunished in part due to delayed police investigations and "rhetoric" from ruling party politicians, which may have incited mob violence.
"They are closing all opportunities for us - education, employment - all the doors are being shut," said Yusuf Qureshi, president of the Muslim All India Jamiatul Quresh Action Committee. "Every day we see incidents circulating on social media where minorities are being beaten and abused, he should be able to control them and punish them."

Continue reading for free
We hope you're enjoying The Week's refreshingly open-minded journalism.
Subscribed to The Week? Register your account with the same email as your subscription.