Why internet users in Austria face losing their anonymity
Right-wing coalition government proposes law forcing citizens to give their real names and addresses to websites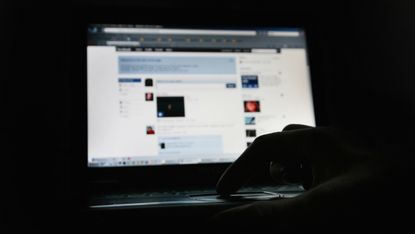 (Image credit: Getty Images)
The Austrian government is considering controversial new legislation that would strip internet users of their anonymity.
Culture and Media Minister Gernot Blumel has published a draft bill that according to The Times, would "force large websites such as Twitter and YouTube to gather real names and addresses".
The proposal has been endorsed by Chancellor Sebastian Kurz, who heads the government coalition between the centre-right Austrian People's Party (OVP) and the far-right Freedom Party of Austria (FPO).
Subscribe to The Week
Escape your echo chamber. Get the facts behind the news, plus analysis from multiple perspectives.
SUBSCRIBE & SAVE
Sign up for The Week's Free Newsletters
From our morning news briefing to a weekly Good News Newsletter, get the best of The Week delivered directly to your inbox.
From our morning news briefing to a weekly Good News Newsletter, get the best of The Week delivered directly to your inbox.
"Unfortunately there have been an increasing number of clear violations, denigrations and humiliations online in the past under the cover of anonymity," Kurz tweeted. "That's why we need a framework for more responsibility online."
But critics have accused the government of overreach, with one expert telling The Times that the plan amounted to a "frontal attack on internet society". Others have voiced concerns about a loophole that would allow extremist websites to dodge the regulation.
If passed by the Austrian parliament and granted EU approval, the Bill is due to come into force in 2020. So who could be affected, and how?
What exactly is being proposed?
Earlier this month, Blumel published a draft bill titled "Diligence and Responsibility on the Web" that details various cybersecurity and internet laws in Austria. It also contains plans for new regulation that would require internet users to provide their real name and address to websites before commenting or taking part in online discussions.
"This way, people who attack others, conduct online bullying or indulge in racism will be held accountable," says technology news site TechNadu.
The text of the Bill states that every user would have to register but that they would not have to post publicly under their real name. Instead, they could choose to specify a username to appear on their posts. This would be linked privately to their registered full name, enabling the authorities to track their online activity.
The law would only apply to websites that have more than 100,000 registered users, more than €500,000 (£432,000) in annual income, or that receive annual government subsidies of €50,000 (£43,000) or more. The Bill is expected to affect about 50 companies, including Facebook and Google, while retail platforms such as eBay would be exempt, The Times reports.
What do critics say?
Technology experts have condemned the Bill for a variety of reasons. The most commonly cited issues centre around the exemptions for certain websites.
Tech news site VPNCompare says that since the new rules would only apply to sites with high numbers of registered users and annual revenue, the changes would not affect "those communities most like to engage in abusive online activity", such as extremist forums and websites.
Privacy issues are also a major concern. "At its heart, this is a massive restriction of freedom of expression and a massive breach of European data protection laws," said Jorg Leichtfried, deputy parliamentary leader of Austria's Social Democrats.
In addition, databases containing the information of online users forced to register "will undoubtedly be a target for hackers", adds VPNCompare.
The possible punishments for violating the proposed rules have also raised eyebrows, amid reports that people who do not register their real name may be fined up to €100,000 (£86,000), while companies who violate the new law could have to shell out up to €1m (£860,000).
What do supporters say?
The Austrian media minister claims the Bill would ensure that "legal requirements that are valid in the analog world" would be made "valid in the digital world".
"That is why there is now an abundance of resolutions to make the correction," Blumel told reporters. "The so-called digital anonymity ban is an additional step in that direction. The online space should not be a space without laws."
But commentators have accused Blumel of lacking in-depth knowledge of internet law, and of trotting out platitudes when pressed on the benefits of the law.
In an article in German newspaper Die Presse, Rosa Schmidt-Vierthaler writes that Blumel's "mantra-like" repetition that "principles of the rule of law must also apply on the internet" reveal his lack of understanding.
Last week, Blumel was questioned on television by talk show host Martin Thur, who attempted to pick apart the Bill by comparing it to being forced to give a full name and address when entering any public place. Blumel snapped back that Thur's comparison was "nonsense" and that he didn't "know what he is talking about" - a defensive response that "outraged" many viewers, says Schmidt-Viethaler.
Whatever the verdict of the Austrian parliament, the Bill is likely to face resistance in the EU courts. According to tech law expert Lukas Feiler of law firm Baker McKenzie, the draft law is a violation of the EU's e-commerce directive.
Thomas Lohninger of civil rights group Epicenter Works told German-language website Der Standard: "It's remarkable how little thought has gone into this."

Continue reading for free
We hope you're enjoying The Week's refreshingly open-minded journalism.
Subscribed to The Week? Register your account with the same email as your subscription.