Seven tourist destinations recovering from disaster
Tourist hotspots from New Orleans to Egypt have been struck by disasters such as terrorism and hurricanes. How have they recovered?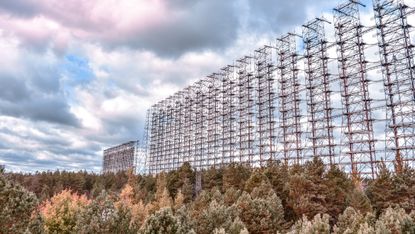 Sign up to our 10 Things You Need to Know Today newsletter
A free daily digest of the biggest news stories of the day - and the best features from our website
Thank you for signing up to TheWeek. You will receive a verification email shortly.
There was a problem. Please refresh the page and try again.
Aside from garnering rave reviews from critics and the public, HBO's smash hit historical miniseries Chernobyl has also facilitated the rise of another, more surprising cultural phenomenon - disaster tourism.
The site of the most devastating nuclear accident in history, near Pripyat, Ukraine, has steadily grown in popularity since the exclusion zone around the power plant was opened to the public in 2011. In 2013, 8,000 tourists a year were visiting, soaring to 65,000 by 2018.
But the success of the TV show has led experts to believe that the number of tourists visiting Chernobyl could top 100,000 this year.
Subscribe to The Week
Escape your echo chamber. Get the facts behind the news, plus analysis from multiple perspectives.
SUBSCRIBE & SAVE
Sign up for The Week's Free Newsletters
From our morning news briefing to a weekly Good News Newsletter, get the best of The Week delivered directly to your inbox.
From our morning news briefing to a weekly Good News Newsletter, get the best of The Week delivered directly to your inbox.
Alexandra Chalenko, a tour guide for the nuclear power station, said: "We are joking amongst each other that we don't want a second HBO season."
Whether on the receiving end of a natural disaster such as a hurricane or earthquake, an industrial accident or a terrorist attack, here's a look at some of the world's most-visited disaster tourism hotspots.
Puerto Rico
The Caribbean Island of Puerto Rico is home to clear waters, a sprawling mountain range and rainforests lined with palm trees, making it a popular tourist destination.
In 2017 it was struck by disaster— twice. Both Hurricane Irma and Hurricane Maria hit the island, causing catastrophic damage and sparking a humanitarian crisis.
The entire island lost power and the total number of casualties topped 3,000, according to CNN.
The US government pledged $16 billion in disaster relief, much less than the $94.4 billion requested by Puerto Rico Governor Ricardo Rosselló.
Despite the scale of the tragedy, three months later the island declared itself open for tourism, seeing it as a source of revenue to rebuild.
According to Forbes, operators have organised rebuilding-themed tours, with so-called voluntourism excursions to help clear damaged beauty spots.
Puerto Rico's tourism sector is now experiencing a boom, according to the Caribbean Journal, set to reach record levels this year.
The government has announced a major new $1.5 billion destination resort development, anchored by a new Hyatt Regency hotel, as well as the reopening of other newly renovated luxury resorts.
Turkey
Straddling Europe and Asia, Turkey offers a uniquely diverse cultural landscape. Tourists come to visit relics of Byzantine and Ottoman history, including the Hagia Sophia and the Blue Mosque. Beach vacations are another attraction.
Turkey has grappled with unrest and violence for decades, partly due to domestic clashes with Kurdish groups and internal political turmoil, which culminated in a failed coup in 2016.
It's proximity to Syria and involvement in its Civil War also contributes to instability.
There have been several high profile terrorist attacks in recent years. Istanbul Atatürk Airport was attacked in 2016, killing 48, and the Vodafone Arena was bombed months later, killing 46.
In 2017 an Islamic State gunman killed 39 people and wounded 79 others at a nightclub in Istanbul.
Tourism reached a 10-year low in 2016, but rates have increased since.
This has been partly due to Turkey's embrace of the "halal tourism" trend, which involves offering segregated pools and beaches for women as well as halal foods and a no alcohol policy, according to TRT World.
The halal tourism industry is worth approximately $226 billion globally, according to the Halal Summit Council, and Turkey is the fourth most popular destination for it.
Meanwhile, Istanbul remains a top destination for tourists from around the world. The city reached a five-year record of 5.5 million tourists in the first five months of this year, according to Hurriyet Daily News.
Chernobyl
Rather than being a tourist destination damaged by disaster, Chernobyl is a tourist destination because of its disaster, part of a trend called dark tourism.
The nuclear power plant accident, which took place in Ukraine in 1986, is considered the worst nuclear disaster in history, both in terms of cost and casualties, says the BBC.
In 2011, the site finally opened to visitors, and today scores of tourists flock there. Tours offer the chance to enter the exclusion zone to explore the now nearly empty town of Pripyat, visit a nuclear reactor and learn about the disaster.
In 2018, 1.4 billion international tourists visited, according to CNN.
Interest in visiting has substantially increased since the release of HBO series Chernobyl, which dramatises the disaster. One Chernobyl tour agency reported a 40% rise in trip bookings since the series, reported Reuters.
New Orleans, Louisiana
The southeastern US city, nicknamed the Big Easy, is world famous for its jazz music, Louisiana Creole cuisine and vibrant annual Mardi Gras festival.
In 2005 disaster struck in the form of Hurricane Katrina. Nearly 1,500 lives were lost, more than 80% of the city was flooded, and the loss of housing led to a population decline of over 50%, according to a Kaiser Family Foundation report.
According to The Seattle Times, a decade after the hurricane "the city's tourism has not only rebounded. It's practically been reinvented".
After a "lost decade" of tourism, Fortune says the city today has a "more upscale and family-friendly vibe" than it did before the hurricane.
After welcoming just 3.7 million visitors year after Katrina, it is now grappling with overtourism. The city's historic centre currently receiving more than five times the number of tourists per resident than the centre of Venice, reports The Independent.
Egypt
Egypt is steeped in history, home to millennia-old monuments and archaeological sites, including the Pyramids of Giza and Abu Simbel. Its seaside resorts are also popular with tourists.
However, the tourism sector has been damaged by a series of terrorist attacks on tourists since the 1990s, most famous being the Luxor massacre of 1997, in which 62 people - mostly holidaymakers - were killed.
Despite this, millions of tourists still flocked to Egypt each year, until the 2011 uprising that toppled Hosni Mubarak, which brought about years of political turmoil and unrest.
A plane downed in 2015 killed all 224 people on board, the majority of which were Russian tourists, while terrorist attackers breached resorts in the city of Hurghada in 2016 and 2017, killing several guests.
However, Egypt's tourist industry has rebounded, with figures showing nearly nine million tourists visited Egypt in 2018, up from 5.4 million in 2016, according to The National.
The National credits the recovery is to "improved security and aggressive marketing."
Security at tourist sites has been tightened and a large-scale military campaign against religious extremism has significantly reduced the number of attacks.
In 2018 Egypt also partnered with National Geographic to produce a promotional campaign for its tourism, along with other award-winning campaigns around the world, says The Egypt Independent.
British Virgin Islands
The tropical British Virgin Islands are a popular yachting destination, known for their white sand beaches and dense rainforest.
Hurricane Irma struck in 2017, killing four and destroying or damaging 85% of buildings on the main island, according to The Guardian.
Before the hurricane, tourism had been responsible of 95.9% of GDP and directly or indirectly supporting 83.7% of jobs, according to the World Tourism & Travel Council - so rebuilding the tourist infrastructure was a priority.
Since Irma, Tortola Pier Park has been renovated and more than 1,000 hotel rooms and 3,200 berths are now available, "many using the aftermath of the storms to significantly upgrade", according to Forbes.
Travel Agent Central says the territory expects over 200 port calls and 400,000 passengers in the 2018/2019 season.
Tunisia
The north African country of Tunisia is home to a range of archaeological exhibits, from Roman mosaics to Islamic art, as well as beautiful natural landscape featuring canyons and beaches.
However, after a gunman opened fire on guests at a hotel beach in Sousse, Tunisia, in 2015, killing 38 people - 30 of them British - tourism plummeted. Visitor numbers fell by 25% to 5.4 million in 2015, and revenue from tourists dropped by 35%, according to CNN.
Four years on, the Tunisian government is expecting a record nine million tourists in 2019.
The Foreign Office lifted travel restrictions in 2017 after Tunisia worked closely with the UK and other Western governments to bolster its security, according to the BBC.
Since the Sousse attack, security on hotel beaches and tourist coaches has been stepped up, with closer cooperation between hotels and police.
Police have been trained in how to better spot suspicious activity and the British MI6 have reportedly worked with Tunisia to improve its intelligence-gathering capabilities.
Several Tunisian airports have also undergone complete overhauls of security, with the assistance of British aviation security experts.
However, continued violence endangers its shaky recovery in tourism, with twin suicide bombings striking the capital in June of this year.
Continue reading for free
We hope you're enjoying The Week's refreshingly open-minded journalism.
Subscribed to The Week? Register your account with the same email as your subscription.
Sign up to our 10 Things You Need to Know Today newsletter
A free daily digest of the biggest news stories of the day - and the best features from our website