How Justin Trudeau lost his 'golden boy' image
The Canadian PM swept into power on a wave of optimism - but the tide has turned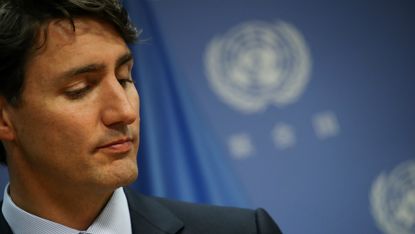 (Image credit: Drew Angerer/Getty Images)
Canada's Prime Minister Justin Trudeau is facing unwanted scrutiny over a push by his government to expand an oil pipeline, with critics accusing him of undermining his environmentalist credentials.
The former "golden boy" of Canadian politics instructed officials to buy the Trans Mountain pipeline for C$4.5bn (£2.76bn) last year, in a bid to help the country's struggling energy industry, says Reuters.
"Work recently restarted after the government reapproved the project in June, but the pipeline hit another snag on Wednesday when a federal court said it would allow six legal challenges by First Nation groups to go ahead," the news agency reports.
Subscribe to The Week
Escape your echo chamber. Get the facts behind the news, plus analysis from multiple perspectives.
SUBSCRIBE & SAVE
Sign up for The Week's Free Newsletters
From our morning news briefing to a weekly Good News Newsletter, get the best of The Week delivered directly to your inbox.
From our morning news briefing to a weekly Good News Newsletter, get the best of The Week delivered directly to your inbox.
The situation is a major headache for Trudeau, who has been counting on the support of environmentalists in his bid for re-election when voters go to the polls in October.
Prior to the pipeline purchase, Trudeau was widely praised for his environmental efforts, which included committing Canada to the Paris Climate Agreement and passing a national carbon-pricing plan that came into effect earlier this year.
But the oil row is by no means the only stumbling block that he's hit since his Liberal Party swept to victory in the 2015 federal election.
"There is disappointment because he came in with big promises of doing politics differently. And that hasn't materialised," says Keith Stewart, senior energy strategist at Greenpeace Canada.
So just why has "the most handsome politician in the world" lost his shine?
SNC-Lavalin scandal
Trudeau came under fire earlier this year over allegations that he and his political inner circle tried to pressure then-justice minister Jody Wilson-Raybould to drop a case against one of Canada's largest engineering companies, LNC-Lavalin.
Testifying to Canada's House of Commons, Wilson-Raybould described a "consistent, sustained" campaign by officials close to the PM that included "veiled threats".
SNC-Lavalin has been accused of paying tens of millions of dollars in bribes to the family of Muammar Gaddafi, the former Libyan dictator, between 2001 and 2011 in return for construction contracts, reports the London Evening Standard.
If the case goes to trial and the company's executives are found guilty, SNC-Lavalin would be banned from being awarded any government contracts for a decade - which is bad news for the firm's 50,000 employees, 9,000 of whom are based in Canada.
It's also bad news for Trudeau, who has come under intense scrutiny for his role in the scandal. Last month, the Canadian ethics commissioner ruled that the PM had violated conflict of interest rules by trying to influence a corporate legal case, a verdict that marked "the low point of Trudeau's almost four-year tenure", says Reuters.
He was also forced to defend his feminist credentials after ejecting Wilson-Raybould and another female minister from the Liberal Party in the wake of the row, with critics claiming he had made the two women scapegoats, says Canada's national broadcaster CBC News.
In response, Trudeau insisted: "We have an extraordinary range of extremely strong women in our caucus and cabinet who continue to work on good things for Canadians."
Sexual misconduct claims
The PM suffered another blow to his image as a feminist when allegations of historic sexual misconduct against a journalist resurfaced last year.
In an anonymous editorial in the Creston Valley Advance, a British Columbia-based local newspaper, the alleged victim claimed that Trudeau "groped" her at a music festival in 2000. She wrote that he subsequently offered a "day-late" apology of sorts, telling her: "If I had known you were reporting for a national paper, I never would have been so forward."
When quizzed about the allegations, Trudeau said he didn't remember the encounter, reports CBC News.
He added: "I've been working very hard to try and piece it together, and even when the original editorial came out at the time I was fairly confident, I was very confident, that I hadn't acted in a way that I felt was in any way inappropriate."
The woman at the centre of the claims, identified as former journalist Rose Knight, subsequently said: "The incident referred to in the editorial did occur, as reported. Mr Trudeau did apologise the next day.
"I did not pursue the incident at the time and will not be pursuing the incident further - the debate, if it continues, will continue without my involvement."
Immigration
Commenting in 2017 on Donald Trump's attempt to ban Muslims from entering the US, Trudeau tweeted: "To those fleeing persecution, terror and war, Canadians will welcome you, regardless of your faith. Diversity is our strength."
But the PM has yet to drop the Third Safe Country Agreement that allows Canada to turn asylum seekers away at the border with the US on the grounds that the latter is a more secure country for refugees, says The National.
However, Trudeau's fans point out that he continues to welcome immigrants to Canada, reports Toronto-based Global News.
Earlier this year, he tweeted: "We are incredibly lucky in Canada for a whole bunch of reasons, but one of them is that Canadians remain one of the few people in the world who are, generally, positively inclined toward immigration, whether we're looking at Europe or other places around the world."
India trip
A state visit by Trudeau to India in February 2018 left him looking "silly, diminished and desperate" in the eyes of many back home, according to The Washington Post.
The trip got off to a bad start when it emerged that Sikh extremist Jaspal Atwal - convicted of attempted murder of a former Indian minister, and previously affiliated with a terrorist group - was invited to a dinner in Delhi to honour the Canadian leader.
The invitation was rescinded following widespread criticisms, but not before Atwal had been photographed with members of Trudeau's entourage - including his wife, Sophie.
And the PM's subsequent attempts to win back favour by wearing Indian apparel and taking part in bhangra dancing were a "cringeworthy moment to an India trip already fraught with controversy", says Canadian broadcaster CTV News.
Aga Khan's private island
In another overseas trip gone wrong, the Candian ethics commissioner in 2017 ruled that Trudeau had violated the Conflict of Interest Act by accepting an all-expense paid family holiday at the private Bahamian island owned by Prince Karim Aga Khan IV, the billionaire spiritual leader of the world's Ismaili Muslims.
Defending his actions, Trudeau argued that it was a private visit with an old family friend.

Continue reading for free
We hope you're enjoying The Week's refreshingly open-minded journalism.
Subscribed to The Week? Register your account with the same email as your subscription.