What happened to Donald Trump's campaign promises?
President is facing a Democrat-led impeachment inquiry as he campaigns for second term in the White House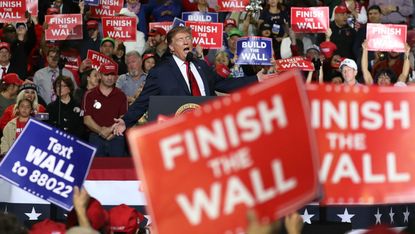 (Image credit: Getty Images)
US voters have more than a year until they head to the polls for the next presidential election but Donald Trump is already out on the campaign trail trying to convince them to give him a second term.
Just over four years ago, he came down the golden escalator at Trump Tower to declare his candidacy for president, announcing that the "American dream is dead".
Making outlandish promises ranging from banning all Muslims entering the US to building improbable walls, Trump captured the imagination of a disillusioned electorate to claim power ahead of his Democrat rival Hillary Clinton.
Subscribe to The Week
Escape your echo chamber. Get the facts behind the news, plus analysis from multiple perspectives.
SUBSCRIBE & SAVE
Sign up for The Week's Free Newsletters
From our morning news briefing to a weekly Good News Newsletter, get the best of The Week delivered directly to your inbox.
From our morning news briefing to a weekly Good News Newsletter, get the best of The Week delivered directly to your inbox.
Fast-forward to today and Trump is claiming to have made good on his pledges through slogans such as "Promises Made, Promises Kept" and "Keep America Great".
But is that true? We take a look at some of his most notable campaign pledges and whether they have come to fruition:
The wall
The pledge:
Perhaps the most extraordinary campaign promise Trump made was that his administration would build a wall along the US-Mexico border to drastically reduce illegal immigration from Latin America. It was first mooted by Trump during his June 2015 announcement speech, during which he said "I would build a great wall, and nobody builds walls better than me, believe me, and I'll build them very inexpensively, I will build a great, great wall on our southern border. And I will have Mexico pay for that wall."
The pledge became so popular among right-wing voters that it spawned a cultural movement of its own and even facilitated the rise of a chant - "Build the Wall!" - which could be heard at almost every Trump rally prior to his election.
The reality:
The wall has been something of a sticking point for Trump, who has failed to live up to this campaign pledge.
After a strong rebuke from Mexico about it paying for the wall, and having not secured funding for it during the first two years of his presidency when Republicans controlled all three branches of government, Democrats successfully blocked nearly $6bn in funding for the wall in the longest government shutdown in history in January this year.
He has since sidestepped Congress to declare a national emergency in relation to illegal immigration, but Trump has still not been able to gain all of the money wanted for his wall, Newsweek reports.
According to Politifact: "As matters stand, Mexico has not paid for a wall. Congress has not appropriated money for a wall. Fencing is being built or has been completed at the southwest border. But not a wall."
Promise kept?
No. Trump promised a wall and so far we have seen nothing of the sort.
Muslim ban
The pledge:
Following a deadly shooting in December 2015 in San Bernardino, California, Trump made a speech in which he said he would implement "a total and complete shutdown of Muslims entering the United States until our country's representatives can figure out what is going on".
The reality:
A week after taking office, Trump signed an executive order suspending immigration from seven Muslim-majority nations - Iran, Iraq, Libya, Somalia, Sudan, Syria, and Yemen - and stopped the entry of Syrian refugees. The ban sparked mass protests across the US and was immediately challenged in court, and successfully so. However, a modified version was ultimately upheld by the Supreme Court.
The Trump administration argued that it was not banning immigration based on religion, and was driven instead by national security concerns. This, however, was undermined when Trump's personal attorney Rudy Giuliani told Fox News that Trump had called him about the implementation of a "Muslim ban" and asked him to form a committee to show him "the right way to do it legally".
The New York Times notes that, controversially, the list "excluded Saudi Arabia and Egypt, where the founders of Al Qaeda and many other jihadist groups have originated", while Pakistan and Afghanistan, "where persistent extremism and decades of war have produced militants who have occasionally reached the US", were also omitted.
Promise kept?
No. Trump promised a "total and complete shutdown" of Muslims entering the US, but as Politifact says, his executive orders "accomplished substantially less - ultimately only restricting the entry of people from five Muslim-majority nations".
–––––––––––––––––––––––––––––––For a round-up of the most important stories from around the world - and a concise, refreshing and balanced take on the week's news agenda - try The Week magazine. Get your first six issues for £6–––––––––––––––––––––––––––––––
Repealing Obamacare
The pledge:
The BBC says that one of Trump's "trademark rally pledges" was to repeal and replace the Affordable Care Act - also known as Obamacare - which was "his predecessor's attempt to extend healthcare to the estimated 15% of the country who are not covered".
From the start of his campaign, he routinely described it as a "disaster" and promised to repeal and replace it entirely.
The reality:
Despite controlling all three branches of government up until late 2018, Trump failed to pass a full repeal of Obamacare, and efforts to pass a so-called "skinny repeal" died on the Senate floor twice - most notably with a late-night intervention by a terminally ill John McCain.
However, lawmakers were later able to repeal a key provision of Obamacare as part of the later move to implement tax reform. This, according ot Newsweek, "eliminated the individual mandate that required people to buy health insurance or pay a fine".
Promise kept?
Once again, no. Despite Trump's attempts to destroy the legislation, Obamacare is still standing - albeit somewhat weakened - and millions of people are still enrolled.
Tax cuts
The pledge:
During his presidential campaign, Trump pledged to cut taxes for everyone, but stopped short of supplying details.
"Everybody is getting a tax cut, especially the middle class," Trump said in an interview during the campaign.
The reality:
A gigantic $1.5trn Republican-sanctioned tax cut passed the Senate in December 2017, bringing corporation tax down from 35% to 21% and significantly lowering individual tax rates.
The BBC notes that wealthy Americans are expected to benefit more than poorer ones under the tax code rewrite, but Trump supporters are likely to view this as a significant legislative victory.
Promise kept?
Yes.
Bringing back manufacturing jobs
The pledge:
In a country with a working class devastated by the outsourcing of manufacturing jobs to overseas allies, Trump told America's blue-collar workers in 2016: "Don't sell your houses. Manufacturing's going to come back to your area."
The Atlantic reports that at a campaign rally that summer in Columbus, Ohio, Trump promised to make the state - along with other rust-belt states - a "manufacturing behemoth", and later told supporters in Detroit, Michigan: "My plan includes a pledge to restore manufacturing in the United States."
The reality:
Forbes reports that in the last 30 months of President Barack Obama's term, manufacturing employment grew by 185,000, or 1.5%.
In President Trump's first 30 months, however, manufacturers added 499,000 jobs, expanding the sector by 4%. The overall unemployment rate in the US has fallen to 4%.
This again is likely to be seen as a triumph for Trump, but not everyone is convinced. The BBC reports that the historically low unemployment rate "doesn't tell the whole story" because the US Bureau of Labor Statistics classifies people as unemployed "if they do not have a job, have actively looked for work in the prior four weeks, and are currently available for work". People who have not actively looked for work are classed as "not in the labour force" and thus are not counted under the "unemployed" label.
"There are many reasons people can come into that category," the broadcaster says. "They may not want to work, if they are retired or are a full-time housewife or househusband. They may have other caring responsibilities that prevent them taking paid employment."
Promise kept?
Yes, for now.
Withdrawing from Paris Climate Agreement
The pledge:
Trump has long been sceptical of climate science, frequently expressing his uncorroborated view that climate change is a hoax perpetrated by China. As a result, he was a strong critic of the 2015 Paris Agreement, which prompted nations to keep the increase in global average temperature to below 2C above pre-industrial-era levels.
Prior to his election, Trump stated that the regulations laid out in the agreement were stunting manufacturing and job market growth in the US and pledged to abandon it entirely.
The reality:
On 1 June 2017, Trump announced that the US would pull out of the Paris climate agreement.
"As of today, the U.S. will cease all implementation of the non-binding Paris accord and the draconian financial and economic burdens the agreement imposes on our country," Trump said.
The UK's then prime minister Theresa May told Trump of her "disappointment", stating in a phone call with the president: "The Paris agreement provides the right global framework for protecting the prosperity and security of future generations, while keeping energy affordable and secure for our citizens and businesses."
Promise kept?
Yes, unequivocally.
Withdraw from Iran nuclear deal
The pledge:
In the election campaign, Trump promised that he would take the US out of the "terrible" Joint Comprehensive Plan of Action, also known as the Iran nuclear deal.
This deal, signed by President Obama and a number of other countries in 2015, dictates that Iran should redesign, convert and reduce its nuclear facilities, and in return the international community would lift all nuclear-related economic sanctions.
Trump's view was that Iran was an untrustworthy regime that either was or would in future fail to stick to its obligations in regards to the deal. He called the nuclear pact a "disaster" and "the worst deal ever negotiated" during his campaign and said it could lead to a "nuclear holocaust".
The reality:
Trump rather unceremoniously withdrew from the agreement in early 2018, claiming: "We cannot prevent an Iranian bomb under the decaying and rotten structure of the current agreement. Therefore, I am announcing today that the United States will withdraw from the Iran nuclear deal."
The reaction from the international community was that of dismay, as the US's involvement in the deal had been seen as a key factor to its effectiveness, and in the 18 months since Washington's withdrawal the US has been dragged to the brink of all-out war with Iran. A situation that was once stable is now critical.
As Vox notes, Trump "took a major geopolitical flashpoint that had been contained and blew it wide open".
Promise kept?
Yes, although the chain reaction resulting from his decision to withdraw from the agreement has threatened to jeopardise his stance as a staunch isolationist.

Continue reading for free
We hope you're enjoying The Week's refreshingly open-minded journalism.
Subscribed to The Week? Register your account with the same email as your subscription.