Meliá Serengeti Lodge review: all the comfort of the wilderness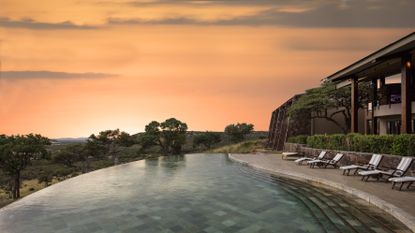 Even for the well-travelled, the Serengeti conjures a very particular sense of adventure – its immense plains detached from anything resembling civilisation; a rare wilderness where nature holds the upper hand and safe passage is only guaranteed within the confines of a Land Cruiser. It's fairly telling that in Swahili, safari simply means journey.
Just getting to Meliá Serengeti Lodge, then, is an extraordinary experience in its own right. Including the lone pilot, there were just five of us onboard the miniature plane from Arusha to Seronera Airstrip in the heart of the park, and still conditions were snug. "Pride Rock!" called the captain at one point, gesturing to an outcrop below and undoubtedly aware that Disney's The Lion King is proscribed in-flight viewing for those on flights to Tanzania, myself included. Needless to say, the polished landscapes of celluloid do scant justice to the reality.
Beyond the airstrip's solitary building, a finely turned out Meliá guide awaits incoming guests. Confronted with a combination of crisp white shirt, waistcoat and French-style pith helmet, I immediately wished I'd made more of an effort or had, at the very least, pressed the wrinkles out of my sagging khaki trousers. A flask of coffee, chilled decanter of hibiscus juice and even a couple of biscuits – laid out on a picnic table – made for an unexpected but urbane welcome. Wilderness or no wilderness, there was clearly no question of slumming it.
Subscribe to The Week
Escape your echo chamber. Get the facts behind the news, plus analysis from multiple perspectives.
SUBSCRIBE & SAVE
Sign up for The Week's Free Newsletters
From our morning news briefing to a weekly Good News Newsletter, get the best of The Week delivered directly to your inbox.
From our morning news briefing to a weekly Good News Newsletter, get the best of The Week delivered directly to your inbox.
The lodge lies about an hour's bush drive from the strip and quickly stole the top spot in my hitherto unconsidered list of hotel transfers. With lion, giraffe and elephant sightings en route, I'm not sure the usual motorways or industrial sprawls will cut it here on out.
Even the average hotel arrival has possibly been spoilt for eternity, for Meliá Serengeti Lodge clings to the ridge of a hill and, beyond the main doors, a view of the endless plains and Mbalageti River Valley unfurls. With most of the public areas essentially canopied but open, there's a profound feeling of being at one with the surrounding landscape. From the high vantage point, herds of elephants can be seen ambling by and flocks of birds are mere pinpricks in a vista that stretches to the horizon. It is awesome, in the most honest sense.
As dusk falls, the hotel's terrace bar makes for a neat sundowner spot, although even the most accomplished G&T is always going to play second fiddle to the blood orange sky.
"You'll need to go with one of the guides," I'm told, when I suggest returning to my room to shirk off my crinkled getup, in favour of something more supper-worthy. "Oh I can find my way," I announce, confident that I won't be bested by a five-minute stroll along the open-air path. "The issue is, something may find you." And with that, a robed Maasai tribesman arrives, spear in hand, to act not just as escort for the poor-of-direction but trained protector of the walking-edible. Personally, I'd pay extra for any great escape so authentic it involves the possibility of being dragged off by a big cat, however unlikely.
Considering the grounds have been known to harbour various wild animals, the rooms embody an orderly but relaxed luxury, with four-poster beds, tasteful decoration and large private balconies. All face the plains, so spectacular views come as standard.
In concept and design, Meliá Serengeti Lodge plays not just to its natural backdrop but also the culture of the region. Many of the ornamental flourishes were handmade by the Maasai and their unique talents and knowledge of the Serengeti are tapped in a reciprocal, respectful and celebratory way. As one of the hotel's team explained, "We're here to contribute to this place; to help others discover and appreciate it, but not to exploit it."
This sense of responsibility extends to the property's environmental credentials, with sustainable water bottling and energy plants on site, as well as soaps and fabrics made in collaboration with an NGO that fosters employment opportunities for local mothers, while supporting their children through education.
In the restaurant, Tanzanian dishes feature proudly and at the al fresco Boma, patterned, hand-woven Maasai blankets are offered to guests to fend off the evening chill. Here, a central fire pit casts flickering shadows across the circular seating area and lanterns sway from the tree branches. Dinner is set to a soundtrack of distant animal calls and insects humming. At the all-day-dining spot Savannah, cuisine changes nightly.
In the Serengeti activity days start early, often before sunrise, and while there aren't many things in life are worth a 4am departure time, a hot air balloon ride over the grasslands is one. Only a few permit holders are allowed to drive through the park during the hours of night, which makes the long journey by jeep to the departure site a rare jaunt in itself. Far-off forks of lighting lit up the otherwise impenetrable darkness while, at times, the headlights would briefly catch on roadside wanderers; silhouettes of elephants and giraffes suddenly there and, in an instant, gone. By dawn I was ascending into clear skies aboard a mammoth stripped balloon, a Jules Verne fantasy come to life. It's just one of many remarkable escapades that the hotel can organise for would-be adventurers.
That being said, game drives are of course the main attraction and Meliá Serengeti Lodge is particularly well-kitted to deliver. The specially fitted Land Cruisers are not only robust transportation but come complete with a few unanticipated luxuries: plug sockets to charge weary cameras, top notch binoculars and an ice bucket filled with refreshments.
The hotel's guides are famously among the best and my own, Joshua, was quick to point out that it's often an experienced guide, more than luck, that will deliver. Knowing the landscape, the habits of its inhabitants and the impact of the changing seasons is key. When we stumbled upon a pair of lion brothers and, separately, a curious hyena, we had them entirely to ourselves – something that just doesn't happen in the likes of South Africa's Kruger Park.
Not to harp on about 'experiences', but Meliá Serengeti Lodge is ultimately more experience than stay. It's beautiful, yes, and with its modern gym and spa has all of the amenities and neat trimmings one expects of a 5-star property. But its greatest success is perhaps in harnessing the grandeur of its location and departing it as unforgettable moments.
On my last day in the bush, mosquito bitten and vaguely sun kissed, I pulled up a chair under the shade of a wide and ancient tree. Lunch had been set up on a wooden table, complete with china and silverware. Nearby a chef scurried between makeshift cooking stations and the noble Maasai tribesmen held fort, scanning the wide expanse around. We ate in the wild in impossibly civilised fashion, after an off-road trek on a route available exclusively for the lodge. As I surveyed the surrounding savannah I was reminded of my naff in-flight viewing: while 'everything the light touches' was far from ours, Meliá certainly made it feel as though it was.
Stay at Meliá Serengeti Lodge, full board, from $800 (£616). www.melia.com. +255 746 810 810

Continue reading for free
We hope you're enjoying The Week's refreshingly open-minded journalism.
Subscribed to The Week? Register your account with the same email as your subscription.