The Invitation review: a disturbing immersive evening
Billed as 'Eyes Wide Shut meets Seven', The Secret Theatre Project's awkward show fails on both counts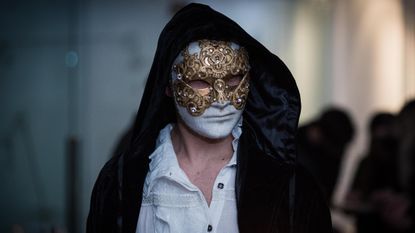 Arriving at the glamorous Town Hall Hotel in Bethnal Green for the Secret Theatre Project's latest extravaganza, we don't quite know what to expect. As far as immersive experiences in London go, we could be heading into a bar in which a few performers twirl awkwardly around us, or we could be roped into a full-scale production in which we're expected – horror of horrors – to do some thinking for ourselves.
Given that the The Invitation is billed as "Eyes Wide Shut meets Seven", we're mostly hoping that we are not about to be either gruesomely murdered or invited into an orgy. I'm relieved to say we suffered neither fate, but aside from that, there wasn't a whole lot we enjoyed about the show.
The concept is that you're arriving at a masquerade party at a posh private members' club-slash-brothel, which is "invitation only", meaning that you have to hand over a secret password in order to enter. So far, so exciting. The party kicks off with some drinks and live music, and a fairly impressive raunchy dance routine. This is the "Eyes Wide Shut" element of the evening. Then there are screams and commotion – and we discover there has been a murder.
Subscribe to The Week
Escape your echo chamber. Get the facts behind the news, plus analysis from multiple perspectives.
SUBSCRIBE & SAVE
Sign up for The Week's Free Newsletters
From our morning news briefing to a weekly Good News Newsletter, get the best of The Week delivered directly to your inbox.
From our morning news briefing to a weekly Good News Newsletter, get the best of The Week delivered directly to your inbox.
From there we are shepherded from room to room by two very shouty detectives who proceed – more or less – to act out a similar, but very thin, sketch of the plot of David Fincher's film Seven (starring Brad Pitt and Kevin Spacey). The names of the characters are the same as in the film, the methods of murder are similar, and the basic concept of murder victims who have committed the seven deadly sins remains in tact.
–––––––––––––––––––––––––––––––For more arts reviews - and a concise, refreshing and balanced take on what really matters - try The Week magazine. Start your trial subscription today –––––––––––––––––––––––––––––––
This is an odd choice for two reasons. Firstly, for those who have seen the film, the mystery is ruined from the beginning. They're just forced to watch a poorly acted version of it play out, with dialogue lifted directly out of the movie, but chopped up and super-glued back together to a point where it no longer makes any sense. For those who haven't seen the film, this choppiness manifests as a bizarre, muddled plotline and a very unbalanced tone. There are few things more awkward than a room full of people repeatedly being told to "REMAIN CALM!", as they look on in deadpan bemusement.
The second and bigger problem, though, with basing a show like this on a film like Seven – a film that depicts extreme, gruesome violence – is that, taken out of context, the violence comes off as completely tasteless. In a psychologically thoughtful film, the audience is given time to understand the specific violent acts, and told of them with some nuance. We as an audience were given none of this, and were simply presented with horror stories in a cheap effort to shock. Some of the violence described is of a sexual nature, and the tactless way in which it is dealt with left me, and I suspect a lot of women in the room, feeling very uncomfortable.
All in all, the show left behind a bitter taste. It seems to have an exciting premise, a dramatic venue, and some talent behind it. But somehow none of it comes together. And the manic, uneven tone left us most of the time unsure of whether we wanted to laugh, cry or vomit.
secrettheatres.com

Continue reading for free
We hope you're enjoying The Week's refreshingly open-minded journalism.
Subscribed to The Week? Register your account with the same email as your subscription.