Amir al-Mawli: who is the new Isis leader?
Terror group's head thought to have been behind 2014 genocide of Yazidis in Iraq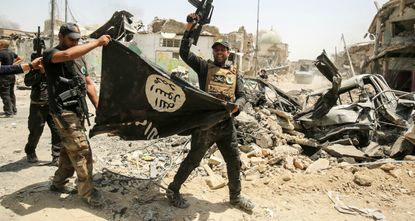 (Image credit: AHMAD AL-RUBAYE/AFP/Getty Images)
The US government has placed the new leader of Islamic State (Isis) on its official blacklist of terrorists and offered a $5m reward for information leading to his capture.
After the assassination of the terror group's founder and former leader Abu Bakr al-Baghdadi last October, US intelligence has struggled to obtain information relating to his successor. It initially named Abu Ibrahim al-Hashimi al-Quraishi as the new caliph of Isis.
But according to The Times, recent investigations by Washington officials have revealed that this was a nom de guerre for Amir Mohammed Abdul Rahman al-Mawli, who has now been confirmed as the new leader of the ultra-violent group.
Subscribe to The Week
Escape your echo chamber. Get the facts behind the news, plus analysis from multiple perspectives.
SUBSCRIBE & SAVE
Sign up for The Week's Free Newsletters
From our morning news briefing to a weekly Good News Newsletter, get the best of The Week delivered directly to your inbox.
From our morning news briefing to a weekly Good News Newsletter, get the best of The Week delivered directly to your inbox.
US Secretary of State Mike Pompeo has categorised al-Mawli as a specially designated global terrorist, putting him on an infamous government blacklist.
Pompeo claimed the new leader "was previously active in al-Qa'eda in Iraq and is known for torturing innocent Yazidi religious minorities". But what else do we know about the new leader of the world's most feared terrorist group?
Who is al-Mawli?
After previously admitting that they had struggled to paint a clear picture of al-Mawli – chiefly because of his use of pseudonyms – US intelligence personnel have managed to piece together a profile of the new Isis leader.
They have stated that he was born into an Iraqi Turkmen family in the town of Tal Afar, and holds a degree in sharia law from the University of Mosul.
The Counter Extremism Project reports that upon the completion of his studying, he served as an officer in Iraqi dictator Saddam Hussein's army. But following the US-led occupation of Iraq and the capture of Hussein in 2003, he "turned to violent extremism and eventually took on the role of religious commissary and a general Sharia jurist for al-Qa'eda".
In 2004 he was detained by US forces in Camp Bucca prison in southern Iraq, which is where he is understood to have met al-Baghdadi. Upon his release, he is thought to have rejoined al-Qa'eda before breaking away and pledging loyalty to Isis in 2014.
The Guardian reports that al-Mawli "rose through the ranks helped by his background as an Islamic scholar", fast becoming "one of the most influential figures in the regime". The paper also notes that he is one of the few non-Arabs among the leadership of the group.
Genocide of the Yazidis
Following Isis's rise to prominence in the mid-2010s, it perpetrated a brutal genocide against the Yazidi religious minority group in northern Iraq in 2014, of which al-Mawli is understood to have been the mastermind.
The Times reports that "an estimated 5,000 Yazidis were killed and hundreds of women and girls captured, enslaved and raped as militants rampaged across the Sinjar region of northern Iraq".
Al-Mawli is said to have led the attacks and later produced Islamic edicts that attempted to justify the massacre.
CNN reports that in 2019, a former Isis "amni" (member of the security apparatus) calling himself Abu Muslim al-Iraqi gave a testimony to controversial independent journalist and researcher Aymenn Jawad Al-Tamimi. In it, al-Iraqi states that the genocide of the Yazidis – in which he had taken part – was organised and sanctioned by al-Mawla, referring to him using the alias "al-Hajj Abdullah".
"The attack was carried out on the city of Sinjar and it was conquered and the Yazidis were brought together, and it was said to them: 'All the men who convert to Islam will be spared from killing, and the women will spared from being taken captive'," al-Iraqi said.
"And the one who gave them the pact is al-Hajj Abdullah."
–––––––––––––––––––––––––––––––For a round-up of the most important stories from around the world - and a concise, refreshing and balanced take on the week's news agenda - try The Week magazine. Start your trial subscription today –––––––––––––––––––––––––––––––
What will happen now?
Before al-Baghdadi's death in a US military raid in northwest Syria on 27 October, the US State Department had already put a $5m bounty on al-Mawli's head and on two other senior members of the group.
But this week, Washington put him on a list created after the 2001 terror attacks that makes any support of him a crime in the US.
In the wake of a significant Kurdish-led offensive against Isis in 2018 and 2019, the group has shrunk significantly and is all but wiped out in Iraq and Syria.
Al-Mawli is now understood to be "trying to consolidate the new Isis leadership, nearly all of whom apart from Salbi [al-Mawli] himself are drawn from a new generation who were too young to play roles in Isis's founding battles against US forces from 2004 or in the Iraqi civil war that followed", says the Guardian.
Middle East Monitor reports that currently there is "little knowledge of the new leader's whereabouts", with intelligence officials saying that he "most likely did not follow al-Baghdadi to Syria's Idlib province where he was killed, but is possibly in the surrounding countryside around the Iraqi city of Mosul".
The news site adds that the search for him has also extended to Turkey, where his brother Adel al-Salbi heads and represents a political party called the Turkmen Iraqi Front.
But the waning fortunes of Isis does not mean that the US is taking is taking the threat any less seriously. Pompeo this week stated: "We've destroyed the caliphate and we remain committed to Isis's enduring defeat no matter who they designate as their leader."

Continue reading for free
We hope you're enjoying The Week's refreshingly open-minded journalism.
Subscribed to The Week? Register your account with the same email as your subscription.