52 ideas that changed the world: 27. Individualism
Championing the moral worth of the individual has had far-reaching effects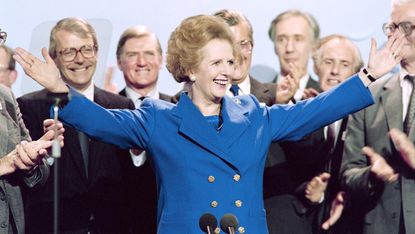 (Image credit: Getty Images)
In this series, The Week looks at the ideas and innovations that permanently changed the way we see the world. This week, the spotlight is on individualism:
Individualism in 60 seconds
Individualism is a political and social philosophy that emphasises the moral worth of the individual, and makes the individual its focus.
Subscribe to The Week
Escape your echo chamber. Get the facts behind the news, plus analysis from multiple perspectives.
SUBSCRIBE & SAVE
Sign up for The Week's Free Newsletters
From our morning news briefing to a weekly Good News Newsletter, get the best of The Week delivered directly to your inbox.
From our morning news briefing to a weekly Good News Newsletter, get the best of The Week delivered directly to your inbox.
The concept values independence and self-reliance and advocates that the interests of the individual should take precedence over a community, state or social group. Individualism is against external interference in individuals' interests by institutions such as governments and other state or non-state actors.
The Canadian political theorist L. Susan Brown wrote in The Politics of Individualism that the concept starts "with the fundamental premise that the human individual is of primary importance in the struggle for liberation".
As a result, the concept is sometimes criticised for elevating individual interests above those of the collective.
The political philosopher Alexis de Tocqueville described individualism as "a kind of moderate selfishness that disposed humans to be concerned only with their own small circle of family and friends", says Encyclopaedia Britannica.
How did it develop?
Individualism's roots can be traced back to early Christianity. The Bible says that Jesus told his followers that salvation did not depend on what tribe you belonged to, but on how you chose to live your life. God's relationship with people was said to be on a one-to-one basis – it is with the individual, not with a group.
The 16th-century Protestant reformation took this concept further, removing the idea that priests were needed to act as intermediaries between God and the individual.
The 18th century enlightenment followed, where the idea of the modern individual took shape. The philosopher Immanuel Kant summed it up with the latin phrase "saupere aude" – or "dare to know", as History Today explains.
Personal autonomy developed to become a central pillar of Western society – civil liberties, one person one vote, and equal rights for all are manifestations of the idea.
And individualism is not just a Western phenomenon. Research published in the Psychological Science journal in 2017 suggests that it is an idea that has spread across the world.
"Findings suggest that individualism is indeed rising in most of the societies we tested," says the article. "Despite dramatic shifts toward greater individualism around the world, however, cultural differences remain sizeable. Moreover, cultural differences are primarily linked to changes in socioeconomic development, and to a lesser extent to shifts in pathogen prevalence and disaster frequency."
How did it change the world?
The growth of independence, autonomy and individualism has coincided with a decline in interdependence, community and solidarity.
This is viewed as a good thing by those who believe that individual autonomy should be protected against obligations imposed by social institutions, like government. They object to perceived interference by government through the welfare state, nationalised industry and regulation of the economy.
Individualist political stances like Thatcherism and neo-liberalism champion the individual rather than society. Margaret Thatcher said in 1987: "There's no such thing as society. There are individual men and women and there are families. And no government can do anything except through people, and people must look after themselves first."
Opponents of individualism say that it has decreased communal collaboration and forced people to focus on competition, to the detriment of social capital. A pair of Japanese studies into whether individualism brought happiness found that "individualistic values were negatively related with the number of close friends".
While individualism has contributed to a less communal society, it has also helped to emphasise the importance of individual rights. This can be viewed as positive – for example, each individual's human rights being enshrined in domestic and international law – but can also be seen as negative – for example, the right to bear arms in the US.
Brendan O'Neill extolled the virtues of individualism in The Spectator. "True individualism," he wrote, "makes people more morally aware and conscious of their behaviour.
"As that greatest of liberals, John Stuart Mill, argued, it's only through being free to exercise his autonomy and determine his life's destiny that an individual can become a fully rounded, morally responsible being, since 'the human faculties of perception, judgement, discriminative feeling, mental activity, and even moral preference, are exercised only in making a choice'."

Continue reading for free
We hope you're enjoying The Week's refreshingly open-minded journalism.
Subscribed to The Week? Register your account with the same email as your subscription.